In Valheim, if you want to make a pickaxe, you will need to do a bit of leg work as unlike most survival games, it will involve you summoning and killing a particular boss.
How to craft a antler pickaxe in Valheim 
To get a pickaxe in Valheim, you will need to summon and kill the game's first boss Elkthyr and get an item called a hard antler from it. You will then need to use one hard antler and ten wood to craft a pickaxe inside a workbench; you will also need to upgrade your workbench once to tier two.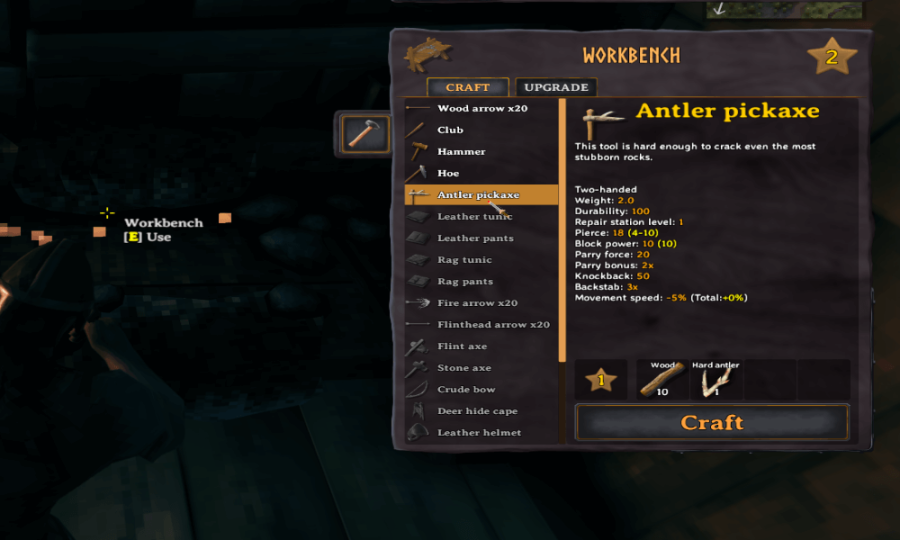 You can upgrade your workbench to tier two by building a chopping block with a hammer with ten flint and ten wood; also, make sure to place the chopping block next to the workbench to upgrade it, as anywhere else will not upgrade the workbench.
That said, to summon Elkthyr, you will need to visit their shrine and offer it two deer trophies, which you can probably guess, you get them from deers. You can find deer running about in both the Meadows and Black Forest biomes; just explore, and you will find one eventually. 
We recommend sneaking up on deer and using an upgraded stone or flint axe to kill them instantly, or you can use a crude bow to hunt them with the same effect. 
Related: How to get copper in Valheim
Once you get the two deer trophies, take them to the location marked on the map called Elkthyr, as shown above. But before heading there, make sure to stock up on arrows and eat mushrooms, cooked meat, and raspberries to increase your health as much as possible. 
Along with this, we recommend making leather armor, which requires six deer leather a piece; if you were hunting deers, you should have this already. You also should bring a friend and have them distract the boss when you summon it while you fire arrows at it; we also suggest crafting flint arrows if possible to put as much damage as you can into Elkthyr.
When you are ready, head over to the where the map says Elkthyr and find the shrine shown above; walk up to it with the deer trophies equipped to your hotbar and hit e on the shrine. This will then summon Elkthyr, and you will need to kill them to get the hard antler; after this, you can then craft the antler pickaxe back your base inside your workbench.
For more on Valheim, we at PGG have you covered with an expanding roster of guides like the one linked above and how to make a workbench in Valheim. That said check back later and we will have more guides coming out in the weeks and days ahead.