In Dead by Daylight people are always grinding to level up so that they can get more perks, and have those perks work better with higher levels. One of the ways to get your player level higher is through collecting Iridescent Shards, so let's talk about how to get some of them, shall we?
XP Helps, Like A Lot!
In Dead by Daylight you aren't going to go particularly far unless you get some XP under your belt. This is earned by completing trials, and spending a good amount of time in each match, whether you be a survivor or the killer. Levelling up and shards are directly associated with earning XP, so that is the main place where you are going to want to focus.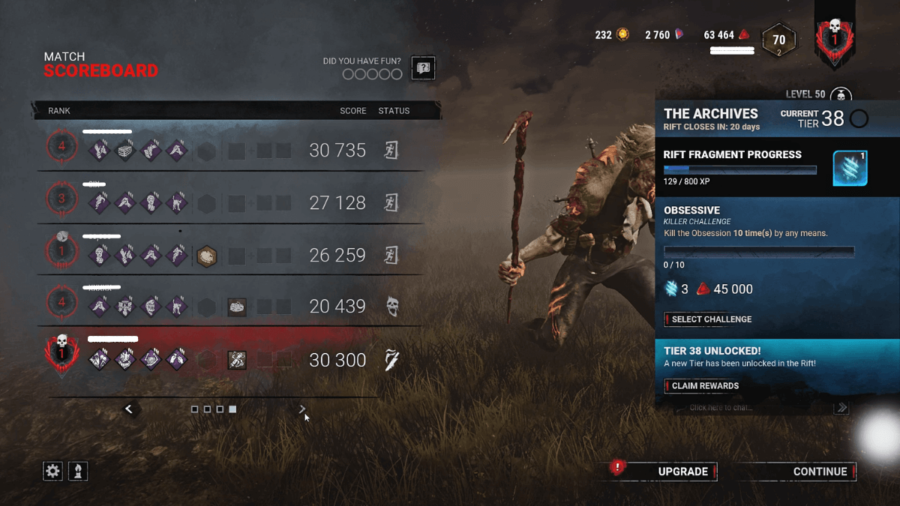 You can get extra XP for doing things such as playing your First Game of the Day and achieving other bonus goals, but as an average after level 2 (which is when you can start collecting Iridescent Shards) you will receive 0.072 shards per XP that you earn. This is why more XP equals better stats, not just for levelling but for purchasing things like perks.
Levelling up perks also helps, as they will last for longer amounts of time which directly ties to your chances of survival within the match.
Trying to Max Out your Trial Time
This is sometimes easier said than done, especially if you are a new player. The way that the XP system is calculated relies heavily on how much time you are able to survive in the trial. This means that if you are playing as a newcomer survivor, there is a possibility that you might get offed fairly quickly!
For the more seasoned or just efficient players though, if you can hit the 10 minute mark in the game then you have a better XP haul at the end of the that game. The XP does cap at 10 minutes of playtime, however, for that 10 minutes you will have earned 600 XP just from surviving. So, staying alive in this case is definitely the aim of the game!
In terms of shards, this roughly equals about One Shard Per Second of the trial played, so just think of it as more minutes surviving = more shards at the end of the session.
Related: All Killer and Survivor Perks in the Dead by Daylight Resident Evil Chapter
Emblems Help Too

If you have played the game recently you will know that you can be rewarded with emblems for undertaking certain tasks while the trial is in session. These emblems are available to both killers and survivors, and provide bonus XP. The emblems have levels of quality to them as well, so earning ones that rank higher in quality will get you more XP.
This method won't make you absolutely rich in shards, however, it will definitely boost your stats instead of waiting for that regular 0.072 per XP that is usually awarded!
Improve Your Strategy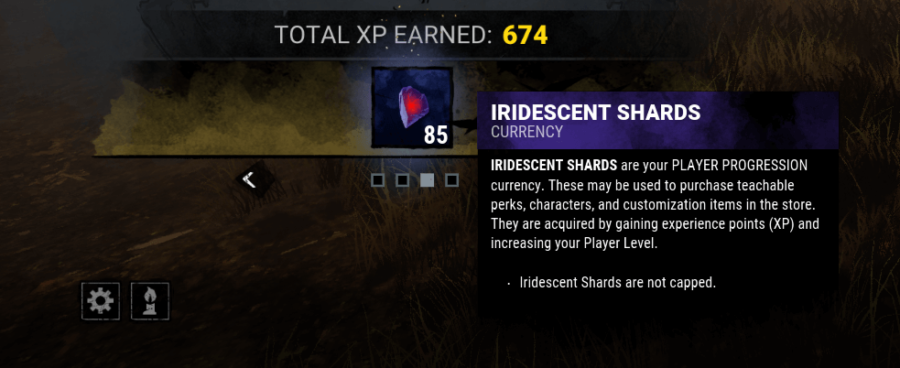 To maximise your earning potential, there are a couple of ways in which you can be more efficient and in turn spend more time collecting XP and shards. At first that might sound obvious, but once you realise how some of the mechanics work, it can be easy to end up playing and not actually earn anything after a certain point. For instance:
Where emblems are concerned, focus on ones in categories such as; Healing Teammates, Repairing Generators and Cleansing Totems. These are all things you have to do within the trial anyway, so doubling down and earning more for them makes sense, otherwise they are missed XP opportunities.
Focus on gaining iridescent level emblems for Benevolent, Lightbringer and Unbroken. As ballsy at the Evader emblem is, it is more likely to put you in harm's way, and so it will technically cost you more XP than you would earn otherwise playing it safe.
The cap for XP and Shards within a match is 10 minutes, so don't play after that mark. It may feel impressive to get through a really long match and survive (and it is to be fair!) But, the reward there is the survival rather than the XP, as after the 10 minute mark you are playing for the fun of it rather than to level efficiently (which is also fine!)
Going after actions with less risk can also be a good way to get shards quicker. Even though high risk equates to high reward, the actions required to achieve the reward usually end with you getting chased by the killer and hooked sooner than you would like. So, Unhooking Survivors and Cleansing Totems is a good route.
A More Dishonest Way...
Although we would prefer you work from the tactics mentioned above, we suppose we wouldn't be doing our job if we didn't tell you of a way that is very easy to get shards.
It doesn't constitute to the true challenge and fun of the game, however, and is also commonly looked down upon in the Dead by Daylight community; so we leave it completely up to you as to whether you want to try it.
This method essentially cheeses it, and is a fairly fast and simple way to getting XP and shards. In order to do this you will want to:
Enter a trial as the killer.
Find a nice little spot to hide, such as a dark corner or a tight space.
Go AFK (away from keyboard) and leave the game to run for 10 minutes.
Return and finish the match to gain your XP.
Although this obviously works, actually playing the game for the 10 minutes and looking for ways to get bonus XP at the end of the match is a better way of going at it, so although the method is listed we recommend being behind the controller and actually pursuing some survivors! Sorry survivors...
This should set you up to get a bigger XP and Iridescent Shard haul! Looking for some more Dead by Daylight content? Check out some of the best survivor perks.