In Heroes of Crown, you must gather the ultimate party of heroes and develop masterful strategies to lead them to success in battle. Or, you can relax as they automatically complete the battles while you collect resources for the kingdom.
As an idle game, codes are extremely helpful. You can use them to instantly obtain those valuable resources you need to purchase important upgrades—or new characters! Although most of our codes provide basic resources like Gold and Diamonds, there is an occasional code that gives you rare resources like Ascension Stones and Reforge Stones.
If you find the codes list below helpful, don't forget to check out our lists for other popular mobile games. We frequently updated lists for similar mobile games such as Idle Heroes of Light and Idle Champions. Or, if you're looking for codes for other genres of mobile games, we have lists for Top War: Battle Game and World of Tanks!
All Heroes of Crown Codes List
Updated June 7, 2023

Checked for new codes.
Heroes of Crown Codes (Working)
Here's a look at all the working Heroes of Crown codes.
NewBeast—Redeem for 300 Diamond and 200k Gold (New)
Beast—Redeem for 100k Gold and a 100k XP Potion
Heroes of Crown Codes (Expired)
These codes for Heroes of Crown no longer work.
TopFour—Redeem for 100k Gold and a XP Potion 100k
Purity—Redeem for 200 Gold and XP Potion 150k
thankyou—Redeem for in-game gifts
sharewishes—Redeem for 200 Diamonds and 150k exp Potion
loveweekend—Redeem for 300 Diamond and 200k Gold
GoodLuck—Redeem for 300 Diamonds and 200k Gold

Shadow—Redeem for 200 Diamonds and 150k exp Potion
CoolDown—Redeem for 300 Diamonds and 200k Gold
sharetips—Redeem for 200 Diamonds, 100k Gold, and a 100k XP Potion
RuinsHunt—Redeem for 300 Diamonds and 200k Coins
WELCOME—Redeem for the Open Beta Boost Bundle
hero777—Redeem for the Sea Witch hero and 200 Ascension Stones
hero888—Redeem for a new hero and Ascension Stones
hero999—Redeem for 100 Skin Vouchers
signup—Redeem for 300 Diamonds and 200k Gold
GIFTS—Redeem for 500 Reforge Stones, 500 Diamonds, 500k Gold, and a 250k XP Potion
Party
Milestone

GreatDay
creators
2ndmonth
MonkeyKing
SecondMonth
funnyname
MidAugust
LeftHander
Difference
NewSkin
onemonth
Family

NewHero
Invite
LadyFury
SundayFun
surprise
thanks
newone
GOchamps
AWESOME
SORICH
SUPERTWINS
HAPPYWEEKEND

ITSFRIDAY
ADVENTURE
YAYYYYY
WELCOME
Heroes of Crown FAQ
Here's everything you need to know regarding Heroes of Crown codes.
How to redeem Heroes of Crown codes
Redeeming codes for free rewards in Heroes of Crown is easy.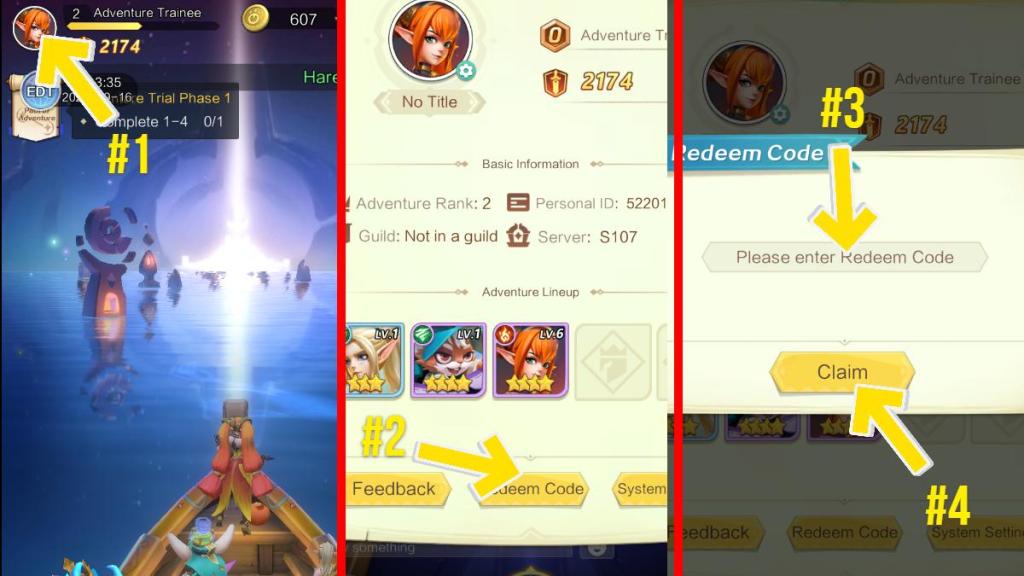 In the game, press the Profile Icon in the top left corner.
Press the Redeem Codes button at the bottom of the profile menu.
In the text box, enter the code exactly as it appears in the list above.
Press the Claim button to claim your reward!
How can you get more Heroes of Crown codes?
Heroes of Crown developer Woobest Games is active within their community and regularly updates their social platforms, especially the official Discord and developer's Twitter. Most codes for the game can be found on one of those platforms as soon as they are dropped. Alternatively, you can bookmark this page and check back—we monitor the game for new codes so you don't have to do the work yourself!
Why aren't my Heroes of Crown codes working?
The most common cause of invalid codes is that they are entered incorrectly. To avoid this using incorrect characters or punctuation, copy and paste the codes directly from our page into the game, if possible. If not, double-check to confirm you're using the correct characters (even spaces!), punctuation, and capitalization.
If you are sure you have spelled it correctly and the code still isn't working, then it may be expired. In that case, be sure to let us know in a comment and we'll investigate to see if we need to update the page.
What is Heroes of Crown?
Heroes of Crown is an idle RPG game that makes the grinding aspect of the game easy for the player. Your goal is to collect the best and most powerful characters to defeat opponents in battle and collect resources to upgrade your military and kingdom.
We have the latest codes for hundreds of other mobile games, especially the some of the most popular ones like Tears of Themis and Honkai Impact 3. If you play Roblox, be sure to also check our list of Roblox Games for codes on that platform!