Douglas is a spacesuit-wearing squid and a boss in High on Life that you must defeat in Dreg Town. Defeating Douglas will reward you with Sweezy, a weapon capable of shooting crystals and slowing time. Douglas can be a difficult boss battle, especially later in the fight, so here is how to beat Douglas in High on Life.
Douglas wields Sweezy during the fight and shoots off bursts of gunfire that can quickly reduce your shields and vitals if you are not careful. There are four pillars in the boss fight room, so it is a good idea to stay close to these and take cover when Douglas is shooting.
Related: Can you beat 5-Torg in High on Life?
How to defeat Douglas in High on Life
At the beginning of the fight, use Kenny's Glob Shot to stun Douglas and then shoot or melee him to do more damage. After doing this a couple of times, Douglas will jump on the wall and move between pillars. While he is doing this, takes cover behind a pillar and shoots him with Kenny's Glob Shot to make him fall.
Douglas is capable of dishing out a lot of damage, but luckily, grunts will enter the fight and drop shield boosts if you defeat them. The shield boosts can be used when you get in trouble, but try not to pick them up until you are almost dead.
How to avoid electricity traps against Douglas in High on Life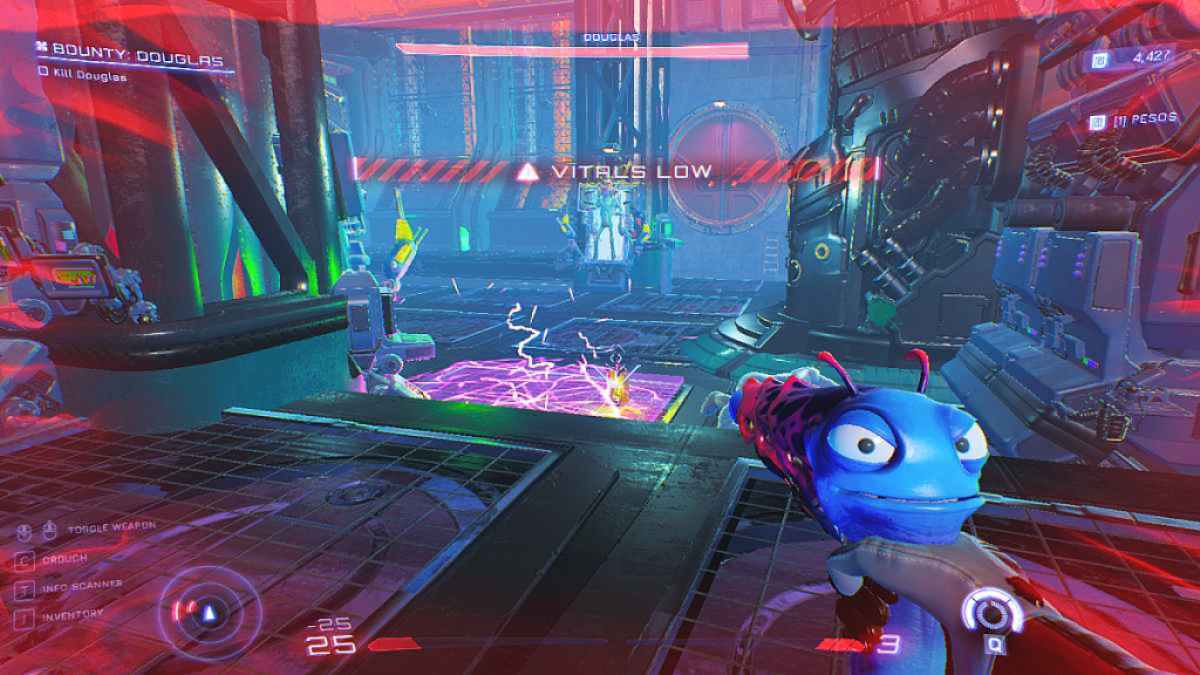 Once Douglas is damaged enough, the floors will occasionally emit electricity. The floor will turn purple, and a warning will come up on the HUD that you are in danger of being zapped, so keep an eye out for that. Once Douglas's health is low enough, the electricity will start happening more frequently and will follow you. After reducing his health to zero, Douglas will activate all the floor traps.
When the electricity traps enable, you can use a hookbug in the middle of the room to keep it off the ground. The boss fight may take some practice to get down on what to do in each phase, but once you defeat Douglas, you will get Sweezy, a powerful weapon.
For more on High on Life, check out High on Life – How to beat 9-Torg (easily) here on Pro Game Guides.