Whether or not you know that High on Life was developed by Justin Roiland and his friends over at Squanch Games, you'll definitely be able to pinpoint that the Rick and Morty creator had something to do with it. The game is a first-person shooter that redefines the mix between atmosphere, dialogue, and gameplay in the best way possible. Similar to the developer's previous title, Trover Saves the Universe, High on Life proves that no matter how ridiculous it may seem, any idea is worth putting down on paper.
Story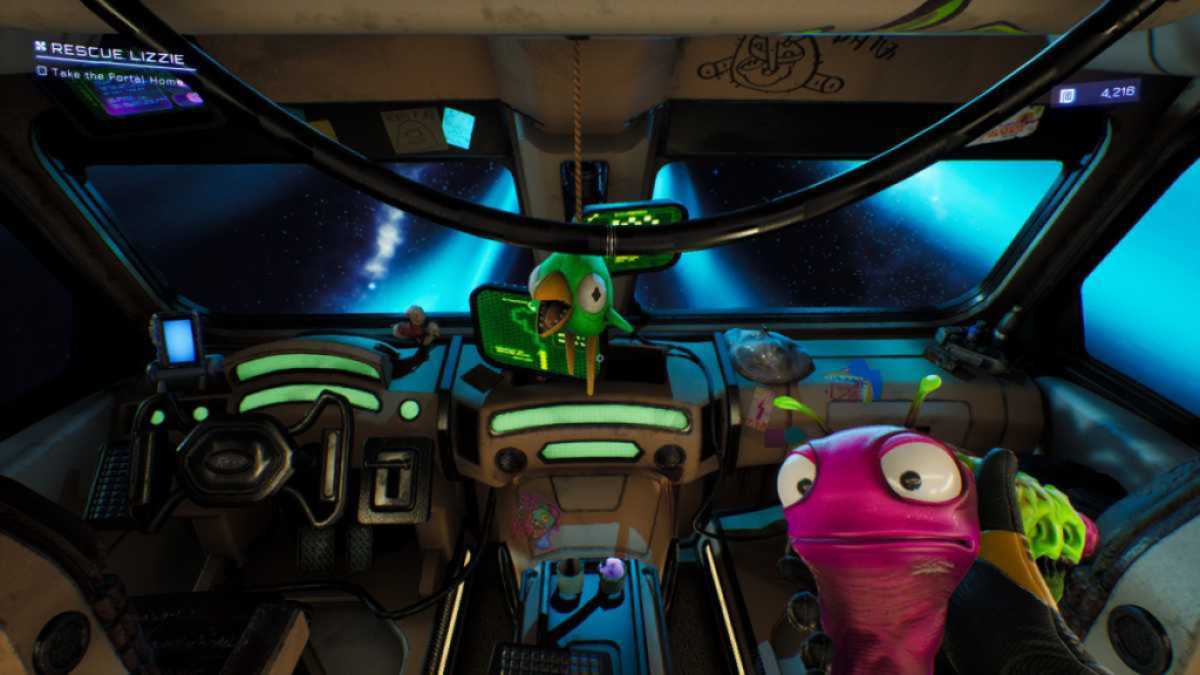 Related: High on Life Cheats and Codes (December 2022) – Are there any?
High on Life follows the story of two teenagers left home alone after their parents go away on vacation. You're left with your older sister, Lizzie, who intends to throw a house party. Unfortunately, things go south as Earth becomes invaded by aliens, with your only help being a talking gun named Kenny. Kenny sweeps you away to another planet, where you learn to become a bounty hunter to save and protect what is left of humanity. As a whole, the story paints an incredibly fun and colorful painting for players who have never experienced a world built by Justin Roiland.
Even though there were many moments worthy of being quoted in everyday life, and, there were also plenty more that were acts of throwing ideas to the wall and seeing what stuck. It was almost as though these were implemented after the game had been finished to allow for longer playtime. These points, along with the game's entirety, still gave incredibly memorable moments and dialogue. One such moment is when Lizzie is taken away by her boyfriend, even after Gene had argued for her not to have anything more to do with him. This mission as a whole played out within about half an hour and was very fun but didn't add anything to the plot. Many instances in High on Life seem like that particular mission: fun and colorful but without much weight.
Score: 3/5
Atmosphere
High on Life's atmosphere is very rich in color and dialogue. Most NPCs you encounter have dialogue that activates when the player passes by. Even though many of these characters can't be spoken to, they still provide depth to the world. Unfortunately, these two incredible features seemed to conceal how small the game's playable areas really are. Besides the areas where you're expected to go, there really aren't any hidden areas or collectibles that you can seek out. Considering that High on Life is a Metroidvania-type game, most levels did invite you to return after you acquired something that would let you proceed further.
Something else I noticed was how you could speak with some NPCs simply for atmospheric reasons. Sometimes, these characters would give you things with no real purpose besides being funny. For example, there is an instance where you can meet with an alien who, after some conversation, decides to give you alien sperm for free. Why? Because it's a funny thing to do. There is no real practical reason for you to have this item but it sticks with you for the rest of the game. Eliciting a laugh every time you open up your inventory.
Score: 4/5
Voice Acting
High on Life provides some of the best voice acting in modern gaming. Justin Roiland voices your main weapon, a Gatlian named Kenny. Unfortunately, Justin's voice acting is incredibly limited, so his particular acting is very similar to most other characters he has played that fans are familiar with. The real stars of the game are your other Gatlians, Gus, Sweezy, Creature, and Lezduit, who provide more context to the player's situations. The design of their acting makes them consistently important from beginning to end. Most of the time, the onscreen conversations will be happening between the guns themselves as they resolve their issues or even just comment on the state of things around you.
Most other characters you'll come across will also converse with you and add their dialogue and humor to the world. In fact, many of the choices that are made throughout the game are a result of these conversations. Half the time, they aren't really important to the grand scheme of what you're doing but their quality and the clear dedication of all the voice actors really helped suck me into the world than most other games have been able to accomplish.
Score: 4/5
Graphics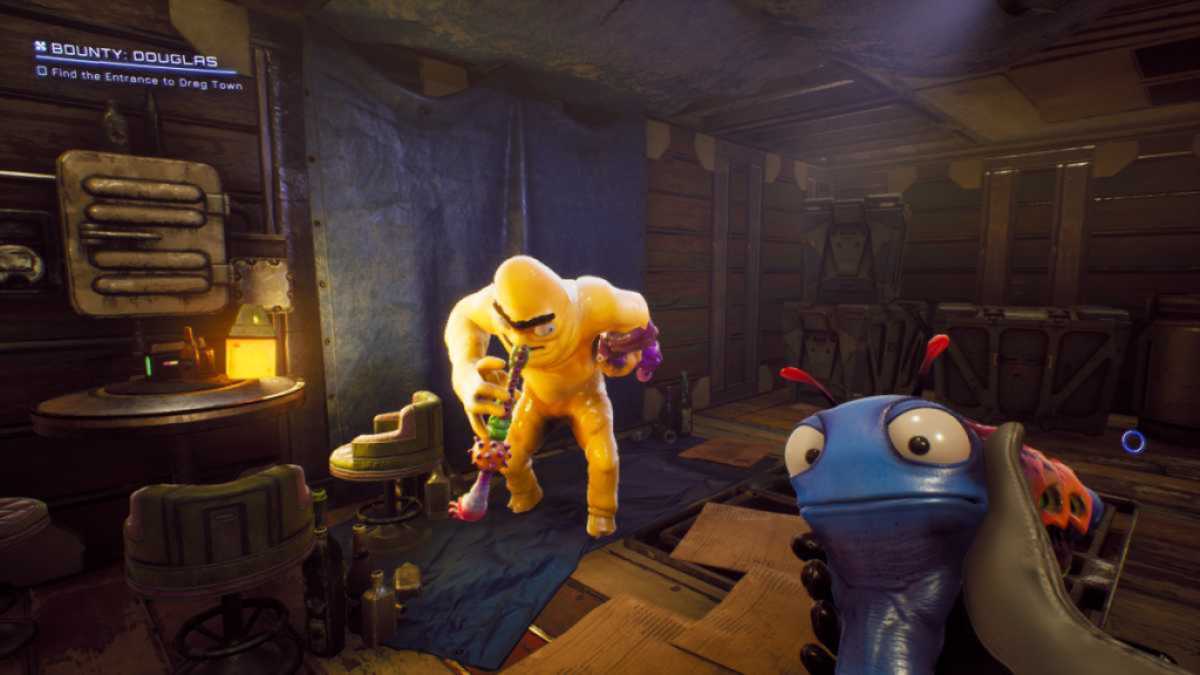 Related: How to get the Summoning Portal Mod in High on Life
High on Life is very, very visually stunning. The world and characters are full of bright colors and great architecture. There is so much to look at, even if there isn't a lot to explore, and everything is very worth looking at. The detail that the Squanch Games team put in is very apparent, and there doesn't seem to be an inch of missed space. Even the grotesque nature of some of the guns, especially Creature and Lezduit, are fun to look at and inspect as you play. Since they make up almost a quarter of the screen when they appear, having something fun to look at almost all times was very refreshing.
Unfortunately, a few instances of very obvious AI art inside the protagonist's room completely take away from the entire experience while inside that particular space. This type of art was not used in all of the game, but its implementation was very out of place and almost made me question the legitimacy of other in-game art.
Score: 4/5
Verdict - It's out of this world
High on Life was a fun experience from beginning to end. Not only was the gameplay fun and exciting, but its dialogue and general humor made it even more so. Hopefully, the ending and general game concept are enough for the developers to expand more on this world, whether in the form of DLC or a sequel. The final few scenes are among the most hilarious I have ever encountered, and it would be a shame if we couldn't experience this world again at some point in the future.
We received this code from Squanch Games for reviewing purposes.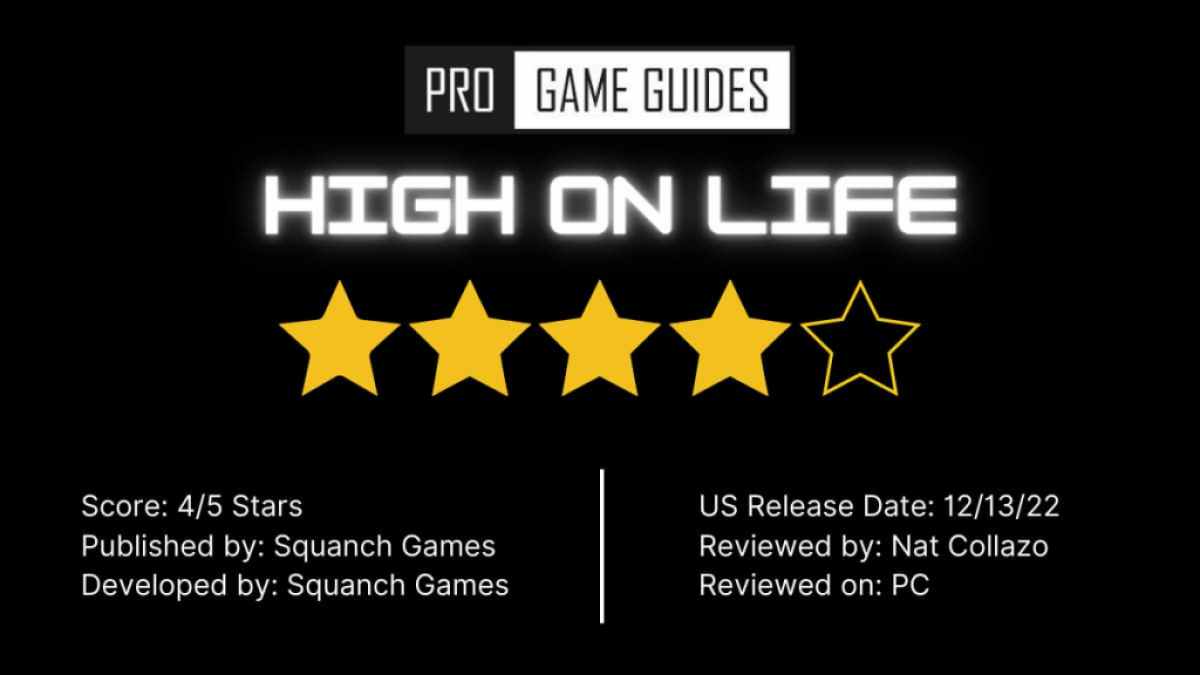 For more High on Life, check out both How to defeat the Skrendel Brothers in High on Life and Which button should you press in the Labs in Zephyr Paradise in High on Life? only on Pro Game Guides.