Hogwarts Legacy can feature some of the more obscure subjects from the Harry Potter series, at times. One of those subjects is Arithmancy. You can find it's classroom up in the rafters while searching for all of the Arithmancy Puzzle doors. There's also another door near the top of the Grand Staircase that may give you some trouble. Here's the solution for that Arithmancy door in Hogwarts Legacy.
Puzzle Solution for the Grand Staircase Arithmancy Door in Hogwarts Legacy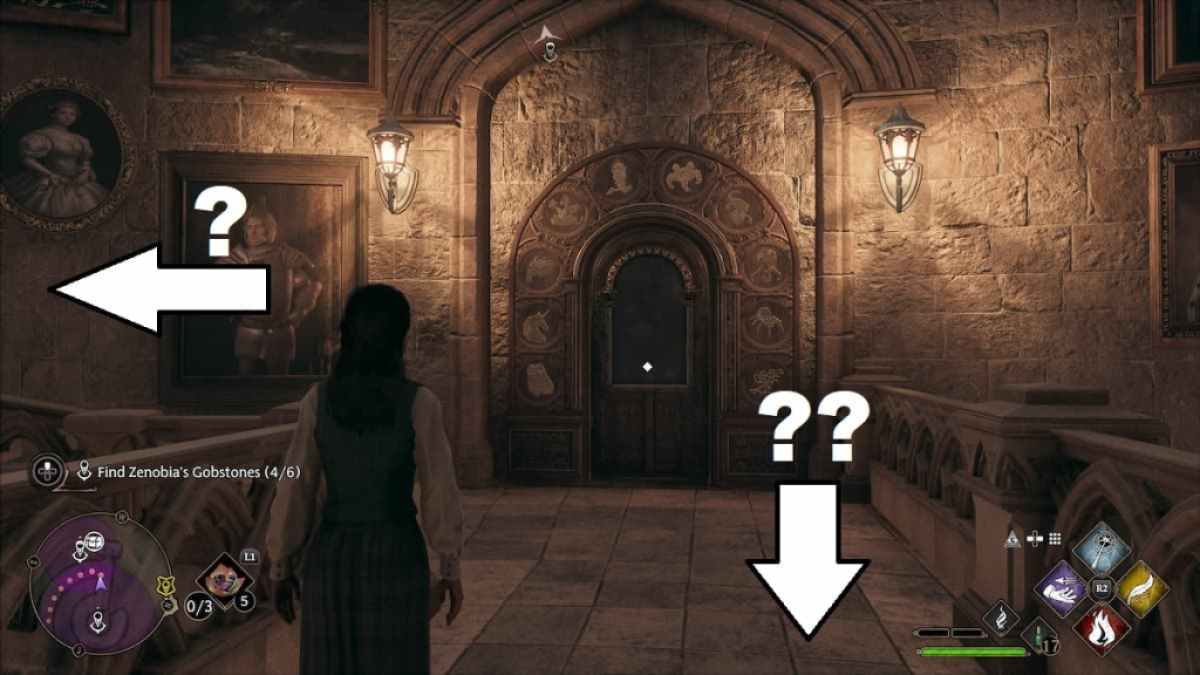 Arithmancy doors require a bit of mathematics, searching, and imagination. The door at the top of the Grand Staircase will require all these skills, particularly. You can see from the photo above that the tiles you'll need to submit your answer to the puzzle are nowhere near the door. the ? tile is further up the stairs, along the wall. The ?? tile is hidden in plain sight on the center pillar of the Grand Staircase, facing the Arithmancy door. For a quick and easy solution to the puzzle, rotate the ? tile to show the Lizard Symbol, representing the number six, and rotate the ?? tile to the number Balloon Symbol, representing the number seven.
Related: Can you remove traits from gear in Hogwarts legacy?
How to solve Arithmancy Door Puzzles
Arithmancy doors are like algebra equations, with animal symbols and question marks in place of x and y variables. All three numbers outside a triangle should add up to the large number in the center. At times you'll see an animal symbol outside of a triangle. These symbols all represent a number from zero to nine. They are helpfully shown in order around each door from left to right. You can also refer to the image above as a guide.

For example, let's say you came across a door with this Triangle puzzle: the outside corners show a 2, a spider, and a ? symbol. The number in the center is fourteen. A spider symbol represents the number eight, and eight plus two is ten. To add up to fourteen, the ? would need to be four. You would then find the ? tile nearby the door, and rotate it to the corresponding animal symbol. In this imaginary case, four is represented by the Bird Symbol.
Looking for more help in Hogwarts Legacy? Check out Hogwarts Legacy Herbology guide – Seeds, combat plants, & pot sizes here at Pro Game Guides.