There are tons of side quests to complete, which are all majorly important to your adventure through Hogwarts Legacy. They allow you to unlock special gear and discover new locations and secrets. One quest in particular requires some swimming through Black Lake on the outskirts of Hogwarts, and locating a lost object. Here's a guide on completing it successfully and how your choices can affect the rewards you receive.
How to complete the Lost Astroglobe in Hogwarts Legacy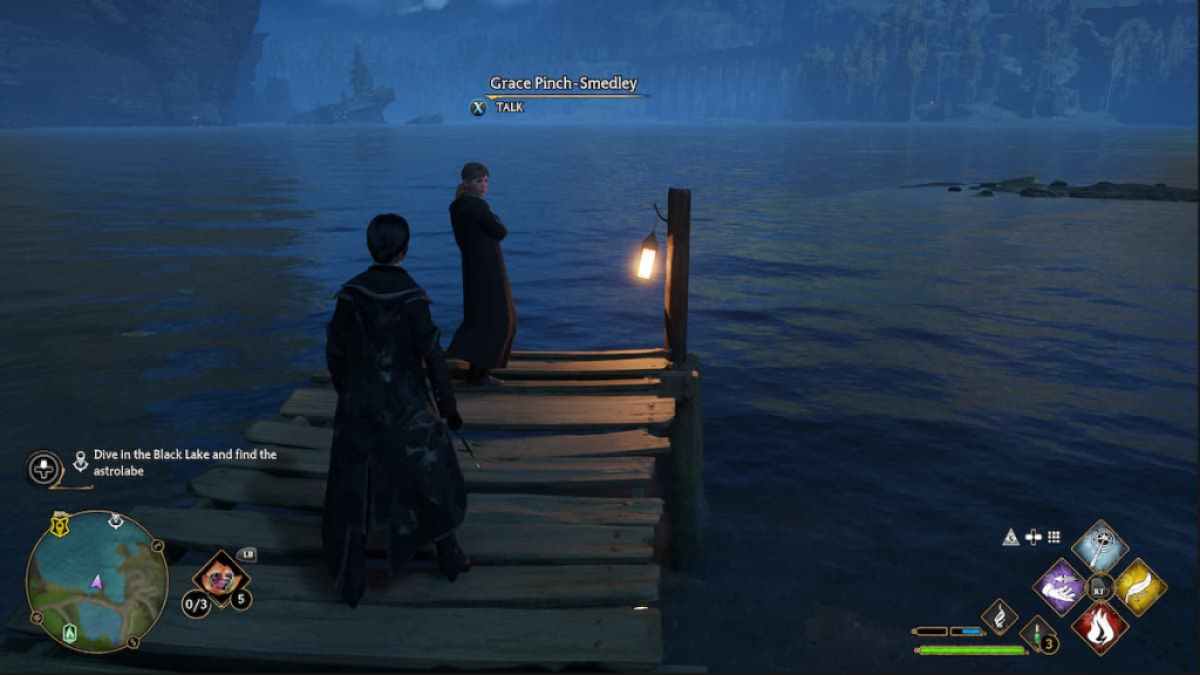 To begin this quest, you'll need to speak to the Slytherin student Grace Pinch-Smedley. You'll find her in the Lower Hogsfield location, where you initially meet up with Natty for your main quests. Just further out from the small village, you'll notice a dock leading out further into the lake. Grace will be standing at the end and will prompt you to come to speak to her.
Grace will ask you to dive out into the lake to find a lost Astroglobe heirloom that belonged to her family. However, you won't have to actually do any diving. Instead, just jump into the water and swim toward the purple highlighted area on your compass. In this radius, you will see white bubble spots in the water that you can search. Searching them can get you some extra loot, and one of them holds the Astroglobe. It doesn't hurt to grab the rest of them while you're out there, you can potentially find some useful gear, and you won't get the chance again after you complete the quest.
Related: Hogwarts Legacy – Cache in the Castle Treasure Location
Once you find the Astroglobe, swim back to the dock to return it to Grace. You will be given three options when you return it, and it will make a difference in what reward you will receive, so choose wisely:
Give the Astroglobe to her willingly: XP and the Mermaid Mask
Ask for compensation: XP, Mermaid Mask, and 20 Galleons
Keep the Astroglobe for yourself: The Astroglobe remains in your inventory
If you choose not to give Grace the Astroglobe, you won't receive any other rewards, but you will have the Astroglobe in your inventory still, which you might be able to sell later if you wish. Your choices don't affect anything else morally, so your best option is to receive the most reward.
Looking for more Pro Game Guides Hogwarts Legacy content? Check out our guides on Can you change your appearance in Hogwarts Legacy? or Hogwarts Legacy – Ghost of our Love Treasure Location!