After years of waiting, I, as a fan of both the Wizarding World and video games, was presumably given my heart's desire last week–a truly massive Harry Potter title based on an original story. Rather than playing as the titular character from the series, Hogwarts Legacy fans could simulate their journey as a student at Hogwarts. To say that I have been following Hogwarts Legacy for months with eager anticipation would be an understatement. Now that I've finished the game, I can say that my initial impressions were largely correct. Hogwarts Legacy exceeded my expectations in some ways, but by the end, I was left sincerely disappointed in some regards as well.
Environment
Hogwarts Legacy's open world design is wonderfully executed. Every bit of the castle and its world was carefully crafted, from the perfectly polished Defense Against the Dark Arts Tower to the spacious southern coastline. I took great joy in turning multiple UI elements off and simply exploring.
During my time playing, I found more than a few welcome nods to obscure pieces of Wizarding World lore and the whimsical spirit of the franchise itself–the presence of Peeves, cauldrons brewing illicit potions in a bathroom stall, and a Medusa Painting that could turn me to stone. Getting to rack my brain, remembering old bits and pieces from novels I remember fondly was a Honeyduke Treat. Even when I couldn't remember, discussing the details with friends or colleagues was reminiscent of my teens, sharing a love for the book series with so many others all over again.
If I could give this section a six out of five, I would. I can't stress enough how much I appreciated what was clearly a significant effort of many to bring together such an inspired recreation of Hogwarts.
Score: 5/5
Combat and Enemy Design
Translating wand combat into a video game was always going to be a challenge. Video game combat generally requires strict rules to function and, unfortunately, wand combat in the book series didn't have many rules to begin with, as it served only to support a larger story. In general, wand combat starts off as rudimentary in the early game, gets better with an increase in enemy variety around the mid-game, but quickly becomes chore-like towards the end.
When you are introduced to new spells and enemies, the combat shines. But this shine quickly dims as late-game enemies gain obscene amounts of health. This problem becomes particularly troublesome with Avada Kedavra, a spell that can instantly kill any enemy. It became the obvious but boring solution for any significant challenge I faced late in the game. It even worked on an end-game boss. When I chose not to use overpowered Unforgivable Curses, combat was generally comprised of doggedly chipping away at large enemies for far too long, throwing basic attacks, and the occasional Bombarda at them. They no longer responded to flashier levitation spells.
Wand combat relies on using the R2 button on PS5, so much so that in the later game, my character would stutter from me, continually mashing the right trigger, no matter what playstyle or difficulty I tried. The alternative options to spells, like Mandrake Plants and Thunderbrew Potions, lacked variety and, at times, were outright useless. I still don't understand the point of a four-second Invisibility Potion when I was also introduced to the Disillusionment Charm early in the game. The Tool Wheel required to use potions and plants was even less than intuitive than the R2 button mash.
Score: 3/5
Related: You shouldn't kill other wizards in Hogwarts Legacy
Narrative Design
This aspect remains my largest disappointment. Hogwarts Legacy touted itself as a game allowing me to tell my story. However, the only choice that seemed to make any difference during the main narrative occurred in the last thirty minutes of the game. Choose your ending, simple as that.
The central story is a generic one we've all heard–power inevitably corrupts. The villains stay largely off-screen, and their motivations are never explored, making them paper-thin caricatures. Supporting characters and teachers seem to be shadows of their twentieth-century counterparts, giving me no motivation to bond or interact with them in any way. I didn't have to because the last quarter of the story was a cycle of finding an enemy camp, dispatching them however I chose, discovering more of their nefarious plans, then rinsing and repeating.
The notable exception to this is Sebastian Sallow's character story, whose side missions I played completely through. Unfortunately, after a handful of quests, I also couldn't help but notice Sebastian's character turning into a one-note tune as well, a loving brother blinded by a combination of fury at his sister's attackers and a resolute desire to heal her no matter the cost. By the end of his missions, I empathized more with his sister, who showed her strength in a fit of rage at no one listening to her.
But the shallowest aspect of Hogwarts Legacy's narrative, by far, was how my player character was responded to for their "bad actions." My character was supposed to be a "dark" role-play character to see how the world would respond. There were almost no consequences for my actions. I stole someone's Gobstones. After a brief reproach from the prior owner, nothing. No one at school apparently talked about it, either, because I then stole from about five other students, again with no consequence.
After learning Unforgivables, I couldn't use them inside Hogwarts castle. But my character could stroll about the Scottish countryside throwing around torture spells and killing curses at anything I deemed an enemy, including other humans. More than once, I heard my character bark, "they got what they deserved," when I was finished. Did the Ministry of Magic show up? Nope. I fired those curses while my mentor, a Hogwarts Professor, accompanied me. He didn't say a word.
A story is not your own if your decisions do not influence it significantly. Playing as an egotistical character with borderline personality disorder was possible. However, it felt absolutely ridiculous to do because I'd then return to a traditional Hogwarts Mystery that didn't respond to how I interacted with the rest of the game. All in all, it was an entirely simplistic and unsatisfying experience.
Score: 1.5/5
Side Content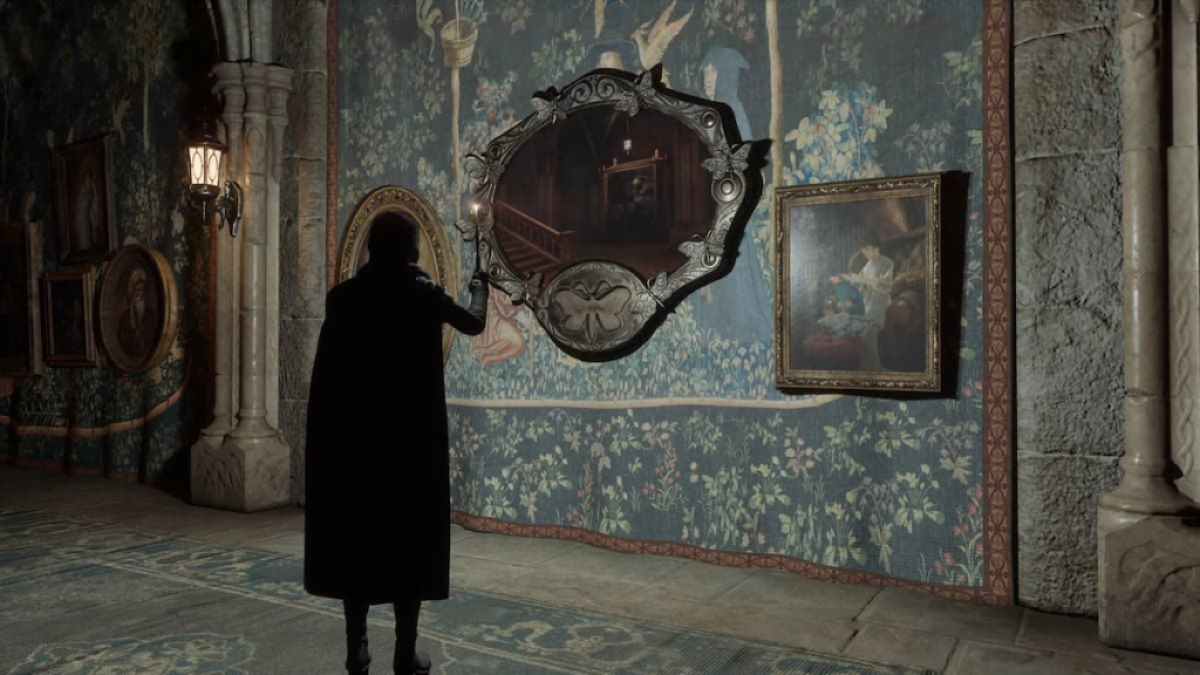 Hogwarts Legacy does not lack side content or puzzles to keep players occupied well past the main storyline. I've rolled credits on that, but I probably have over thirty hours' worth of side content left to complete. While its scope is substantial, it does suffer a bit from too much repetition and a lack of meaningful rewards.
Early puzzles found inside the castle, like the Moth Paintings and Arithmancy Doors, never really vary in difficulty; there is just always more to find. Mid-game and further puzzles, like Merlin Trials, improve this a bit. One of the late-game puzzles that I encountered, Depulso Puzzle Room Two, was a notably refreshing and challenging exception, and I'm hoping to find more of those in the future.
My desire to track down chests has been a bit dampened by the overly simplistic Gear system. I think I ended up selling nine out of every ten equipment pieces that I found. The collectible items, such as Wand Handles and Conjuration Spells, are nice, but this is a single-player game, and the customization options aren't as fun without other players to show them off to.
Score: 3.5/5
Verdict – Beautiful, but not without flaws
If you are a fan of the series, I can almost promise you'll be flooded by charm and nostalgia the minute you're allowed to explore past your chosen common room. The setting, speckled with references to an IP that was formative for me, was easily the best part of this game. The illusion wore off for me quickly, though. I can't help but feel that Hogwarts Legacy, particularly its story, was not quite the adaptation of my dreams. Perhaps Avalanche Software can learn from a first large endeavor and do better in the future. I can only hope.
We received this code from Warner Bros. Games for reviewing purposes.