The Plainsong Hunting Grounds test Aloy's stealth in three separate trials called the Silent Looting, Silent Strike, and Silent Gliding Trials. Using the Infiltrator Skill Tree will help for this trial, but there are plenty of ways to stealth around the Machines for each challenge. Smoke Bombs and the barrels full of smoke are easy ways to get through this without much trouble.
Silent Looting Trial
The conditions for the Silent Looting Trial are simple as no combat is involved. There will be three supply caches in the area, and players will have to loot each of them without being seen within the time limit. Scanning the Machines with the Focus and tagging them will keep them marked. Tracking a Machines Track will make sure Aloy sees that Machine's patrol route as well. Using Smoke Bombs and the various barrels around the arena will keep Aloy hidden long enough to loot everything in under three minutes. Overriding a Machine will still allow Aloy to open up the supply caches should players decide to do the Cauldron beforehand.
Related: How to defeat Scrappers in Horizon Forbidden West?
Silent Strike Trial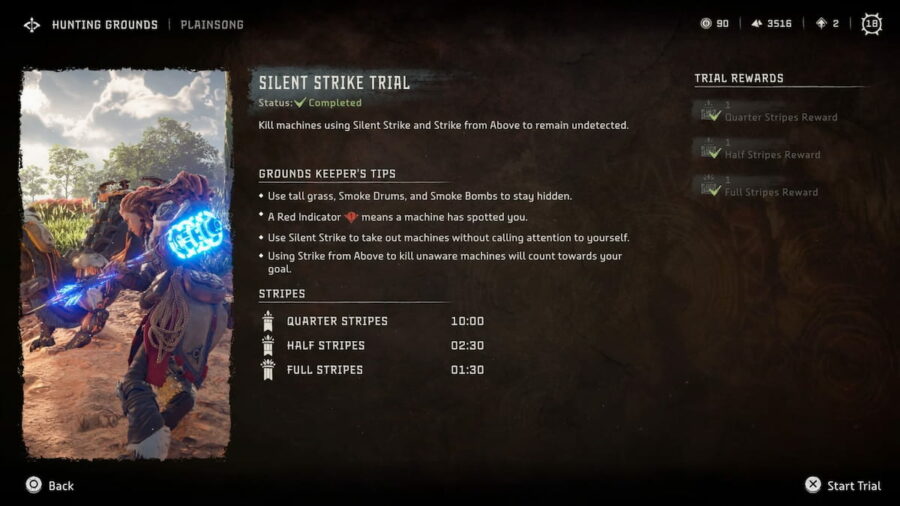 The second challenge of the Plainsong Hunting Grounds is the Silent Strike Trial. This has Aloy taking out Machines without being seen. Using the same methods as the Silent Looting Trial, players can stay out of sight before confronting each Machine and taking them out. Striking From Above is one of the most effective ways of completing this Trial within the time limit as there are perches all around the area that can be leaped from.
Silent Gliding Trial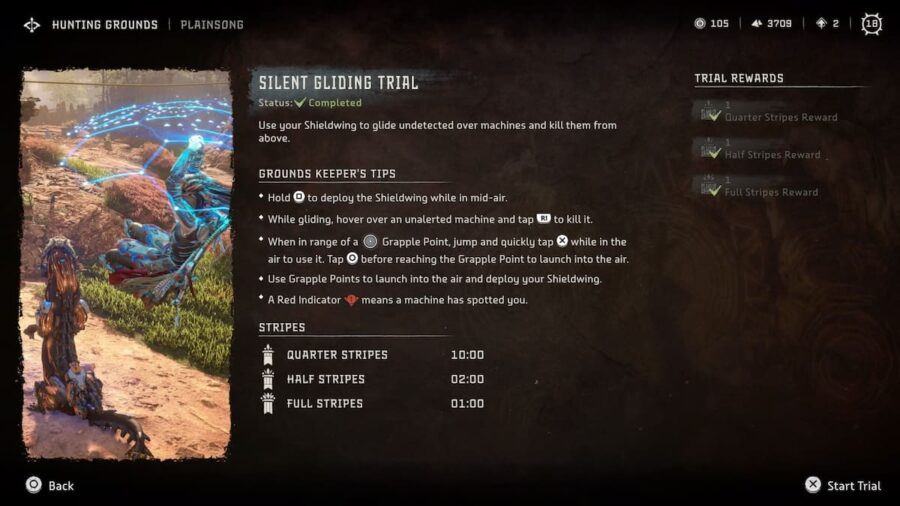 The Silent Gliding Trial doesn't require the use of smoke and is the easiest of the three challenges to complete quickly. Right at the start, Aloy can glide down over a Machine very quickly. Since only two Machines need to be killed, players can look above them to latch onto a pole to then launch themselves from for another quick takedown.
The Infiltrator Skill Tree has a few skills that can be very useful for all three Trials. The Low Profile, Quiet Movement, and Stealth Stalker skills all make Aloy harder to detect, don't cost many Skill Points, are very useful skills to use in the rest of the game.
For more Horizon: Forbidden West guides, check out How to complete "The Daunt" Hunting Grounds in Horizon Forbidden West? on Pro Game Guides.