Horizon Forbidden West takes place right after Zero Dawn, and it features several old machines that Aloy came across in the previous game. The Bellowback is a Transport class machine in Horizon Forbidden West, and players will need to know how to defeat it to collect materials and resources.
Every machine in Horizon Forbidden West has specific weak points and is often vulnerable to special elemental damage. Bellowbacks are massive and throw projectiles at Aloy, but there are a few weak points that players can take advantage of. The Gullet, Cargo Refining Sac, Sparker, and Antenna are weak points on the Bellowbacks.
The Fire Bellowback is weak against Frost-damage and strong against Fire damage. Similarly, the Acid Bellowback is vulnerable to Purgewater-damage but resists Acid-damage. Frost Bellowbacks are weak against Fire-damage and can withstand Frost-damage.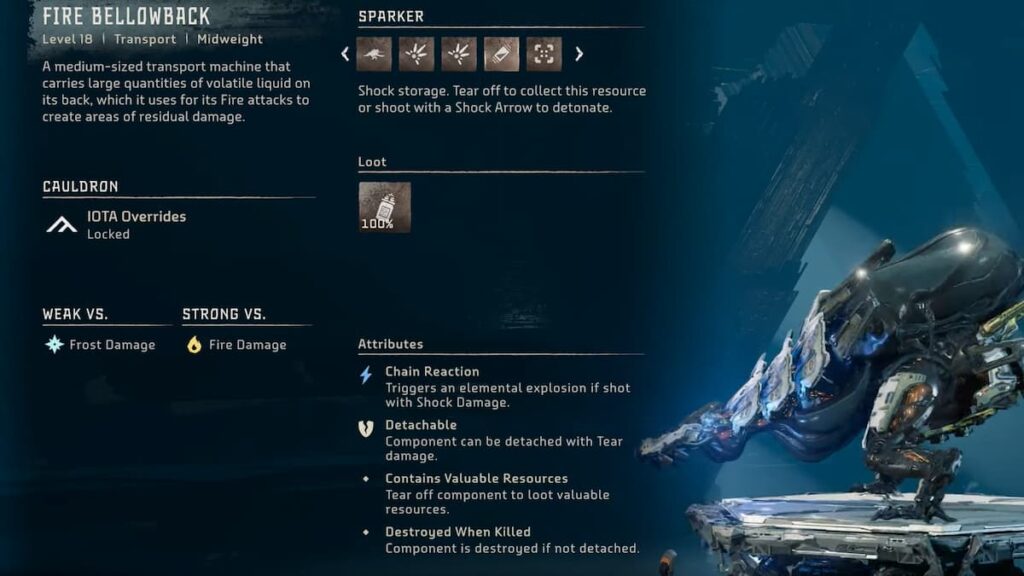 The Bellowback's Gullet is an explosive component, just like its Cargo Refining Sac. Players can choose to destroy it or keep it intact to get the best loot from these components. The Sparkers on the rear end of Bellowback's can be detached, and it triggers an explosion when shot by Shock ammunition. The following components are available after defeating Bellowbacks:
Metal Shards
Machine Muscle
Metal Bone
Medium Machine Core
Blaze Canister
Braided Wire
Sturdy Hardplate
Bellowback Circulator
Bellowback Primary Nerve
Volatile Sludge (only found in Cargo Refining Sac)
Bellowback Sac Webbing (only found in Cargo Refining Sac)
To harvest Volatile Sludge and Sac Webbing from Bellowbacks, players will have to eliminate the machine without detaching or exploding its components. To override Bellowbacks, players will need to visit Cauldron IOTA located far north of Scalding Spear around the Salt Bite region.
Wondering how to complete The Broken Sky Quest in Forbidden West? Check out How to scan the Bulwark in Horizon Forbidden West? on Pro Game Guides.