The Ancient Trunk is one of the strange containers within Latopolis. This is part of the early area when Aloy first enters Latopolis within the Death's Door main quest. It can easily be missed or confused for a bug as Aloy does not comment on the trunk itself.
How to open the Ancient Trunk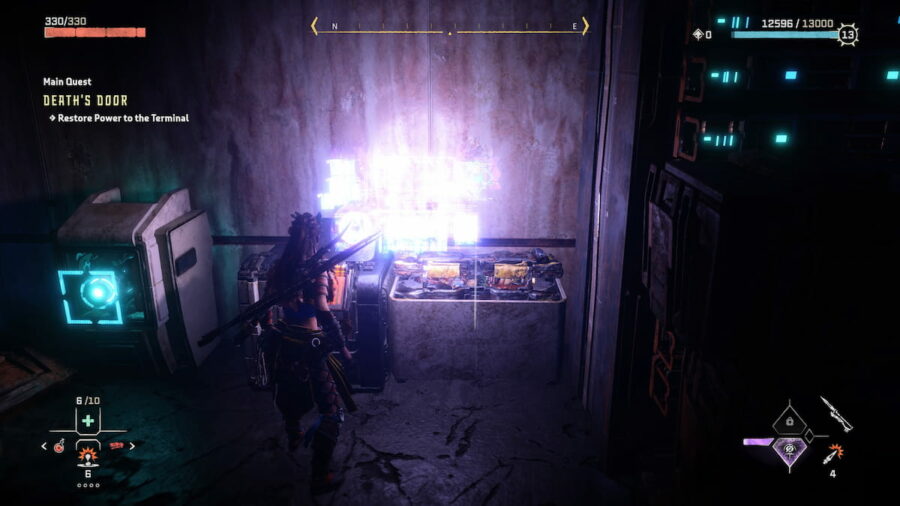 Within one of the rooms of Latopolis, Aloy is brought to a halt as she has to restore power to a terminal to get further into the building. Two terminals can accept a power cell in this room. On the right-hand side of the room, the second one is actually an ancient trunk that can be powered.
Related: How to complete 'The Long Coast' Relic Ruins in Horizon Forbidden West?
To open the trunk, players will need to power it. To find the power cell that Aloy can use to power, you can reach both the essential terminal and this one from the platform above. Use the crate that Aloy had to push inward to enter this room into the range of the platform and climb up. Once up here, Aloy can ignite the Firegleam.
Aloy can then grab the power cell from the previous room and bring it back down into the chamber with the two terminals. Make sure to place the power cell in the ancient trunk terminal before placing it in the main one. Players will be able to access everything within the trunk before taking the power cell back out and placing it into the main terminal.
For more Horizon Forbidden West content, be sure to check out How to upgrade the Hunter Arrow Quiver in Horizon Forbidden West on Pro Game Guides.