Horizon Forbidden West follows the storyline right after Zero Dawn, and players will meet numerous characters from the past as Aloy. One of these includes the new Sun-King Avad, ruler of the Carja lands who gives Aloy her new spear at the start of her journey in Forbidden West.
Sun-King Avad is the 14 reigning leader of the Carja Sundom, described as the Luminance of the Radiant Line. His father Sun-King Jiren is famous for his unscrupulous tyranny and the Red Raid invasions. Remnants of Sun-King Jiren's army are known as Shadow Carja in Horizon Forbidden West.
Related: How to transfer Horizon Forbidden West save games from PS4 to PS5?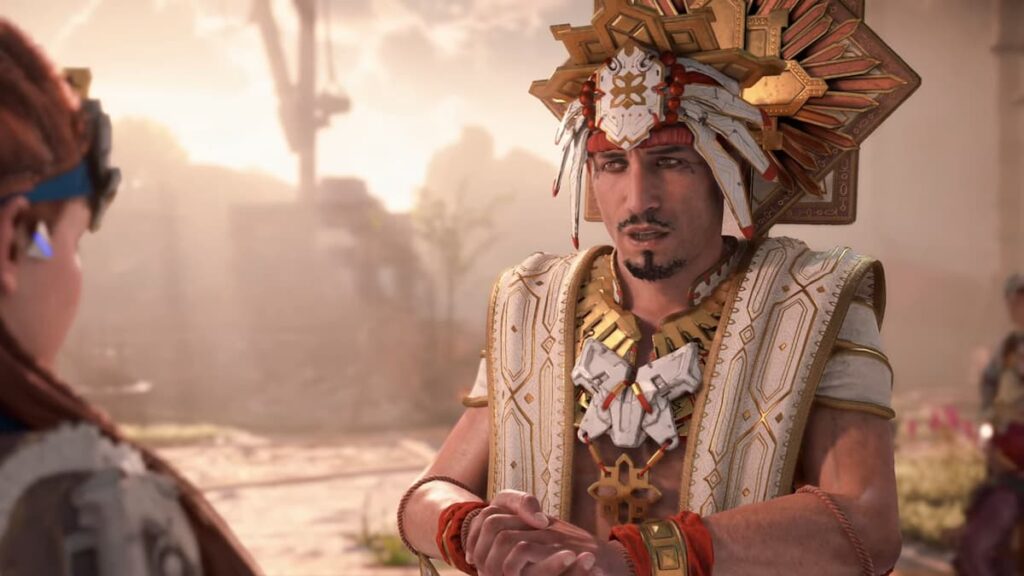 Sun-King Avad usurped the throne from his father, to bring forth a temporary peace after the brutal Red Raid invasions. These invasions from the Carja affected the Oseram, Nora, and Tenakth, but the new Sun-King made peace with the tribes by bearing gifts. Avad stays in Meridian, and at the start of Horizon Forbidden West, he requests Aloy to return to the Carja land after her expeditions.
Avad is revered as a liberator who saved the realm from Sun-King Jiren's cruel reign. Avad's younger half-brother Itamen was conceived by Sun-King Jiren's second wife Nasadi. Itamen will be crowned the next Sun-King once Avad steps down from his position in Horizon Forbidden West.
For more Horizon: Forbidden West guides, check out How to get rid of Firegleam in Horizon Forbidden West on Pro Game Guides.