Humans need a place to live. At first, the nomadic tribes make their homes where they find themselves, but as you progress through the different eras this doesn't work anymore. As a result, you will need to build outposts and cities to house your population.
The Ancient Era is where you can first build cities. The catch is that you have a cap of only two cities. This refers to your outposts that you can upgrade to cities. Other outposts that you connect to your cities will turn into cities but will share a build time with the primary city they are linked to.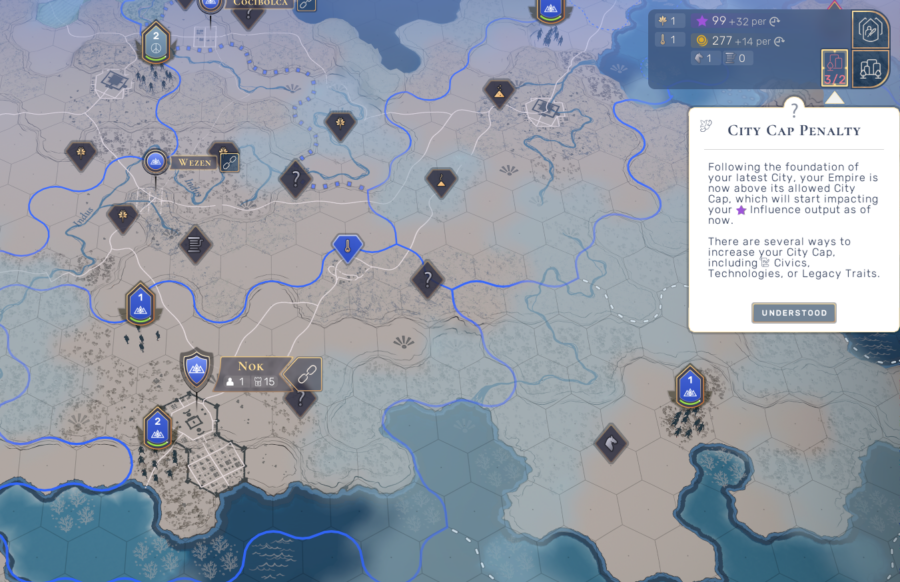 You can raise your city capacity in Humankind which will allow you to create more hubs in which your territories and outposts can be linked too. The primary method is the utilize technology to increase your city cap. Some technologies can only be researched in specific eras. Researching the following technologies will increase your city cap.
Philosophy Technology: +1
Foreign Outposts Technology: +1
Theology Technology: +1
Three-Masted Ship Technology: +1
Supply Lines Technology: +1
Mercantilism Technology: +1
Urban Planning Technology: +1
Space Orbital Technology: +1
Additionally, some Civics will also raise your city cap. These are:
Leadership Civic: +1
Materials Procurement Civic: +1
Small Council Civic: +1
The last way to increase your city capacity requires the use of a legacy trait which means it is unique to one culture. This is Achaemenid Persians Legacy Trait which will increase your city cap by two. This culture is available in the Classic Era.
While the player does have a constant city cap, they can create more cities and go over this cap. This will cost an increasing amount of Influence. If your Influence income falls below zero, all of your cities will suffer a loss of Stability. So while cities are important, it would be wise to measure the amount of Influence you have before expanding too much.
For more information on Humankind, check out How to get Civics in Humankind and How to get Fame in Humankind on Pro Game Guides.