War is no trifling matter in Humankind. For that reason, you will need the people's support to increase your chances of winning a war. This is called War Support and it represents the population's view on war and whether or not they wish to engage with another empire.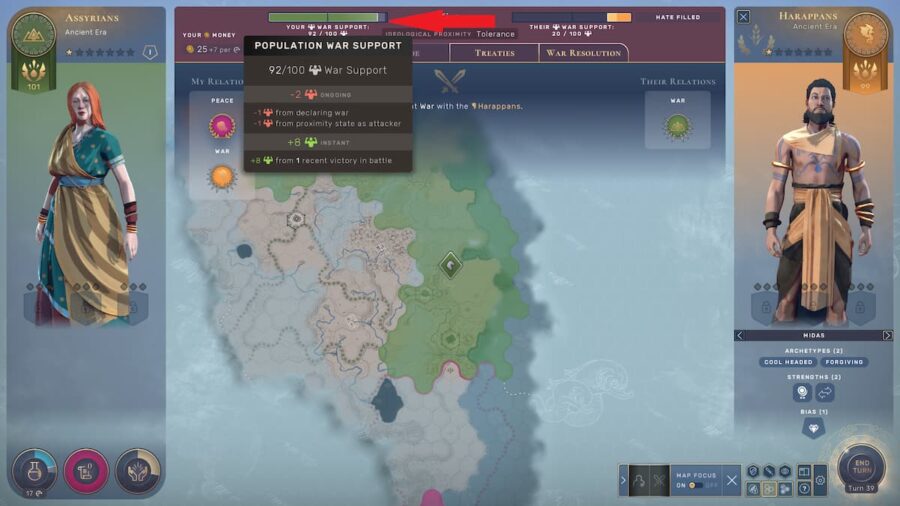 Your War Support will be shown at the top of the Diplomacy Screen for each empire you have come across. You will need at least 80 percent War Support to declare a Formal War but only 20 percent to declare a Surprise War. There are several ways to increase your War Support and some of them can be double-edged swords.
One of the primary ways to increase your War Support is for another empire to create a grievance or demand with your empire. There are a variety of ways they can do this such as attacking one of your units or taking a territory that borders yours. You can also raise War Support by engaging and winning battles. However, if you lose the battle or retreat, your War Support could decrease.
Related: How to get Tenets in Humankind
Ideological proximity and whether that is distrust, tolerance, or kinship affects your War Support depending on the other empire's Ideology. Reputation Badges such as Hero, Merchant, Pacifist, Thief, Traitor, and Warrior can also affect War Support. Treaties and Alliances can change the War Support levels as well. The type of culture that your empire embraces will influence your empire's War Support with Militarist cultures gaining a +30 as their affinity bonus.
Your empire's War Support is affected differently depending on if you are at peace with another empire or war. When at peace, your War Support will slowly decrease to 50 percent which is the equilibrium. While at war, some options are not available such as signing a treaty or commencing trade. Should your empire's War Support reach 0 percent, then the population may force you to surrender.
For more information on Humankind, check out How to get Civics in Humankind and How to get Fame in Humankind on Pro Game Guides.