Lost Ark has numerous collectibles to find in its many different areas. However, none are as numerous as Mokoko Seeds. These small seeds look like fruit and have a green glow to them.
In Melody Forest, there are eight Mokoko Seeds to seek out and collect. Melody Forest is a large area with branching paths. Once you find them, simply walk up and interact to collect them. Here are all the Mokoko Seeds locations in Melody Forest in Lost Ark.
Related: All Mokoko Seed Rewards in Lost Ark
Where to find all Mokoko Seeds in Melody Forest in Lost Ark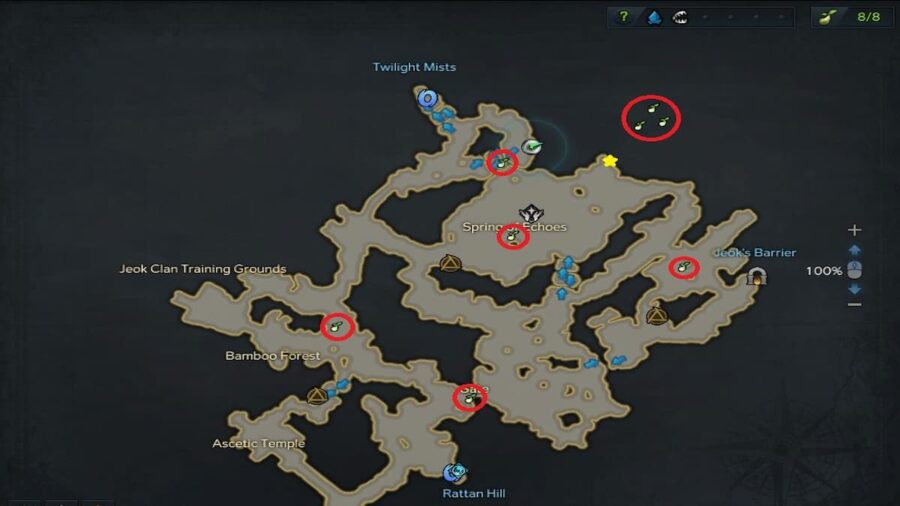 Finding and getting these seeds is fairly straightforward, as most of the Mokoko Seeds in Melody Forest are easy to spot. The yellow star denotes a secret path to the right of the waterfall concealing three Mokoko Seeds.
There is an invisible maze you have to navigate to get these seeds. You can use the explosive barrels to reveal the path; just make sure you aren't too close when they explode.
For more information on Lost Ark, check out All Mokoko Seed locations in Moonmist Manor in Lost Ark and All Mokoko Seed locations in Rattan Hill in Lost Ark on Pro Game Guides.