Once the player clears Castle Luterra in Lost Ark, the world opens up much more. Part of this is being able to access the Stronghold. This gives the player many new mechanics, activities, and currency. One of these is the Raid Seal.
These can be exchanged for various items and recipes at the Stronghold. Players can earn Raid Seals by completing Dispatch Missions from the Stronghold's Management Mode.
Related: What are Seals in Lost Ark, and what do they do, explained
How to get Raid Seal in Lost Ark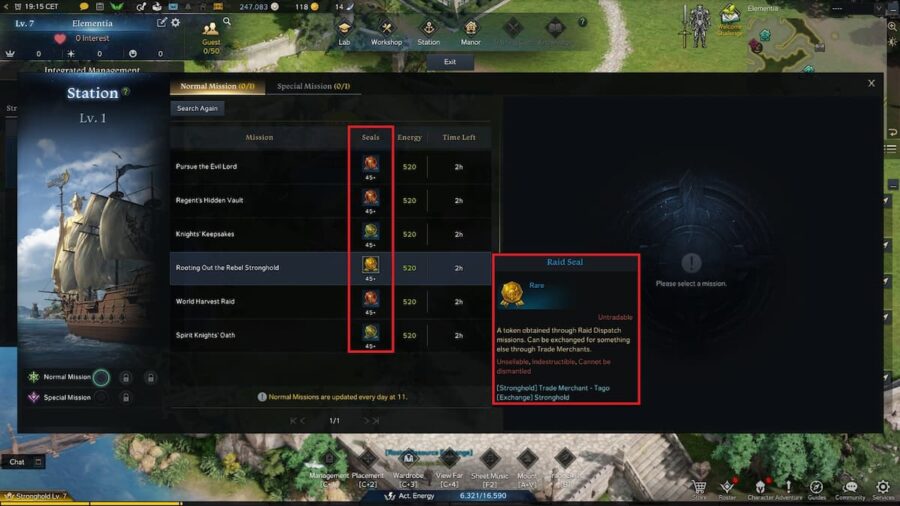 To get Raid Seals in Lost Ark, players must complete Dispatch Missions that reward them. From the Management Mode, select the Dispatch Station. Here, players can see a list of available missions and their rewards. Raid Seals are yellow.
Once you have selected the Dispatch Mission, select your crew and start the mission. You will be shown the time it takes for the mission to be completed. Simply collect your rewards after the mission is done, and you will get Raid Seals.
For more information on Lost Ark, check out What are the World Boss timers in Lost Ark – When do they respawn, explained and How to get World Tree Leaves in Lost Ark on Pro Game Guides.