"Cross-border Obsession" is a quick and easy one-location Hidden Story in North Vern that you can sweep up while running other errands. With how in-the-way this Hidden Story is while accomplishing another task in the Adventurer's Tome, we're ashamed that it took us as long to find it as we did.
"Cross-border Obsession" location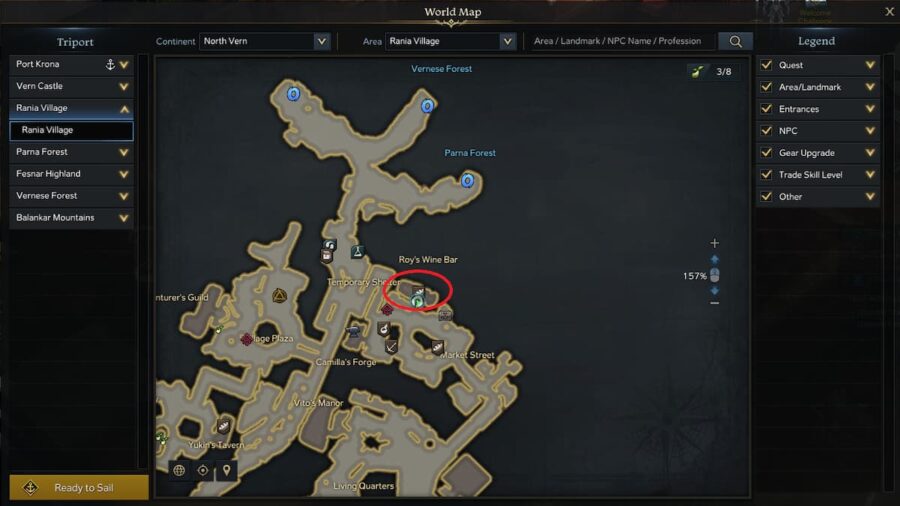 This short Hidden Story can be found in Roy's Wine Bar, which can be found in Rania Village. It appears as a piece of paper on the floor right near Roy, the bartender.
In fact, it is so near Roy, it is very likely that you will accidentally receive the investigate prompt just by accidentally moving slightly too far past Roy towards the wall. That's how close it is.
Related: How to complete the Dalian Orchard secret quest in Lost Ark - Pro Game Guides
While you're here claiming your Hidden Story, now would be a good time to claim a part of the continent's cooking as well. The Vern Anniversary Spirits can be purchased from Roy for 18,000 Silver apiece.
We say apiece because buying two of these is actually a good idea. You'll need a Vern Anniversary Spirits to craft the Long Live the Queen! regional dish later on in addition to the one you need to straight-up drink.
For another spot of random help, go check ou How to get Mari's Mechanical Doll in Lost Ark on Pro Game Guides!