The word fantasy can mean different things to different people. Some people refer to it as a medieval-style setting with swords and dragons. Other people refer to it as anything that is outside the realm of reality. In our list below, we've created the list of best fantasy texture packs for all types of people, regardless of what type of fantasy you'd like!
Many of the more advanced Minecraft texture packs require Optifine to be installed for them to work. We strongly recommend installing it to improve gameplay performance and visual effects if you want to use the resource packs listed below.
All the texture packs we have listed are updated to accommodate for Minecraft version 1.16 and above. If you'd like to see how to install a texture/resource pack for your game, be sure to check under the list for instructions.
The Shortlist
If you are using this page to check out a specific texture pack, you can use the links below to go directly to that part of the page. The download links go directly to the PlanetMinecraft page where you can download the file based on its resolution.
Do you have suggestions for texture packs you'd like to see added to the list? Leave a comment below with a link to the medieval texture pack you like, and we might feature it the next time we update our list. Remember, all featured texture packs must work for the most recently released version of Minecraft!
Related: Best Minecraft Adventure Maps 1.16
Best Minecraft Modern Texture Packs
Below you'll find a clearer description and previews of all the texture packs on our list. If there are any addons associated with the resource pack, we'll also mention them below.
Jehkoba's Fantasy
Jehkoba's Fantasy fulfills the desire to see Minecraft with less clunky and clashy blocks. The game itself matches a fantasy setting, and this texture pack helps leans towards being faithful to the default pack, but softens the the color scheme to blend better. Those of us that played SNES will see the resemblance between this texture pack and the fantasy settings on our favorite games for the system. This texture pack is perfect for wood and stone builders who like to keep things simple.
Quadral
Like Jehkoba's Fantasy, Quadral is a texture pack that brings us back to the good ol' days of playing on old gaming systems. The texture pack looks like a cross between older Kirby and Zelda games. This texture pack has more defined borders that allow you to easily distinguish between blocks, but not to where it's distracting. This texture pack was voted as the winner in a competition for simple texture packs, and for good reason. This pack is perfect for those of us that refer to fantasy as old-school RPGs.
Hafen
Simply put, Hafen strongly resembles Adventure Time. There are strong elements of cartoon RPG fantasy, and light hints of cyber-punk sensory-overloaded textures. This is a light-colored texture theme that brightens your Minecraft world. The Nether looks completely different and makes bright colors and hues less welcoming and more intimidating. The mobs receive a complete makeover, and make it hard to determine whether this texture pack brings your far back in time, or sends you to a post-apocalyptic future.
Hananacraft
Hananacraft would be a cartographer's dream. This texture pack has been recently updated to include new textures. One of the selling points to this texture pack is that it includes textures for many mods and objects not in vanilla Minecraft. It's perfect for players who not only want to play in a fantasy world, but feel like they designed the world themselves. If you make home-decor a regular part of your Minecraft gameplay, then this texture pack is perfect for you.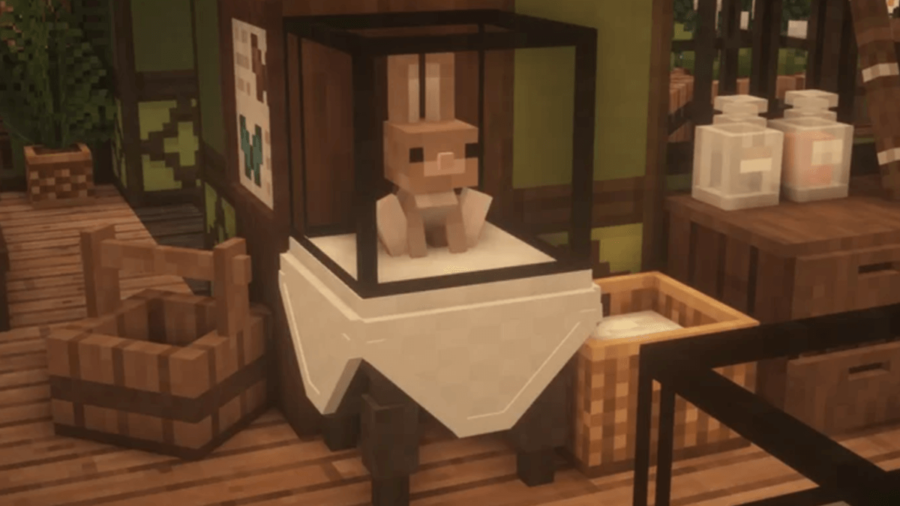 Winthor Medieval
Winthor Medieval is the highest resolution we feature on our list (64x) and they use every pixel toward incredible attention to detail. If your computer can't handle 64x resolution in Minecraft, we'd almost recommend buying a computer just to experience Minecraft with this texture pack. All the blocks feel like they were brought to you from the Middle Ages. The only problem is that you may feel you've warped to an alternative universe, a blocky form of the real-life 10th century. When you come back and see the world around you, you might just want to go back to the game.
Related: Best Minecraft Puzzle Maps 1.16
Additional Info
The videos and images above mostly feature these texture packs with shaders that improve the visuals of Minecraft. These improvements include things like proper lighting, water effects, and particle effects. While installing the texture packs will improve the look of your game, you also need to install OptiFine and a decent shader to get the full effect. Use the directions or links below to make the most of your Minecraft experience.
Installing OptiFine
For detailed instructions, use our guide on How to Install Minecraft OptiFine. Alternatively, you can follow the basic instructions below.
Make sure you have Java installed. If not, go to the Java Download Page and install it.
Go to the OptiFine Download Page and download the version of OptiFine made for your version of Minecraft.
Run the downloaded file to install OptiFine to your Minecraft source files. When given the option, click Install.
In the Minecraft Launcher, go to the Installations tab and make sure OptiFine is selected as the version of Minecraft you'd like to run.
Installing Resource Packs
For detailed instructions, use our guide on How to Install Texture Packs in Minecraft. Alternatively, you can follow the basic instructions below.
Use the links above to go to the download page for the Texture Pack you'd like to install.
Open your Resource Pack folder from the Minecraft Main Menu (not the Minecraft Launcher).
Open the folder containing your texture pack's folder (usually can be found in your browser's/computer's Downloads folder).
Drag the file for the texture pack from the current folder to your Resource Pack folder.
Select the Resource Pack from the Main Menu to use it.
Shaders
For detailed instructions, use our guide on How to Install BSL Shaders in Minecraft. Installing Shaders is a bit more complex than installing OptiFine and texture packs, so we recommend using the link above to see how to install shaders. If you have a different shader you'd like to install, you can follow the same process. The list below provides examples of a few of the best shaders.
That's it for now! Don't forget, you can easily switch between resource packs in the Minecraft Main Menu, so be sure to give all the textures packs in our list a shot!
Now that you know some of the best medieval texture packs, why not test them out on some of the best Creative maps? Use them on all the maps list on our Best Minecraft Survival Maps, Best Minecraft Challenge Maps, and Best Minecraft Parkour Maps!