If you're looking to cure a Zombie Villager, than you're going to need yourself a Splash Potion of Weakness! You will need some hard to find ingredients to make these, but it will be worth if you're looking to convert that Zombie Village into a functioning community. We'll guide you step-by-step through the process of obtaining one of these potions.
To craft a Splash Potion of Weakness, you will need to have 1 Blaze Powder, 3 Water Bottles, 1 Fermented Spider Eye, and 1 Gunpowder! Once you've rounded up all of these ingredients, you will need to place them in a Brewing Stand to create the potion.
Ingredients Required
You will need four different ingredients to craft the Splash Potion of Weakness.
How to Get Blaze Powder
To get Blaze Powder, you will need to obtain Blaze Rods. These can only be gathered from the Blaze mob, who are found in The Nether at a Nether Fortress!
How to Get Water Bottles
To get Water Bottles, you will need a Glass Bottle, which can be crafted with three blocks of Glass. You will then need to use the Glass Bottle on some water to fill it up.
How to Get Fermented Spider Eye
You will need to craft yourself some Fermented Spider Eye. You will first need a Spider Eye, which you can obtain from slaying spiders. A Brown Mushroom, which can generally be found in dark areas. They spawn pretty frequently in swamp, giant tree taiga, and mushroom field biomes. You can also find them in The Nether, which you will need to visit for the Blaze Powder. You can also sheer these off of a brown mooshroom!
How to Get Gunpowder
Your friendly neighborhood Creeper will sometimes drop Gunpowder once it has been slain. Try to find these guys lurking in the shadows at night, or maybe right behind you when you're down in a cave!
Recipe
The recipe for creating a Splash Potion of Weakness is as follows:
3 Water Bottles
1 Fermented Spider Eye
1 Gunpowder
Step-by-Step Guide
Make sure you've got yourself a Brewing Stand ready and have gathered all of your ingredients!
Step 1: Use Blaze Powder
Place the one Blaze Powder in the top left box of the Brewing Stand. This will power up your station and allow you to cook up some potions. You will notice that the bar next to the middle section of the stand will fill up with golden yellow. This will slowly reduce as you create more potions.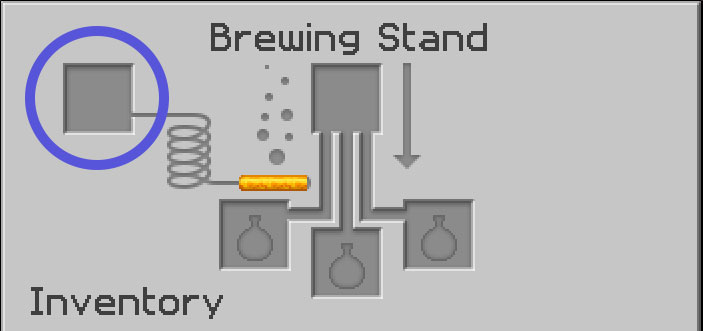 Step 2: Place the Water Bottles & Fermented Spider Eye
Now, place the three water bottle in the bottom squares of the Brewing Stand. Once you have them placed, you can add the Fermented Spider Eye to the top middle square to start the potion creation process. This will take a bit of time to complete, you can watch the progress of the arrow on the right as it fills up with white. Once that has reached the bottom, you will have created potions of weakness.
Step 3: Place the Gunpowder
To turn the potions of weakness into splash potions of weakness we will need to add gunpowder. Place a single gunpowder into the top middle box and wait for it to brew. Once it has completed, you will have yourself the splash potions of weakness that you desire!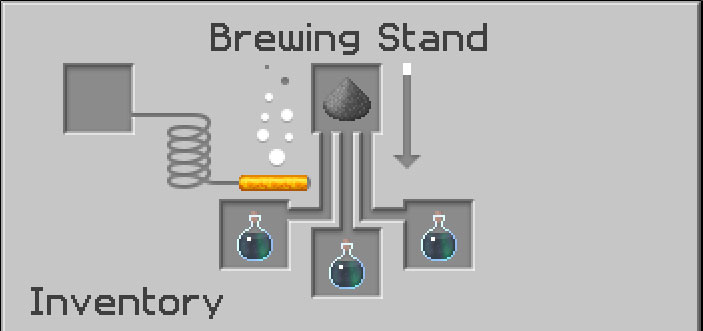 Curing Zombie Villagers
Once you have your Splash Potions of Weakness, you can find a Zombie Villager and hurl it at them. Once they are under the effect of the weakness, you will then need to run up to them and give them a Golden Apple. You will hear a loud noise like thunder and the Zombie will start to shake. It will take at least a couple of minutes before the Zombie Villager is cured!