Dragonbone Artifacts are a Master Rank material that was first introduced in the Monster Hunter Rise: Sunbreak expansion. It takes time to find this item, but don't sweat—here's how to get Dragonbone Artifacts in MHR Sunbreak.
Where to find Dragonbone Artifacts in Monster Hunter Rise Sunbreak
You can find Dragonbone Artifacts in the Jungle, but only on the Master Rank level of difficulty. So, don't search for it in Low or High Rank; you'll just waste your time. To collect these items, start an Expedition Tour and select a Jungle map.
You can check out six places for Dragonbone Artifacts on this map, with four locations on the upper level and two on the lower level. For more details, look at the map below with Dragonbone Artifact locations.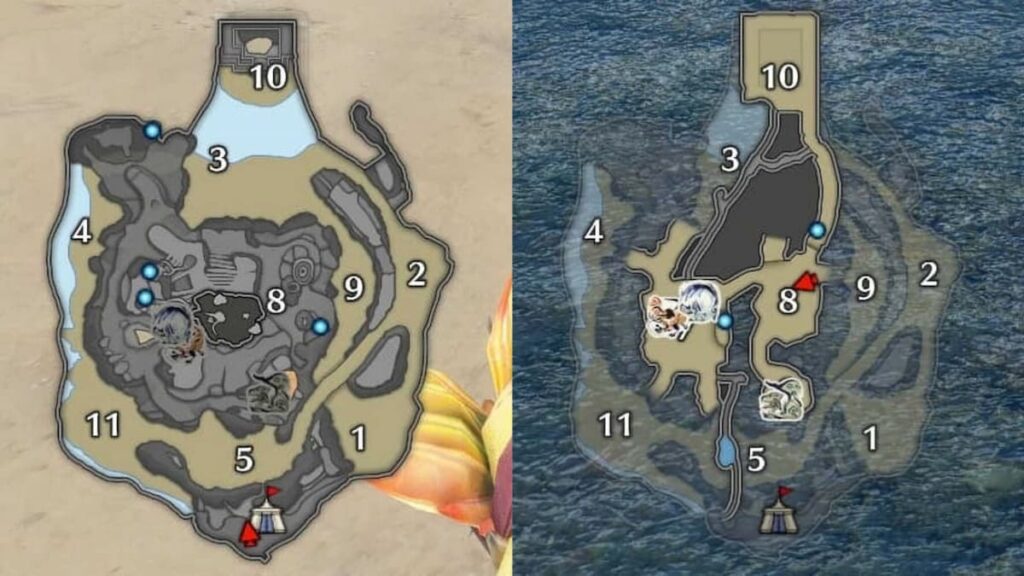 Related: How to get Prized Pelt in Monster Hunter Rise Sunbreak
Best farming route for Dragonbone Artifacts in MHR Sunbreak
To farm Dragonbone Artifacts efficiently, go first to the lower level by going through Area 5. From there, go north and pick up items from bonepiles in Area 7 and Area 8. Afterward, go straight up and to the upper level. From there, go east from Area 3, pick up an item, and head south. After you collect two more, head to Area 8 for the last one. After that, you can Complete Quest and reenter again if needed.
What are Dragonbone Artifacts used for in MHR Sunbreak?
Dragonbone Artifacts are used in forging armor. You'll need just one piece of Dragonbone for each piece of armor, but that's just one part of the armor recipe. For example, if you want to create Barbanias Patch, you'll also need Hermitaur Hardclaw, which you'll get when you defeat the Daimyo Hermitaur monster.
Dragonbone Artifact uses
Armor
Aelucanth Elytra X / Rhopessa Elytra X
Barbanias Patch
Bishaten Vambraces X
Ceanataur Helm
Skull Visage X
For more Monster Hunter Rise: Sunbreak guides and info, check out How to prepare for Monster Hunter Rise Sunbreak on Pro Game Guides.