Farming for Great Spiritvein Gems in Monster Hunter World was very time consuming until an Event Quest made it 100% certain to get them. The old method of hunting Tempered Elder Dragons still works, but the drop rate for a Great Spiritvein Gem is only around 3%. This could be made a lot easier in The Guiding Lands and is still a good method for players that don't feel confident doing the Event Quest. This is how to farm Great Spirivein Gems in Monster Hunter World.
How to farm Great Spiritvein Gems in Monster Hunter World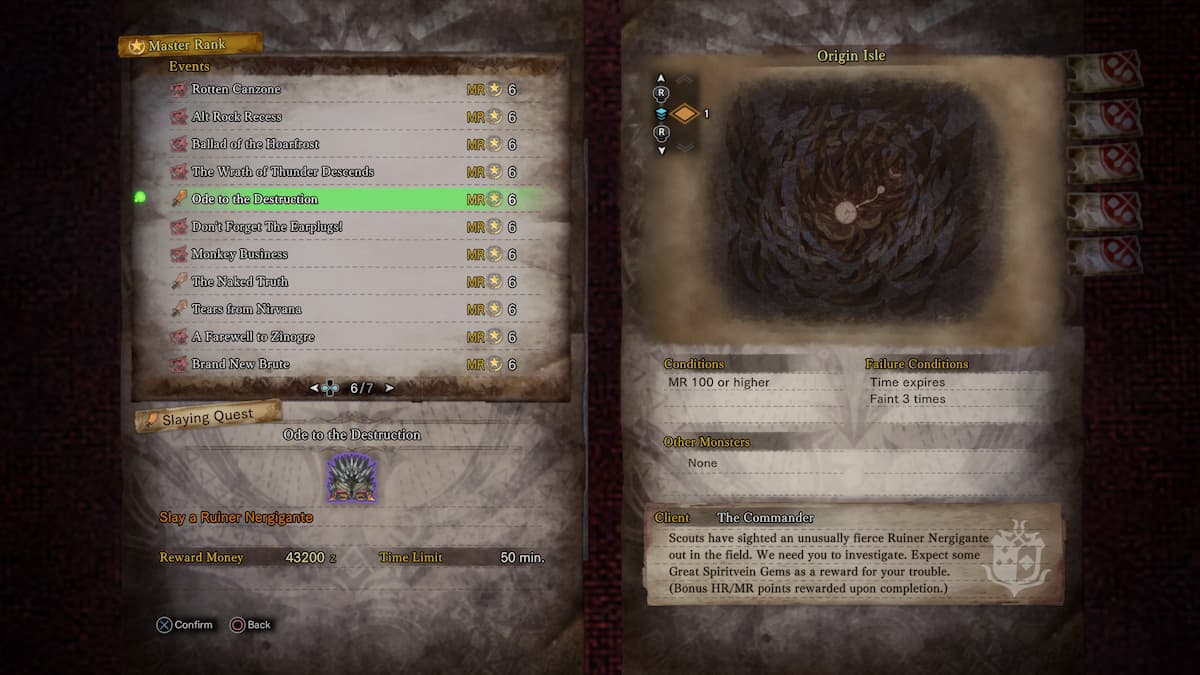 There are two Event Quests in Monster Hunter World that make farming Great Spiritvein Gems extremely easy and there is a guaranteed drop of at least one Gem. These are Ode to the Destruction, where players have to fight Ruiner Nergigante, and Mew Are Number One!, where players have to fight a Furious Rajang. Ode to the Destruction has the extra benefit of being able to drop up to two additional Gems. It's an 8% chance, but if players keep farming, this will really start to pay off. Of course, there are other ways of farming these items if players find these two quests to be overwhelming.
Related: How to get the Buff Body Layered Armor in Monster Hunter World
Alternatively, players can go to the Guiding Lands to farm for Tempered Monsters. Stronger Monsters will spawn more frequently at higher levels but Tempered Monsters will only spawn at level 7. These are the monsters that drop it:
Blackveil Vaal Hazak - 3%
Kushala Daora - 3%
Teostra - 3%
Lunastra - 3%
Ruiner Nergigante - 3%
Namielle - 3%
Velkhana - 3%

Kirin - 1%
Stygian Zinogre - 5%
Seething Bazelguese - 3%
Savage Deviljho - 3%
Rajang - 3%
Gold Rathian - 3%
Silver Rathalos - 3%
What are Great Spiritvein Gems used for in Monster Hunter World
Great Spiritvein Gems are used to Augment Equipment when talking to the Smithy. They specifically are used to increase the slots of Rank 12 Weapons, the upgrade cap for Rank 12 Armor, and change the appearance of any weapon to appear like a Rank 12 weapon. This works even on Safi'jiiva and Zinogre weapons, as well, although Zinogre weapons will require lots Fulgurbug farming. Augmenting these stronger weapons only makes them more powerful and will start making farming a lot easier as well.
For more things Monster Hunter, check out Best Monster Hunter World Mods on Pro Game Guides.