In Monster Hunter Rise, weapons will often have an Affinity stat next to them. This stat may be confusing at first glance, but ultimately, it's pretty simple. Affinity is the Critical Hits stat in Monster Hunter Rise. However, there are a few wrinkles and details you should know about Affinity in MHR.
What is Affinity in MH Rise?
In Monster Hunter Rise, Affinity percentage is the chance the weapon you're using has to land a critical hit. If a weapon has +10% Affinity, it has a 10% chance to do a critical hit, which deals an additional 25% damage. All critical hits deal 25% extra damage. If a weapon has negative Affinity, it has a chance to deal a weak attack. A weak attack deals 25% less damage.
You should also remember that Affinity only affects raw damage and not elemental damage. Any elemental damage a weapon deals, and any status affects, will not be subject to critical hits. As a result, it's sometimes best to concentrate solely on either Affinity or elemental damage rather than try and maximize both.
Related: Will there be a Monster Hunter Rise: Sunbreak Demo?
How are critical hits displayed in Monster Hunter Rise?
A critical hit in Monster Hunter Rise is displayed with a large red slash behind the white damage numbers. In addition, the damage numbers will be slightly larger for a critical hit. In comparison, a weak attack will have a smaller number and a purple slash.
How important is Affinity
Affinity is just one way of raising your damage against a monster in Monster Hunter Rise. In previous games, high Affinity was sometimes the meta build of the game. This was the case in Monster Hunter World, for example. However, in Monster Hunter Rise, low Affinity can be traded off by taking advantage of elemental damage types for greater damage overall.
This is because while a critical hit can deal an extra 25% damage on a set chance, the potential yield for elemental damage is higher. Elemental Attack damage is worked out by taking the value of the Elemental Attack and multiplying it by the sharpness of your weapon, the body part you're hitting, the quest difficulty, and the rage status of the monster. Or to put simply:
Elemental Attack x Sharpness x Body Part x Difficulty x Rage
Additionally, since this equation will be worked out every time you hit rather than only when you critical, it can be better to bring a weapon with an element the monster is weak to rather than a higher Affinity weapon. Over the course of a fight, you'll do more damage with the elemental damage weapon, in most cases. That said, Affinity-focused builds can do massive damage if they're optimized well.
Related: All Confirmed Followers in Monster Hunter Rise: Sunbreak
Best Weapons that need Affinity
Most weapons in Monster Hunter Rise have positive or at least neutral Affinity. This means they're good to go in your Affinity build no matter what. The highest current base Affinity in MHR is 40%, but that can be raised even higher with Armor Skills, such as Critical Eye.
But often the best weapon to use Affinity on is one with a small amount of negative Affinity, like the Diablos tree of weapons. Something like the Feud Hornsword has -25% Affinity. However, if you use a level five Critical Eye Armor Skill, this is completely negated, making the weapon's damage during a fighter far more consistent.
How to Raise Affinity in MHR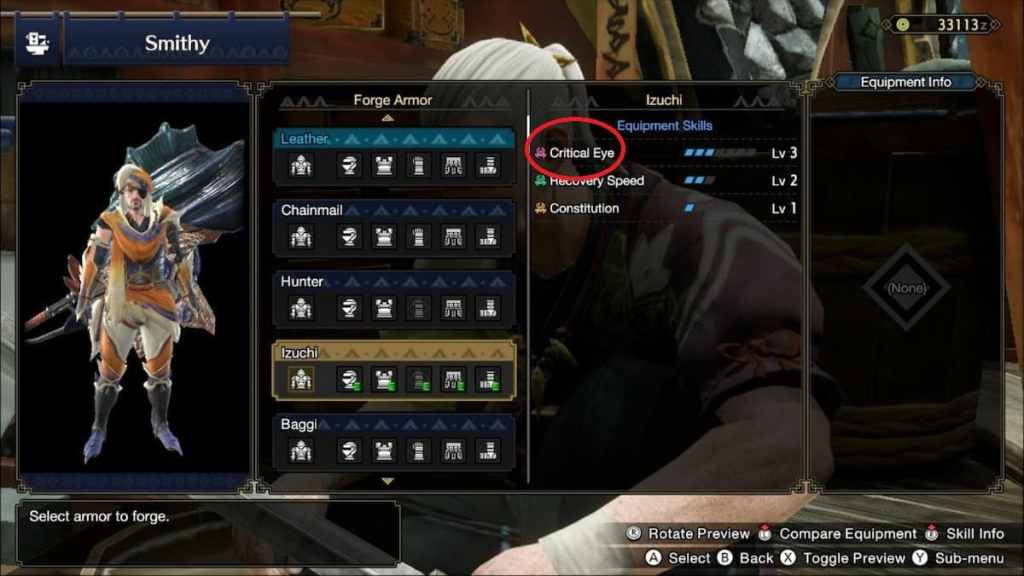 The best way to raise your Affinity in Monster Hunter Rise is to use Armor Skills. These skills will either increase your Affinity overall or just under certain conditions:
Affinity Sliding - Increases Affinity after sliding
Agitator - Increases Affinity when a monster is in red Rage
Critical Draw - Always crit on your first attack for short time after drawing weapon
Critical Eye - Increases base Affinity by a percentage per level
Latent Power - Increases Affinity after two minutes and 45 seconds have passed, with the time lowering for each attack you do. It lasts for two minutes
Maximum Might - Increases Affinity when Stamina is full
Weakness Exploit - Increases Affinity when hitting a monster's weak points
Additionally, if you equip Rampage Skills at the Smithy, you can increase your Affinity even further. Finally, one Ramage Skill, Brutal Strike, flips negative Affinity on its head. With this skill, negative Affinity weapons have a chance to do critical damage instead.
Looking for more Monster Hunter Rise info and guides? Check out How to find Carbalite Ore in Monster Hunter Rise on Pro Game Guides.