To kick off the first round of the 2022 NBA Playoffs, NBA 2K22 has added a new Agenda Challenge. The Agenda Challenge is based on this year's playoff games as they happen. New Agendas will be added after each round one playoff game and a completion reward will be added at the end of the first round.
There are currently eight Agendas to complete from the first round. Here are the Agenda Challenges and the reward for completing each.
| | |
| --- | --- |
| Agenda | Reward |
| Get 17 rebounds with any Rudy Gobert card over multiple games | 3 Card Glass Cleaner Pack |
| Score 38 points with any 76ers PG in one game | 3 Card Slasher Badge Pack |
| Score 36 points with any Timberwolves SG in one game | 5 MyTeam Tokens |
| Win one game using 5 Warriors players | 5 Card Shoe Boost Pack |
| Make 8 3-pointers with any Heat player in one game | 3 Card Sharpshooter Pack |
| Score 6 paint points with any Jaysom Tatum card in one game | 3 Card Post Scorer Badge Pack |
| Score 27 points with any Giannis card over multiple games | 400 Myteam Coins |
| Get one double-double with any Chris Paul card in one game | 4 Card Shoe Award Pack |
The NBA Playoff Agendas will update until the final reward is revealed. The rewards are nice, but reliving playoff moments merely days after them happening is a real treat for any NBA 2K22 player. The Agendas can be done in any game, so as long as you are using the right player cards, you can play any game mode with your squad.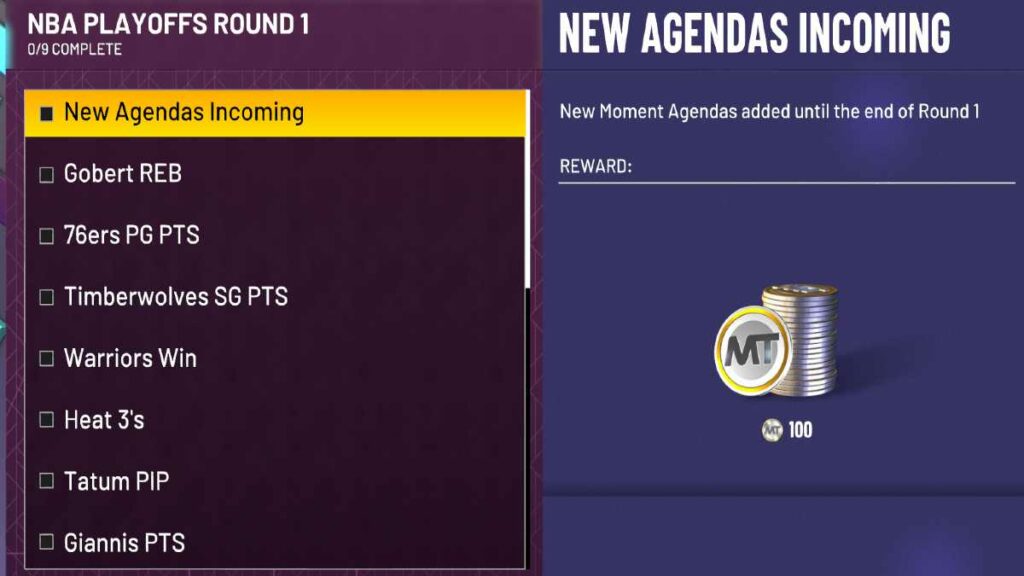 NBA 2K22 is in the middle of Season 6 as the real NBA season is kicking off the playoffs with some intense matchups already. 2K22 players may be able to get new Playoff Moment cards based on player performances from the first round. Updates will follow as the Agendas release.
For more NBA 2K22 guides, check out NBA 2K22 Season 6 Rewards on Pro Game Guides.