To link your Amazon Prime Gaming account with New World, the first step is to log into both Amazon Prime Gaming, Twitch, and New World. First, start by logging into Twitch, and click the prime loot icon at the top of the screen.
New World's first pirate pack should be the first thing you see. Click the claim now button, and Twitch will direct you to the Prime Gaming claim New World rewards site as shown below: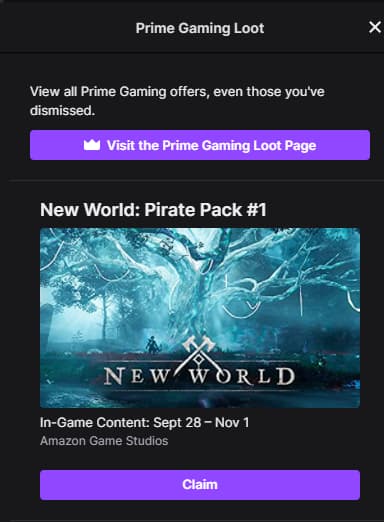 You might need to log into Prime Gaming if you haven't already, so just log into your Amazon account, and that should take care of the problem. That said, on the redeem hub for New World, you will need to click the first pirate pack claim button. Doing so will direct you to another web page, as shown below.
This page is where you will need to link both your Amazon and Steam accounts. Click the link button and punch in your Amazon account info when prompted to link your Amazon account info. Now for Steam, do the same step, log into the Steam site and hit link when directed.
After both your Amazon account and Steam are linked, you will be ready to claim any pirate packs or new Prime Gaming Rewards New World will have in the coming months.
For more on New World, Pro Game Guides has you covered with a massive and ever-expanding catalog of guides.