Nightveil Hollow is an event in New World that will last from October 18, 2022, to November 1, 2022. In the event, players have the task of defeating a unique boss called Baalphazu that summons pumpkin demons. Defeating Baalphazu will reward players with Ichor that they can turn in for tokens. Earning tokens will allow players also to buy unique rewards from a special event shop. That said, here is everything you need to know about the Nightveil Hollow Halloween Event in New World.
Nightveil Hollow Halloween Event Requirements
Before attempting the Nightveil Hollow Halloween event, you must be level 35. At level 35, the quest Nightveil Hollow unlocks for all players. After the quest unlocks, you can start the quest at any NightVeil Cauldron in New World settlements.
Related: How to craft Charged Sand in New World and get all required resources
Where to start the Nightveil Hollow Halloween Event
Players can start the Nightveil Hollow Event quest by locating a man called Salvatore next to the Nightveil NightVeil Cauldron at a town location. When visiting a town in New World, open the map and look for the pumpkin icon shown below.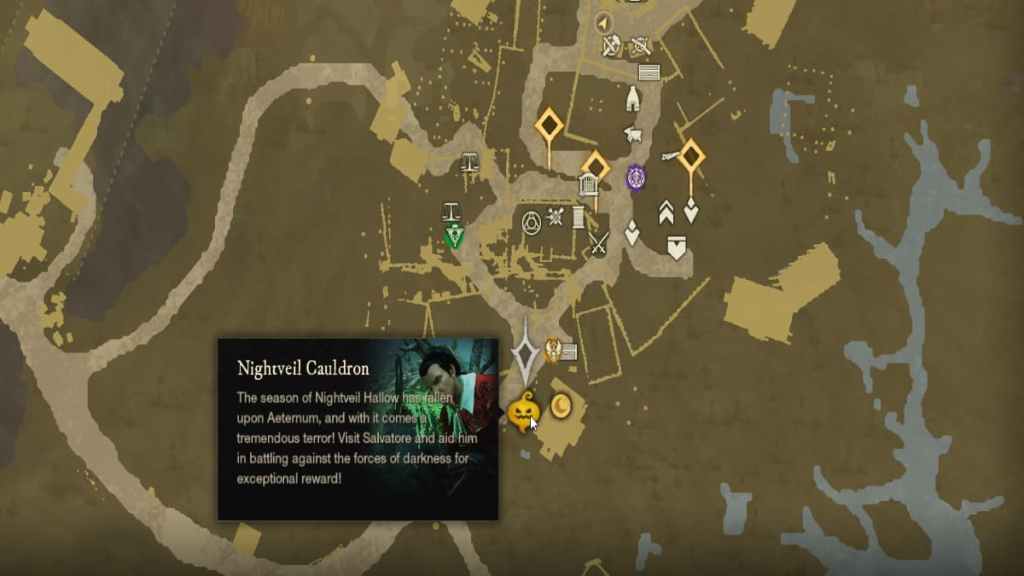 Speaking to Salvatore will start the Nightveil Hollow Event quest, where you must defeat Baalphazu. However, Baalphazu can spawn at multiple locations, so finding him can be tricky at first. Luckily the following are all locations where Baalphazu can spawn:
All Baalphazu Boss Locations NightVeil Cauldron
Weavers Fen
Ebonscale Reach
Mourningdale
Brightwood
Inside the regions listed above, you can find Baalphazu's spawn by searching for his icon shown below.
Tips for Beating Baalphazu in New World
Overall, Baalphazu is a boss geared towards several groups fighting him simultaneously. Because of this, we highly recommend trying to use your faction or company chat to gather enough players. You will also want to make sure everyone is focusing DPS on the boss. Doing so will break his stamina bar, making the fight significantly easier for all groups.
All Nightveil Hollow Halloween Event Rewards
After killing the event boss, you can use Ichor to earn the following rewards:
Weapon Patterns
Armor Skins
Housing items
Emotes
For more on New World and its Brimstone Sands expansion, we at Pro Game guides have you covered with guides like How to get the New World Fallen Spirit Twitch Drop and What are Runeglass gems and how to use them in New World.