The Technomancer is one of four classes in Outriders. The Technomancer class is a long-range support class that uses status effects to their advantage. In the new Outriders Worldslayer expansion, all classes have new Pax Trees, Ascension points, and legendaries to collect. Here is the best Technomancer build to try for Outriders Worldslayer.
Technomancer Skills
This Technomancer build revolves around the turrets and applying status effects to enemies for maximum damage. Cryo Turret and Blighted Turret are your primary damage source and should always be active. With the correct mods, you can have up to three turrets active. Cold Snap applies freeze to enemies in a large radius around you. Using the mods and Class nodes below, we will inflict as many status effects as possible to increase your weapon damage while allowing the Turrets to tear through enemies.
Technomancer Mods and Gear
As all gear drops in Outriders are random, it can be hard to find the perfect pieces. It's better to focus on getting the right mods than aiming for specific legendary sets. You can use any weapon you like for this build. However, stay at long-range, as the Technomancer gets a passive damage bonus at long-range. Your mods should focus on buffing your Cyro Turret, Blighted Turret, Freeze, and Toxic damage. You can achieve this with many different mods, but for this build to work, you must have:
Hail Shot (Cryo Turret): Increase the Turret's damage based on your Status Power.
Double Trouble (Cryo Turret): Deploy an enhanced turret with two barrels instead of one, doubling the fire output.
Twins (Cryo Turret): Two Turrets can be placed before triggering the cooldown.
The Techmonger legendary set increases your turret damage by 10% when using turret skills. Stacks up to 5 times. For your secondary stats, you should aim for:
Anomaly Power: Increases the damage dealt by Melee, Skills, and Status Effects.
Cooldown Reduction: Reduces the Cooldown of your skills.
Status Power: Increases the damage dealt by status effects.
Related: How to increase your Apocalypse Tier in Outriders Worldslayer
Technomancer Class Points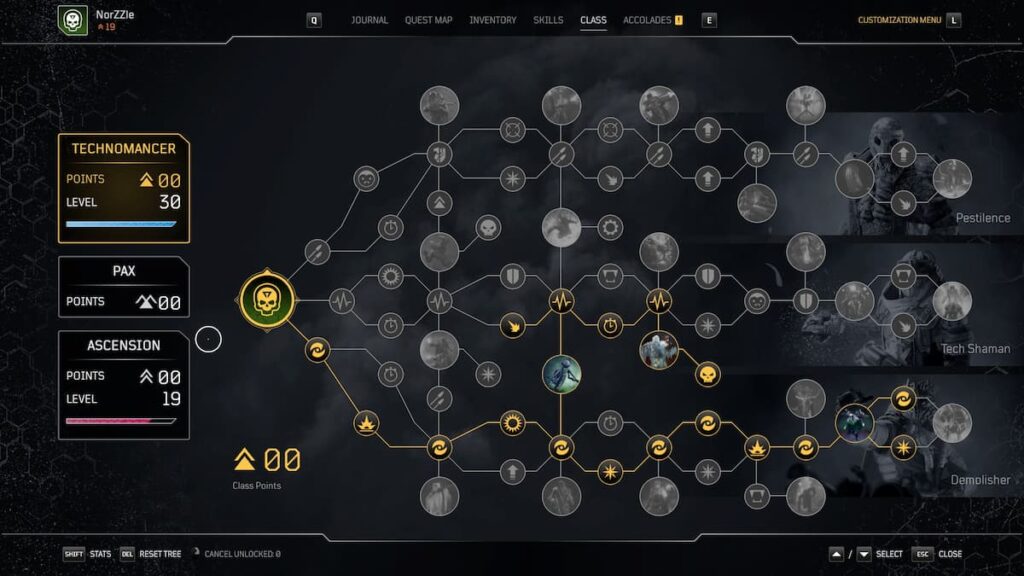 Your Class tree should buff your Anomaly Power as high as possible while adding to your Freeze and Toxic damage. The Exposing Frost Node will also apply vulnerable status effect every time freeze is afflicted on an enemy, increasing their damage received by 25%.
Technomancer Pax Points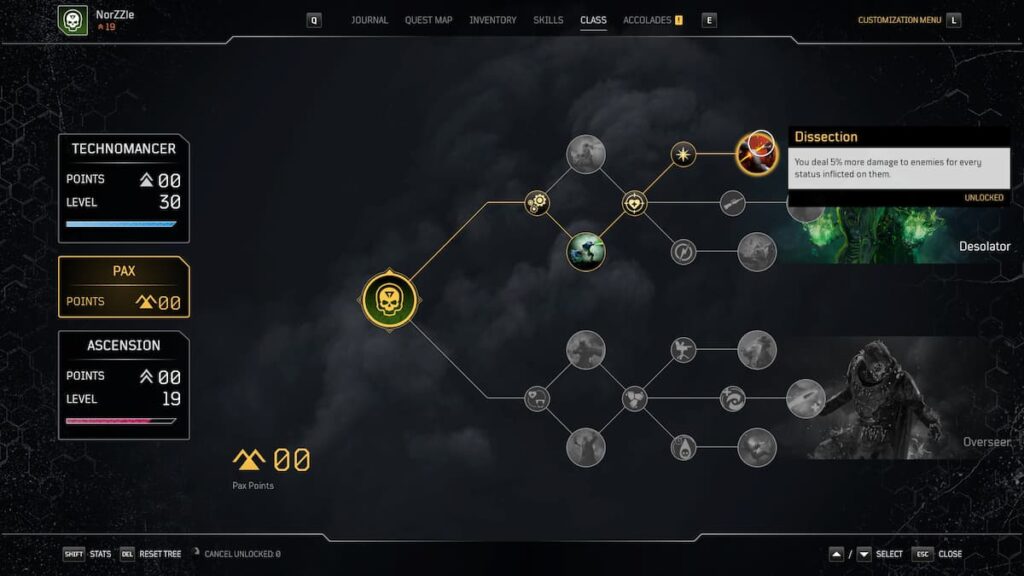 There is only one good option in the new PAX trees for this Technomancer Build. Dissection will increase your damage to enemies by 5% for every status effect inflicted on them. Permanence further increases the status effects you inflict by inflicting a random status effect every time Toxic is applied.
Technomancer Ascension Points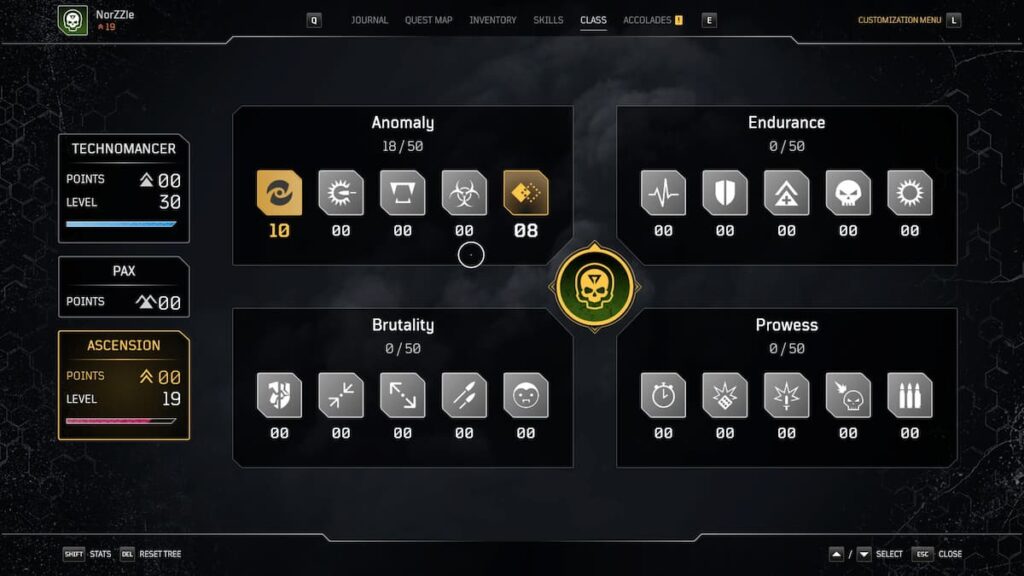 For a Technomancer, prioritize the Anomaly tree, which increases your Anomaly Power, Status Power, and Anomaly Damage. Max out each node in the order below:
Anomaly: Anomaly Power
Anomaly: Anomaly Damage
Anomaly: Status Power
Prowess: Cooldown Reduction
After Anomaly, focus on Prowess to increase your Critical Chance, Critical Damage, and Cooldown reduction. Spend your remaining points in the Brutality Tree.
For more on Outriders guides, check out How to Defeat in Arbiter of Descent Outriders Worldslayer and Best Farm for Apocalypse Gear in Outriders Worldslayer here on Pro Game Guides.