Outriders Worldslayer has updated the Challenge Tier system into the new Apocalypse Tiers, not to be confused with Apocalypse Gear. Along with the new endgame trial, this is the main source of new content and progression in the Outriders Worldslayer Expansion. Here is how you get to progress through the Apocalypse Tiers.
How to unlock Apocalypse Tiers
To unlock the next Apocalypse Tier, you will need to play the game on the highest unlocked Apocalypse Tier that you have. You will gain experience towards the next Apocalypse Tier the same way you gain experience for new levels, however, you will only get Apocalypse Tier experience from defeating enemies, not from completing quests.
This Apocalypse Tier experience can be earned in any gameplay activity, including the original Outriders content or story. So you can return to the legacy content, like expeditions rather than completing the new Trial of Tarya Gratar if you prefer.
Related: What are Apocalypse Tiers in Outriders Worldslayer?
How to change your Apocalypse Tier?
You can change your Apocalypse Tier at any time when not in combat, by pausing the game and selecting the Apocalypse Tier option. Apocalypse Tiers affect all aspects of your gameplay, including enemy difficulty and the quality of loot that will drop for you. The higher your Apocalypse Tier, the higher the chance of new Apocalypse gear dropping. The Apocalypse Tier cap is 40, up from the original Tier 15 from the base game.
Apocalypse Tier Rewards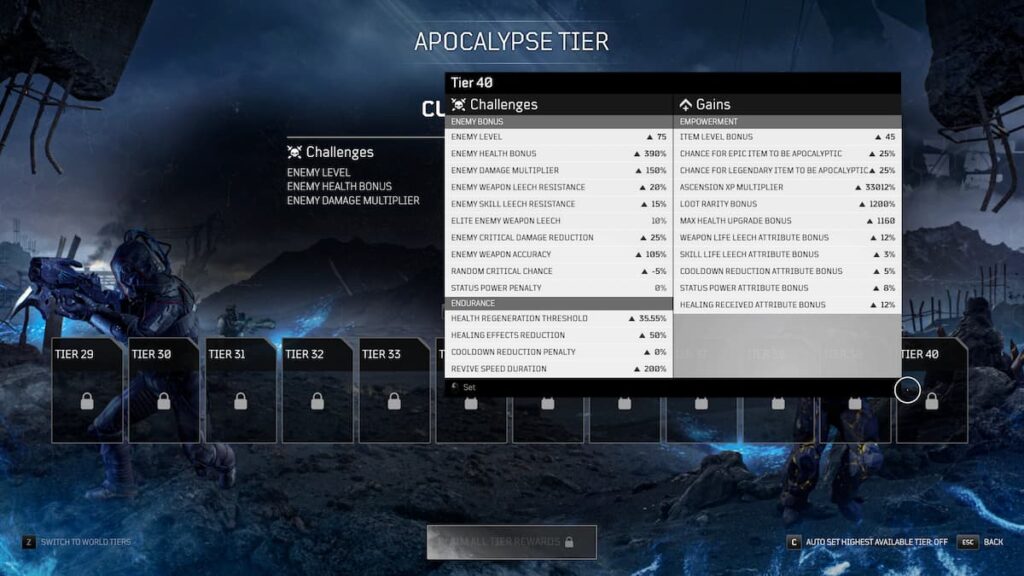 When you unlock a new Apocalypse Tier you will receive a random legendary drop. As you progress higher up the Apocalypse Tiers you will also gain various buffs from playing on these Tier levels, along with an increased chance of Apocalypse gear dropping. The gear that drops at these higher tiers is also a higher gear level, up to gear level 75 at Tier 40.
For more on Outriders guides, check out How to Defeat in Arbiter of Descent Outriders Worldslayer and Best Farm for Apocalypse Gear in Outriders Worldslayer here on Pro Game Guides.