The Speedster Class of Pokémon in Unite, have high mobility and offense stats, and they also excel in making quick attacks against opposing Pokémon and scoring points for their team. This supreme Gengar build and strategy is top-ranked and unmatched.
Best Gengar Builds in Pokémon Unite
Stay out of the lanes and lurk in the jungles of the battlefield, to get the ultimate results with this Gengar build. Level up the undefeated tank in the shadows, while popping out on all unprepared enemies to devour them, unsympathetically. Check out our best Gengar Build in Pokémon Unite.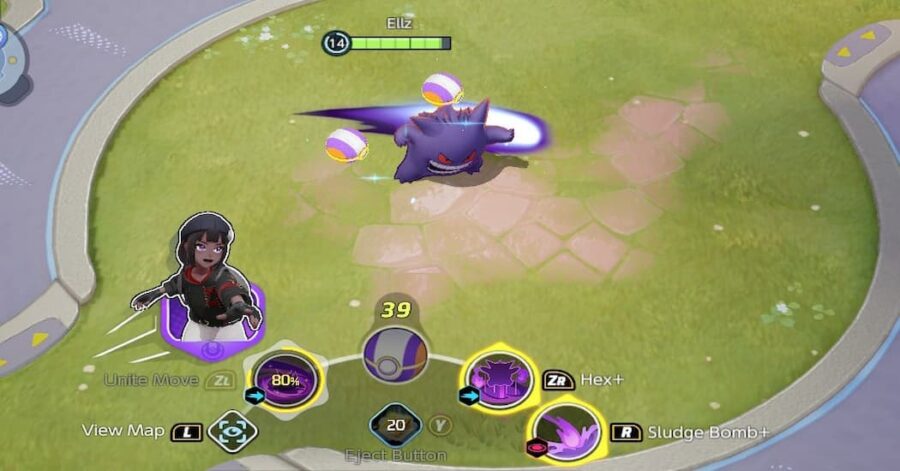 When Gengar's Unite Move, Phantom Ambush unlocks at level nine, it will be the cherry on top of this unstoppable Speedster's build. It allows players to jump to the designated area and sneak around with increased movement speed. If used again, it deals damage to opposing Pokémon in the area of effect and decreases their movement speed for a short time. Just camp out in the jungle and tank on every gullible enemy that passes by!
Related: Best Pikachu Builds in Pokémon Unite
Abilities
Will-O-Wisp (Lev. 1)

Shoots multiple sinister flames that burn and deal damage to opposing Pokémon when hit.

Sludge Bomb (Lev. 5)

Hurls unsanitary sludge to the designated area, leaving opposing Pokémon poisoned when it hits.

Hex (Lev. 7)

Disappear and then reappear at the designated location, dealing damage to the opposing Pokémon that is poisoned, it deals increased damage and its cooldown is reduced.
Items
Buddy Barrier

Grants a shield to the Pokémon and to nearby allies with the lowest HP when the Pokémon uses its Unite Move.

Energy Amplifier

Has the Pokémon deal increased damage to opposing Pokémon for a short time after it uses its Unite Move.

Wise Glasses
Eject Button

Quickly moves the players' Pokémon in the designated direction.
Check out all our coverage on Pokémon Unite; including our guide on How to get Blissey, Mammoswine, and Slyveon in Pokémon Unite.