Raid Shadow Legends is a turn-based RPG available for mobile and PC. Players collect various champions, each equipped with their unique skills and benefits, and take on the thrilling storylines, epic dungeons, and arenas. As you venture through the different stages, you gather resources and gain gear (swords, shields, armor) to put on your champions. Gear sets give your characters additional bonuses and stats, making them even more powerful during battles. These are some of the best gear sets to collect during your adventure.
Best Defense Gear
The following gear sets are more beneficial for defensive plays, boosting your HP, giving you shields, and healing—all which can keep you alive during your battles.
Lifesteal Set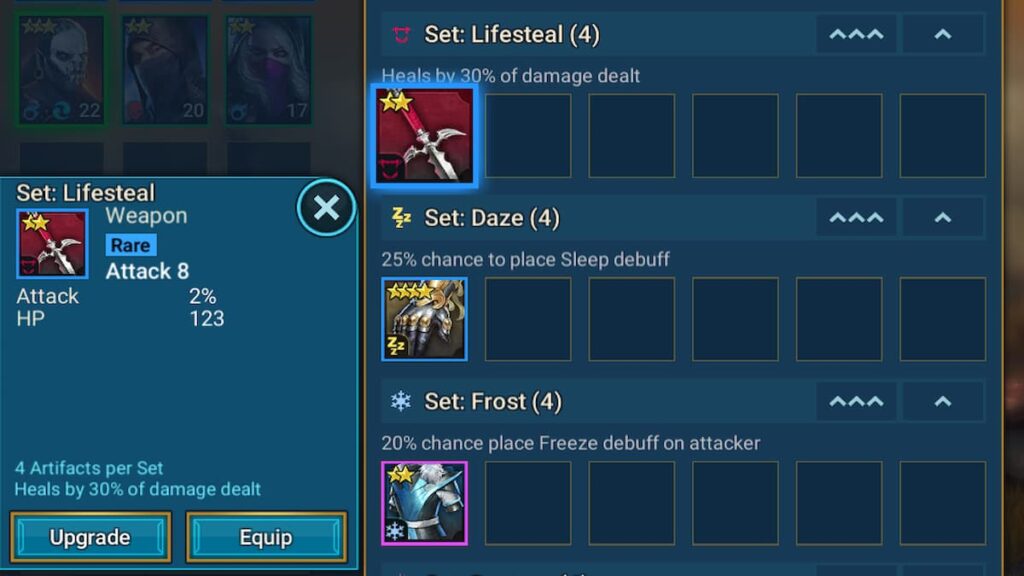 Lifesteal gear allows your champions to restore some health with each hit they deliver to their opponents. This defensive gear helps players endure challenging battles longer and is highly beneficial during the early game. You need four pieces of the set to get these bonuses. Good subsets for Lifesteal include speed, HP boosts, and critical damage.
Shield Set
The Shield set is a straightforward defensive option, but it could mean the difference between a loss or win during your battles. This gear set can provide a 30% shield for your whole team, increasing all their defenses, increasing their overall HP, and allowing them to hold out against heavy-hitting attacks. This is an excellent set for support champions with subsets of additional HP boosts, but you will need to have four pieces of the set equipped.
Stun Set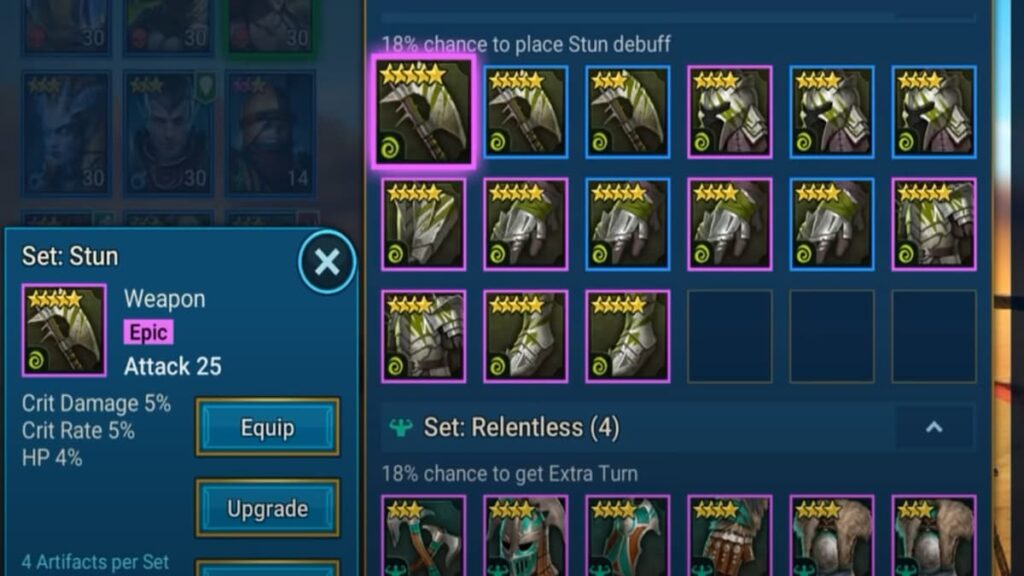 The Stun gear is a perfect defensive set due to the chance of controlling enemies and repressing them from their attack capabilities. This makes it so you can avoid dangerous attacks and sneak on your own before the enemy even has a chance to retaliate. Utilizing this set on champions with AoE is the best way to take advantage of these bonuses and potentially stun multiple enemies simultaneously.
Related: Raid Shadow Legends Tier List
Regeneration Set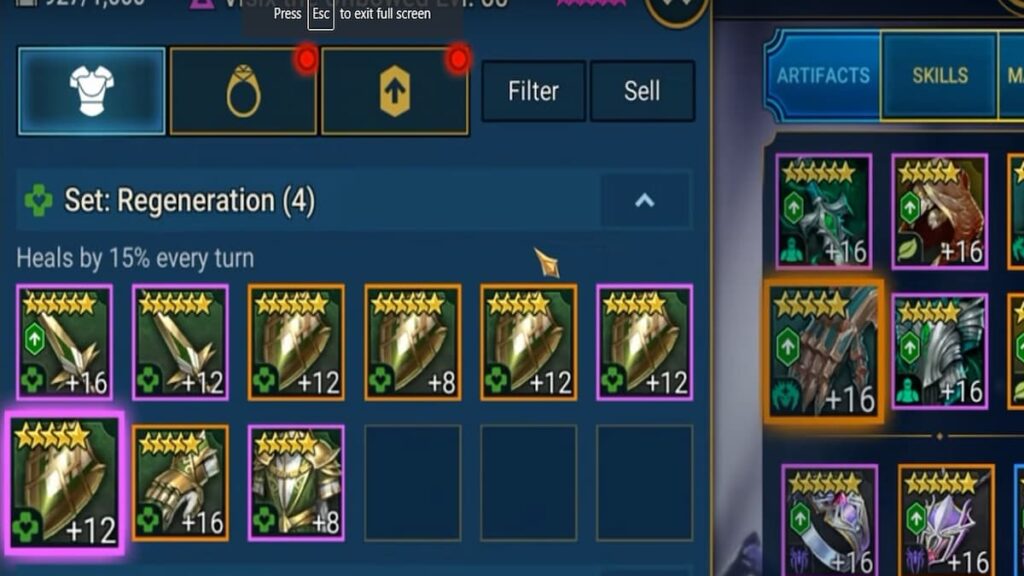 The Regeneration gear is another set that's focused on endurance. It allows your champion to heal 15% every turn, meaning they can recover from any previous blows from enemies and hold out longer during battle. That said, it may not be quite as advantageous if you're not returning some big hits, so make every moment count. Additional beneficial subsets for this gear include speed and accuracy.
Immortal Set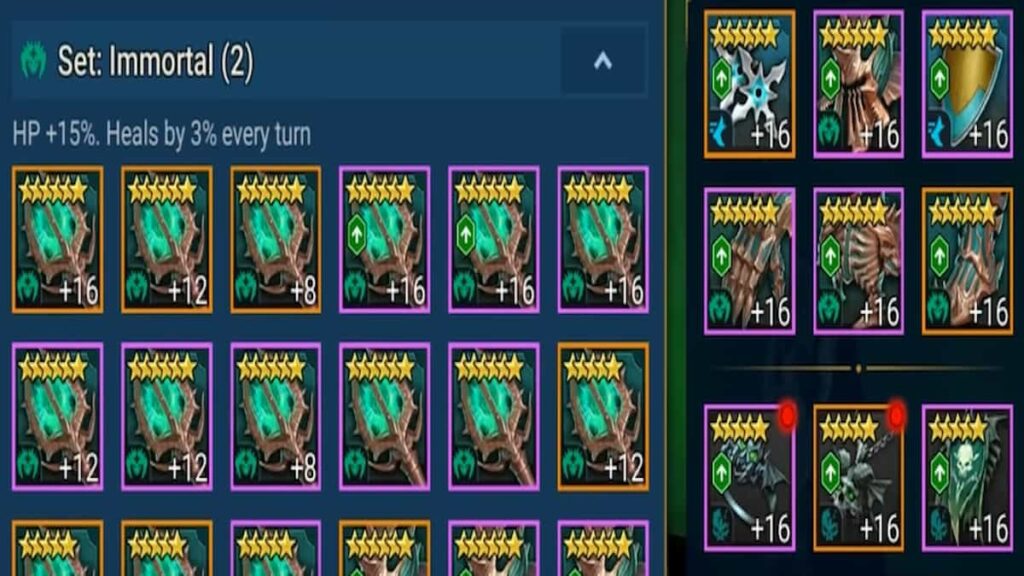 As it's named, the Immortal gear set gives your champions a taste of immortality. It offers a boost to HP and will enable them to heal a small percentage every round. This is yet another defensive set that allows your team to endure through challenging dungeons and waves by increasing their overall health and allowing them to heal back lost HP from enemy attacks. It is also highly beneficial for players who deal damage based on HP stats, granting their attacks more potency.
Best Attack Gear
These gear sets are crucial for dealing immense damage during battles. Champions will break through enemy defenses, boost their critical hits, and slay their enemies with speedy precision.
Swift Parry Set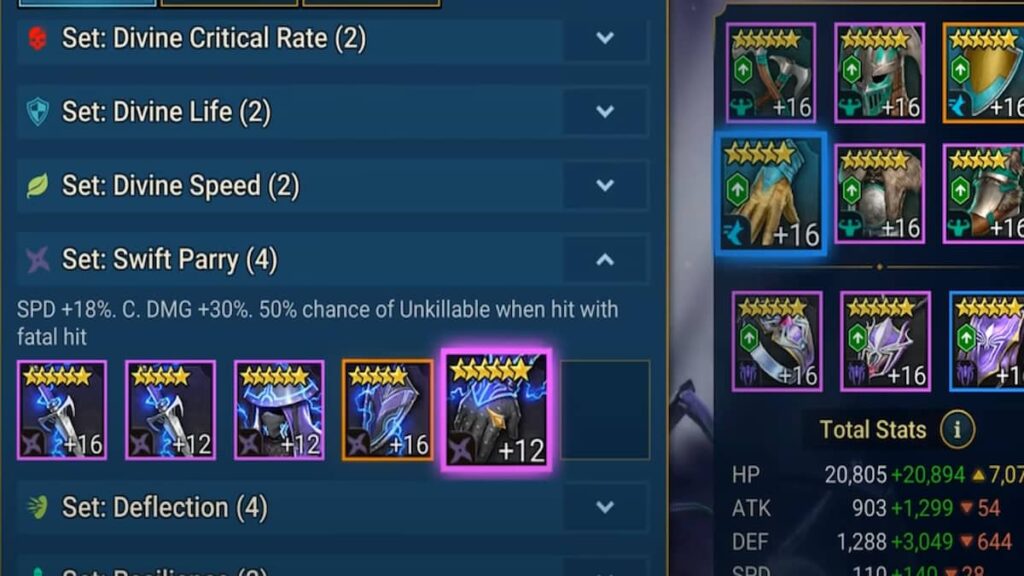 The Swift Parry gear is an excellent set for the arena and can increase your overall attack stats while also giving a hint of defense as well. It increases your speed by 18%, critical damage by 30%, and has a 50% chance of buffing your champion with Unkillable. This means the champion utilizing this gear can deliver swift, lethal blows while also protecting themselves from potentially fatal impacts. This is excellent end-game gear, whether you're taking your champion into the arena or working your way through dungeons.
Speed Set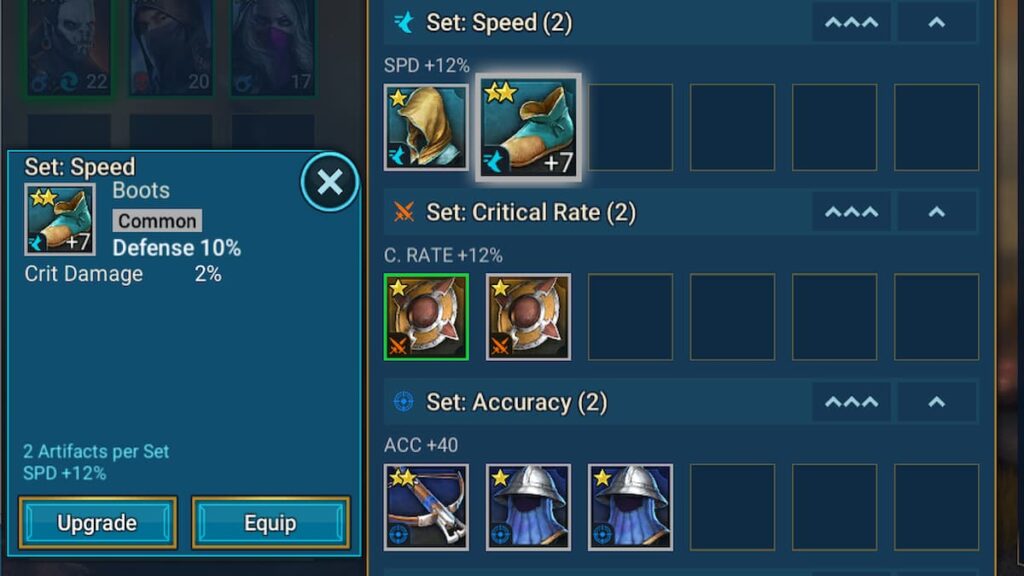 Speed is essential no matter what point you are at in the game, which is why the Speed gear set will always be one of the best sets to utilize. It will significantly boost your champions' speed, allowing them to more quickly rotate their skills and get in attacks before your enemies. Increased speed helps your team control the battle better and dominate offensively. You only need two pieces of this gear for the set bonuses.
Accuracy Set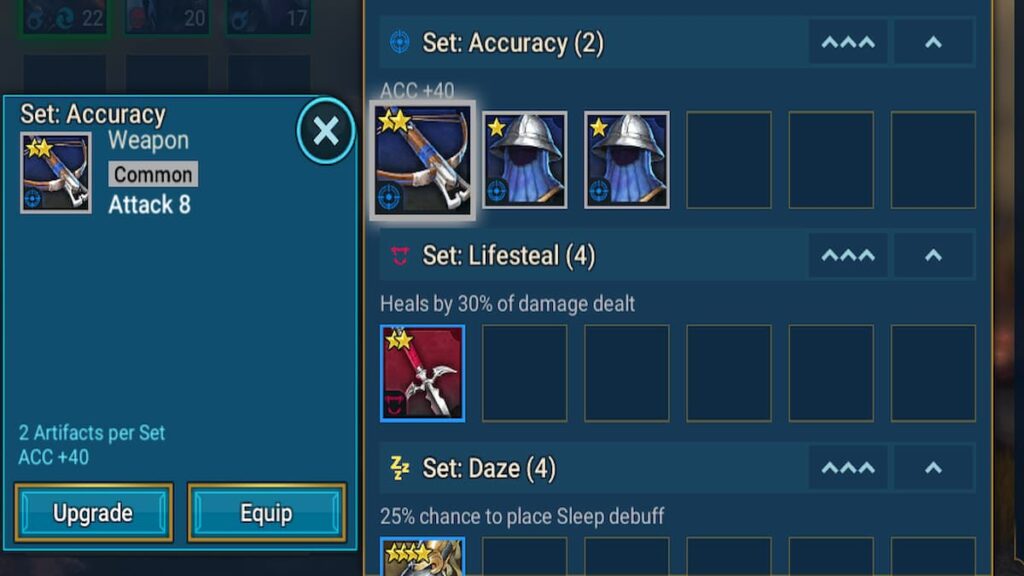 The Accuracy set is another crucial attack gear set that every player should consider, and you only need two pieces equipped. Accuracy for your champions means they will land their abilities with each turn. Without this, they are simply hitting for base damage without any additional debuffs or instrumental techniques. With the Accuracy gear set, your champions can make each turn count, and every hit will be used to progress toward victory.
Perception Set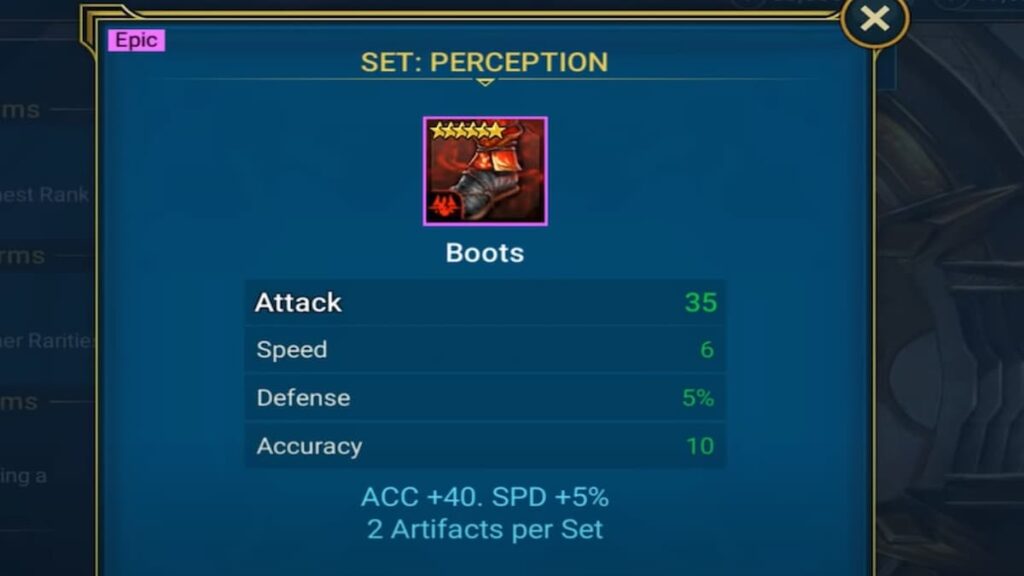 The Perception gear set is the best of both worlds regarding speed and accuracy. Your champions will hit their abilities each turn and rotate them more efficiently. Placing this gear on champions with powerful debuffs and overground attacks is a valuable tactic in your battles. They will continuously keep your enemies at bay, weaken them, drain their health quickly.
Savage Set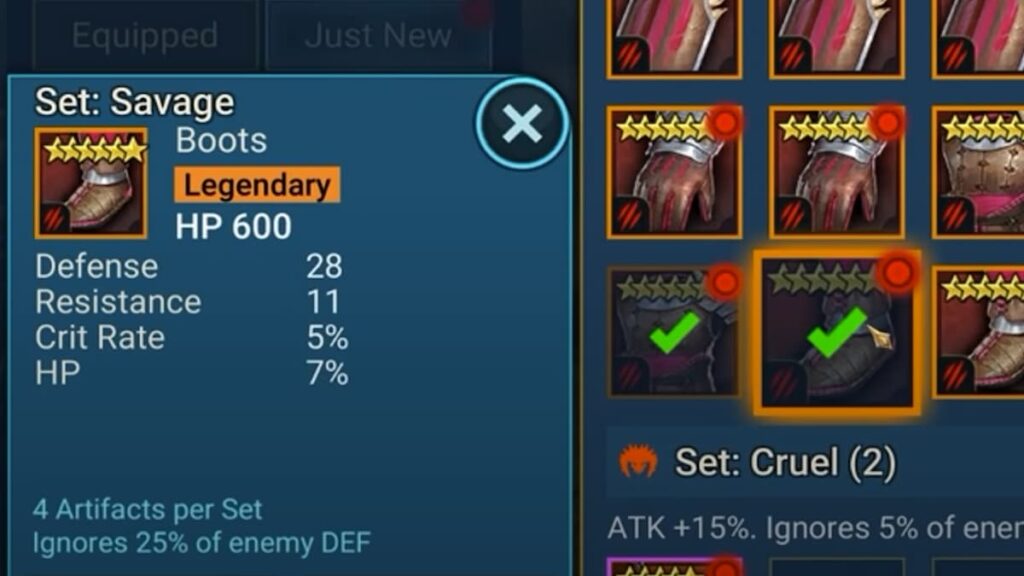 The Savage set is key to immense attack strategy and is end-game material for your mightiest of champions. This gear allows champions to ignore 25% of defenses and deal out their critical hits without any buffers. The Savage set out damages most other equipment and sets up your attack characters for significant success. With this gear, attack, critical damage, and speed will boost these factors even more.
These are just a few of the gear sets we think are the best and most valuable in Raid Shadow Legends, but many others are available. Which gear sets are you using that you believe are the best? Don't forget to check out these Raid Shadow Legends promo codes to get free in-game rewards!
Looking for more Pro Game Guides mobile games content? Check out lists on Best Mobile MMORPGs, Best Idle Mobile Games, or Best Mobile Multiplayer Games!