Do you enjoy making spaces visually beautiful and appealing to the eye? In Redecor, you're tasked with making a set room or space given to you as attractive or chic as possible. Change everything from the decorations to the tiling to measure up to other players. Other players can then vote on the space or room you have redecorated, and you can be voted to the top of the leaderboard and get more experience points.
To make the redecoration as you envision it, you will need Gold and Cash to buy new items and add the "wow" factor to your decoration skill. We have the codes to help you claim this extra Cash and Gold so that you can impress the other players in the game.
Do you want more Feng shui in your life? We have the games and codes for all your creative and compulsive needs! Check out Gucci Town Codes, Roblox Fashion Famous Codes, Roblox My Hello Kitty Cafe Codes, Roblox TutuLand Codes, and Roblox Be a Gardener Codes, and browse Pro Game Guides for more awesome codes pages.
All Redecor
Codes List
Updated July 5, 2022
New codes added.
Redecor Codes (Working)
There are no working codes at this time. Check back on Wednesday!
Redecor Codes (Expired)
BTGG-FAXU—Redeem for a duel
2V9-4FY9—Redeem for a duel
JD38-65ER—Redeem for 100 Gold and 2500 Cash
678U-39QJ—Redeem for a duel
UGYD-6AEK—Redeem for a duel
WBGQF-2XJ8—Redeem for Cash and Gold Rewards
NX2N-YAXC—Redeem for Cash and Gold Gifts
ENPR-9GRC—Redeem for Cash and Gold Rewards
66JJ-35PM—Redeem for Gold Gifts
M284-GMNE—Redeem for Cash and Gold Gifts
XJNM-43T7—Redeem for Cash and Gold Gifts
P6NQ-6Q7R—Redeem for Gold Gifts
XVMF-5E3M—Redeemfor Gold Gifts
QAF4-R4PU—Redeem for Gold Gifts
HEP7-7BT6—Redeem for Gold Gifts
44FF-4M4N—Redeem for Cash and Gold Gifts
RKDH-3UHM—Redeem for Cash and Gold Gifts
UH47-3GTC—Redeem for Cash and Gold Gifts
CCRX-DP8M—Redeem for a duel
J34V-BVU8—Redeem for 100 Gold
825E-BC4Y—Redeem for 100 Gold and 2500 Cash
GTKP-DNR3—Redeem for 100 Gold and 2500 Cash
5MD3-45BK—Redeem for cash Reward
RR59-PYLE—Redeem for X1 Challenge
7XJF-45TU—Redeem for Lobby at Tiffany's-lobby
G2MA-E5NQ—Redeem for Asymmetrical Decor-living room
Q4DQ-VT8W—Redeem for Coastal Aroma-picnic area
WUHM-LX7D—Redeem for Fun with the Fam-dining area
HD4K-KC4A—Redeem for a duel
P6YY-5E2M—Redeem for a duel
84QQ-TGNR—Redeem for Balance and Harmony-kitchen
5U75-TT63—Redeem for a duel
473A-3FQT—Redeem for a duel
25EG-A5WX—Redeem for a duel
UR58-XUTG—Redeem for Serene and Soothing-Bathroom
X9FG-3YCT— Redeem for Candle Light Dinner-Dining room
QM4B-677D—Redeem for a duel
MNND-E3EG—Redeem for a duel
8GGM-CCU7—Redeem for a duel
BNR8-3FN—Redeem for a duel
AL4G-8DAX—Redeem for a duel
Redecor FAQ, Answered
Here's everything you need to know regarding Redecor codes.
How to redeem Redecor codes
Claim your Redecor codes by following the steps below: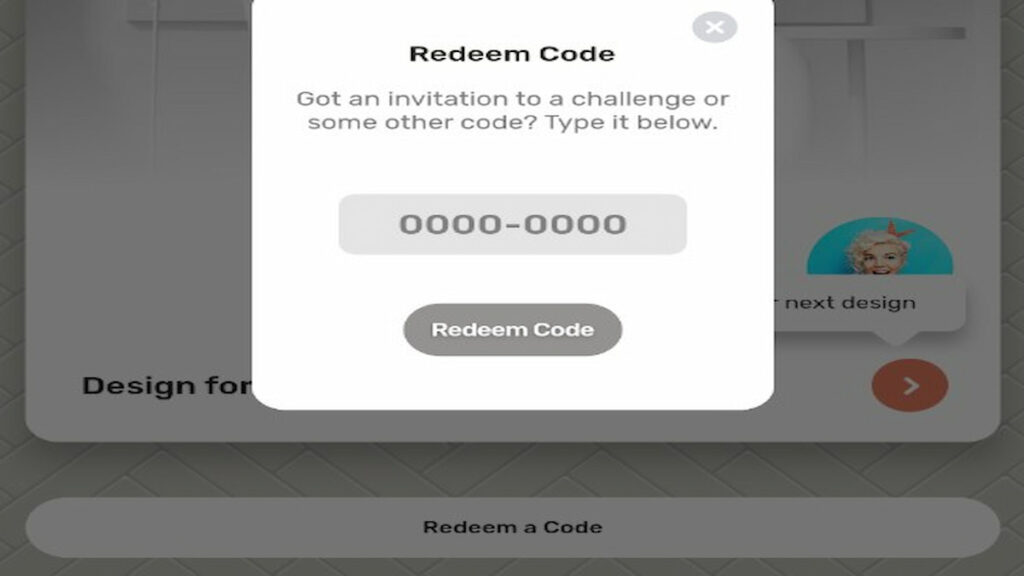 Go to the Challenges tab
Scroll down to the very bottom of the game
You'll see a Redeem Code button
Press this button and type or copy and paste in the codes
Hit the Redeem button
How to get more Redecor Codes
To receive more Redecor codes, you can follow the developer Reworks on the following social media sites—Facebook on the RedecorGame page, Instagram at redecorgame, and Pinterest page Redecor. We always have the latest codes for you at Pro Game Guides, so save this page and visit us for all your Redecor codes!
Why aren't my Redecor codes working?
Redecor codes last until every Wednesday. At that point, the codes expire, and the next code is released. You have one week to redeem the codes, so save your code before it expires. Ensure all the numbers and letters are typed into the code box correctly. If you notice that a code has expired, let us know in the comments. We'll verify and update the page accordingly.
What is a Redecor game?
In Redecor, you have to choose how you would personally decorate a space. The more appealing the decor and how you enhance the area determines how many points you get from your peers who vote for your room. Each week, there are new challenges and spaces to unlock.
If you're looking for codes for other games, we have many of them in our Game Codes post! You can also get a bunch of free stuff via our Roblox Promo Codes page on Pro Game Guides.