If you are a fan of Pokémon, you may enjoy the Roblox title Anime Catching Simulator. In it, you'll be wielding a katana, weakening anime characters, all in an attempt to capture them and fuse them to increase their power. This will slowly enhance your own power and weapons, helping you reach the top of the leaderboards.
Progressing in Anime Catching Simulator, and other Roblox Experiences, hinges on how much Gold you have. You can earn Gold through gameplay, or you can give your blocky character a little boost by using codes in-game. For all your favorite experiences, Pro Game Guides have you covered with all the latest codes. Try the codes in Car Factory Tycoon!
All Anime Catching Simulator Codes list
Updated May 21, 2023

Added a new code!
Anime Catching Simulator Codes (Working)
These are all the working Anime Catching Simulator Codes.
NEWSEASON—Redeem for a Token (New)
DISCORDREWARD2—Redeem for Gold
FIXBUG1—Redeem for Gold
UPDATE2—Redeem for Gold
DISCORDREWARD—Redeem for Gold
NEWGAME—Redeem for 7,777 Gold
Anime Catching Simulator Codes (Expired)
There are currently no expired codes for Anime Catching Simulator. If a code has expired from our Working Codes section, please let us know so we can place it here!
Related: Type or Die Codes (April 2023)
How to redeem codes in Anime Catching Simulator
Follow the instructions below to redeem codes in Anime Catching Simulator.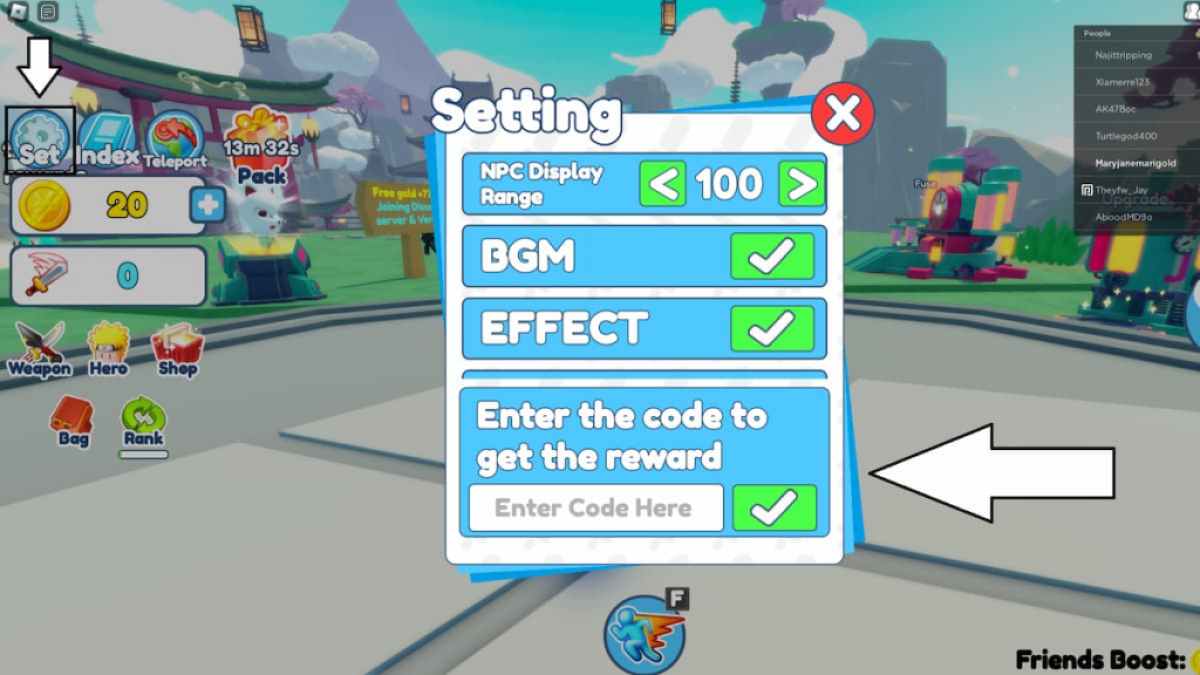 From the Main Game Screen, click on the Gear Icon on the left side of the screen labeled Set. You may need to close your chatbox to see this icon.
Enter the code exactly as written in the prompt box that appears at the bottom of the Setting panel.
Click the green checkmark box to redeem the code.
How can you get more Anime Catching Simulator codes?
Bookmarking this page is a good way to stay up to date on the current working codes for Anime Catching Simulator. You can also join the Anime Catching Simulator Discord Server. Codes are generally posted in the FAQ section.
Why are my Anime Catching Simulator codes not working?
The lifespans of Roblox game codes and Anime Catching Simulator are decided by the game's creator. Codes are frequently available only for a limited time. Use this page to stay up to date on which codes have expired. If a code isn't working, you may want to double-check for spelling errors. You'll also want to make sure that you haven't already redeemed a code in the past. These codes can only be redeemed once.
Other ways to get more Gold in Anime Catching Simulator
Anime Catching Simulator codes are the main way to obtain Gold for free. The other way to obtain more Gold is to simply play the game. Enjoy finding the best anime characters to fight and collect, then fuse them and grow in both power and gold.
What is Anime Catching Simulator?
Anime Catching Simulator is a Roblox experience that combines anime-style aesthetics with a Pokémon inspired gameplay loop. Your goal is to amass Gold, stronger weapons, and unique anime character minions that fight alongside you. When you defeat an anime character, you can choose to sell it for gold or spend gold attempting to catch it. Once caught, you can fuse minions together into stronger ones. Gold and Dust are used to power up your weapons to fight and collect even stronger minions.
Looking for more codes in popular Roblox games? Check out Midnight Racing Tokyo Codes – Roblox (April 2023) or Royalty Kingdom 2 Codes (April 2023) here at Pro Game Guides.