On March 30, 2023, Metaverse trailblazer House of Blueberry hosted a private event in which its Spring Collection served as the colorful centerpiece. Within this collection are numerous fashion tops and pants, along with an abundance of fantasy-inspired hairstyles, accessories, and statement pieces. Through this collection, and its fashion presence in general, House of Blueberry aims to encourage players of all ages, backgrounds, body types, and aesthetics to find their voice and be proud of their self expression, both online and in the real world.
At the event, House of Blueberry's lead designer and Chief Creative Officer, Ashley Hopkins, spoke in front of an excited crowd, highlighting the ways in which Blueberry uses fashion in the Metaverse to push the boundaries that exist between "real-life fashion" and digital creations, and how their future goals and aspirations will continue to break down the preconceived ideas that so many outsiders have about Roblox.
"Our development team is constantly working hard to bring not only the trendiest pieces," said Hopkins. "But also the best quality to the Metaverse. Virtual fashion is all about creativity and self expression, which is why we let our models style their own looks using Blueberry clothing. This is a celebration of creativity in the Roblox world."
Among the event's runway models were many recognizable names, including Kittzilla, Mahalo, and cSapphire, all of whom boast a successful (and in some cases award-winning) background in art and a significant following of their own. Another model, bunniblossomss (or Alyssa), works not only as a designer for Blueberry, but as the company's Community Manager, sparking discussions across the Metaverse about Roblox's ever-changing audience, and how best to cater toward/maneuver within this audience in ways that are genuine and productive.
"There's a lot of people who still call Roblox a kids game," said Alyssa. "But, quite honestly, [it's a cycle] the kids that used to play Roblox have grown up; we've become the developers, and continue to be a strong player base. In general, though, I find that Roblox is definitely maturing as a platform. It used to be a kid's game, I guess you could say, but there's always been adults. I was friends with a designer who was in her 30's or 40's and had kids, and she played and did designs on Roblox. It's a platform where all ages can come together; it's really, really neat."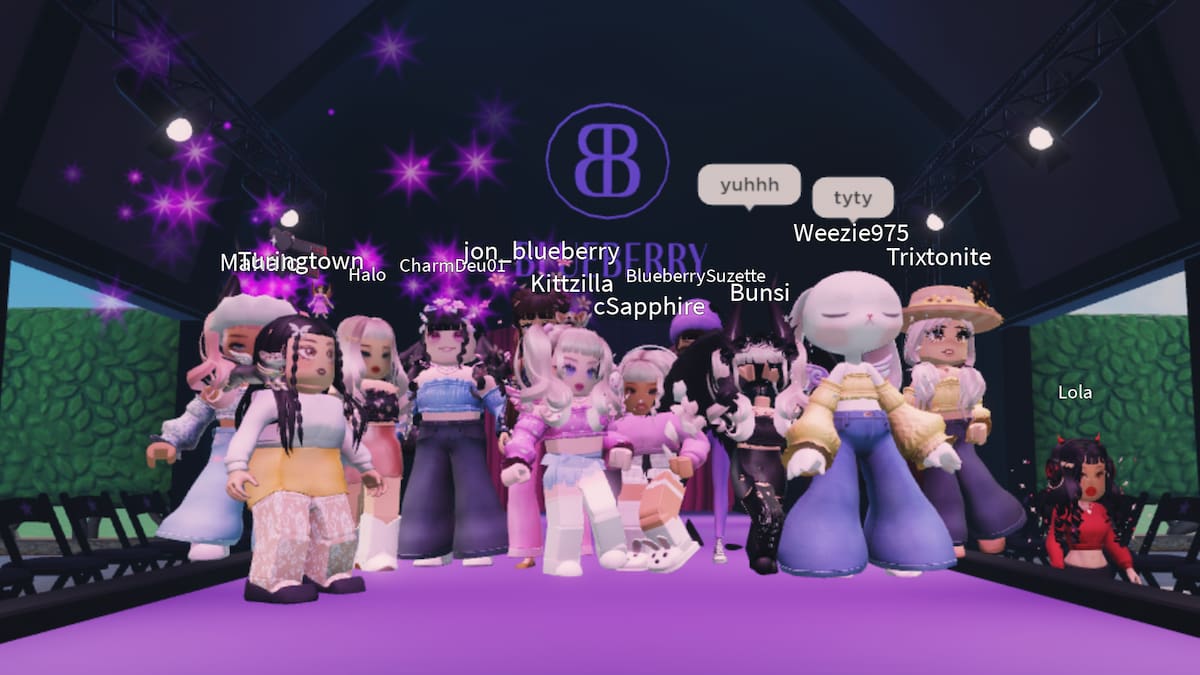 Related: Gamefam to partner with Paramount+ for new SpongeBob and Teenage Mutant Ninja Turtle experiences, but players aren't happy – Roblox
Since it's creation in November 2022, Blueberry Clothing Store has gained nearly two million visits, a good chunk of which assumably occurred earlier this month when popular Roblox YouTuber Sharkblox posted a video detailing how to obtain a free avatar item that had been discovered inside the experience. As many Roblox players are aware, and many companies have come to learn (whether fortunately or unfortunately), free items typically equate to a high volume of digital foot traffic inside whichever experience offers said items.
"When the announcement from Sharkblox came out, we didn't even know [the item] was still available," said Hopkins. "He found it, posted about it, and it did go crazy. Within the day, our visits went through the roof; we ended up having a million visits in one week just from people coming in to grab that item. It was really eye-opening and validating for us, because we knew how personally important it was to give the community free items, just from a giving back standpoint, but this really set it in stone. We have a lot of interest in doing more of these items, [and] we have a couple collaborations coming up that we'll be including free items in."
In the first three months of 2023 alone, 20 companies, organizations, or individuals have either created new branded experiences, or partnered with pre-existing experiences, to promote themselves, and have used the allure of free items to attract visitors and potential patrons. Though Blueberry Clothing Store does offer a free item of its own, as mentioned above, Hopkins ensured that the reason for adding it isn't related to monetary gain, or even the hope of future sales—it's to thank the Roblox community for its continued support of Blueberry.
"Giving back to the community is something we're really passionate about," said Hopkins. "In a space like this, you're nothing without your community, and we're so avid about making our community happy, and involving them with our brand, and the best way to do that is through a free item."
To continue Hopkins' statement, House of Blueberry's Operations Director, Jon Cochran, highlighted that the key to developing, and then nurturing, online communities, even those in the realm of Roblox (which tend to, by default, have younger demographics than other gaming-centered communities or spaces), is not only having a willingness to consistently learn and adapt, but having respect, and curating a genuine and appealing image that sees the players at the forefront.
Related: Adopt Me! releases its first official toy line in partnership with Jazwares – Roblox
"We've [always] been focused on female-identifying Robloxians, so the clothes in our shop cater to that customer," said Cochran. "We're seeing though, [from events like what took place because of Sharkblox], that other kinds of people are looking for great style, and want to express themselves, but maybe not with the same color palette or designs that we've offered in the past. Because of that, we're talking with more people and learning directly from the community what they'd like to see and where there are holes we can fill in terms of their wardrobes or, more generally, the entire platform."
"With that being said, however, while we've seen the traffic and revenue increase [due to the addition of the free item], and we want to take advantage of that, we don't want to just throw a bunch of [free] stuff in their because of it. That respect for the community is where we really start with our approach to creativity."
To combine that creativity with the want to give back to the community, House of Blueberry has announced a future collaboration with Sharkblox, which will entail a free item. The release date of this collab is currently unknown, and details are limited at this time, but House of Blueberry's Business Development Officer, Emily Eitches, highlighted the company's appreciation for Sharkblox and the precedent that working with a creator like him sets.
"We're super excited to work with someone like Sharkblox," said Eitches. "He's so endemic to the platform, he knows Roblox so well, and we actually just chatted with him about our collab coming soon. We'll be sure to let our community know when that goes live."
As House of Blueberry continues to grow and gain traction, the scope of its collaborations will only expand alongside it, opening the door for more community members to discover the endless possibilities that exist within the Metaverse, not only in regards to fashion and self expression, but also in terms of Roblox's overall malleability, and the breadth of capabilities that players have at their fingertips. Gone are the days of art, fashion, and even game design, being viewed as top-shelf dreams, only achievable or tangible by those who meet seemingly unobtainable criteria—the future of the Roblox Metaverse, and House of Blueberry, rests in the cube-shaped hands of Robloxians who grew up on the platform, looking up to people who they're now ready to become.
"Roblox stands out because it's basically an entire platform, an entire website, where the developers and the players run the entire thing," said Alyssa. "All games are made by players; we all started off as players. Some of the top-page games [that you see] earning millions, they're made by people who just started off as players. Ordinary people like you and I are what make up the website, which is really amazing."
Looking for more Roblox content? Check out some of our other articles on Roblox's 2023 Developer Convention (RDC) and Innovation Awards to be a hybrid event, announced for September or Timmeh (BabyGMace) to host record-breaking live stream event that features KreekCraft, IBella, NightFoxx and more here on Pro Game Guides.