One of the latest bridging methods making a buzz around the Roblox BedWars community is the telly bridge. It is a bridging method in which players bridge vertically with two blocks using the rapid butterfly clicking method. Though it may sound simple in words, it is a hard move to execute compared to god or speed bridge, as first, you will need to master the basics of butterfly clicking before learning the actual combo move.
How to butterfly click in Roblox BedWars
Butterfly click is one of the most popular clicking techniques in video games history, especially in melee-based games like Minecraft and most Roblox games. It is a technique in which a player uses their index and middle fingers to click the left mouse button (LMB) alternatively and rapidly. Using this method, you can get a CPS (clicks per second) rating of 10 and above.
Related: Best Enchantments in Roblox Bedwars
How to telly bridge in Roblox BedWars
After mastering the butterfly click, you can learn the actual telly bridge. Hop inside a game and follow the below-given steps.
Buy some wool blocks for bridging from the game store.
Point your mouse towards the ground and build using the butterfly clicking method. At the same time, press "S" or your backward movement button and jump button simultaneously to make sure you don't fall from your building.
Since the CPS of butterfly clicking is high, you can build much faster and higher than other bridging methods, allowing you to disengage any fight or run away from it. Also, make sure you have 200 to 300 blocks in real fight scenarios.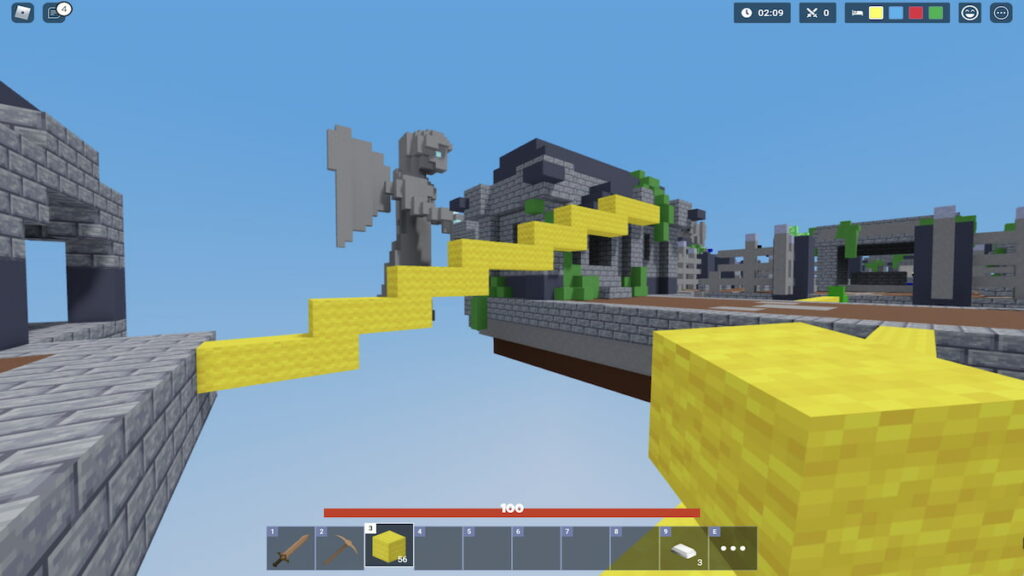 Initially, you will not be able to build and stand that well, but with enough time and practice, you can master both.
For more on Roblox Bedwars, check out Roblox Bedwars – Commands to spawn all Items and Blocks or How to protect your bed in Roblox BedWars? on Pro Game Guides.