Mage Tycoon combines magic and practical business sense. Collect cash to upgrade your elemental base and unlock new spells. As you unlock spells, you can cast cooler and more powerful spells. Build up your tycoon to prove you are the greatest mage around.
You can use codes to get various rewards in Mage Tycoon, including Gems and Cash. These can be used to purchase various in-game items and increase your mage business. Feel free to check out our other Roblox content, like Monkey Tycoon Codes on Pro Game Guides.
All Mage Tycoon Codes List
Updated March 14, 2023

Added new codes!
Mage Tycoon Codes (Working)
Here are all the active codes for Mage Tycoon.
sorryfordelay—Redeem for 5 hours of 2x XP Boost (New)
25klikes—Redeem for a 10 hours of 2x XP Boost (New)
5milvisits—Redeem for 100 Gems and 1 hour of 2x XP
10klikes—Redeem for 50 Gems
EpicRelease—Redeem to get $1,000
500kvisits—Redeem to get 50x Gems
3klikes—Redeem to get 50x Gems
Mage Tycoon Codes (Expired)
There are currently no expired codes for Mage Tycoon.
Related: Idle Office Tycoon Codes
How to redeem codes in Mage Tycoon
Redeeming codes in Mage Tycoon is an easy process and a great way to get free rewards. You can redeem codes as soon as you start the game, making it a great way to get a head start. Here is how to redeem codes in Mage Tycoon.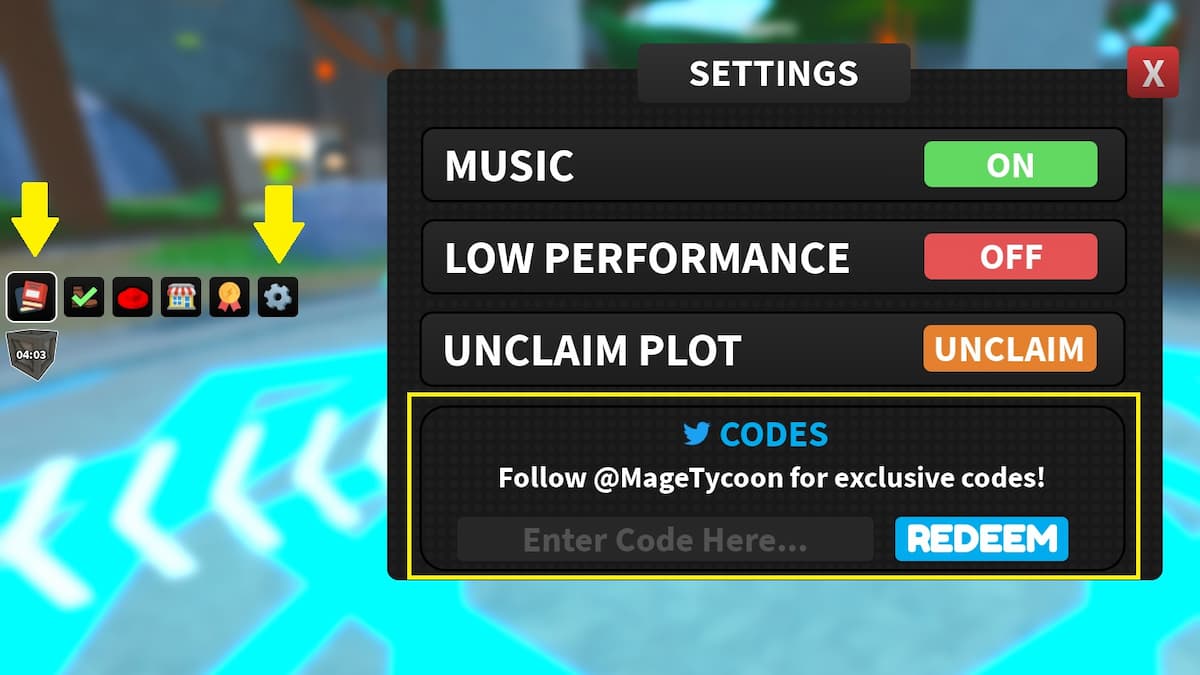 Click the Books icon on the left of the screen.
Select the Settings option (Cog button).
Click in the Enter Code Here box.
Input the code and hit Redeem.
How can you get more Mage Tycoon codes?
The best way to get codes for this Roblox title is to follow Meknor on Twitch, follow @MeknorRoblox, join the Mage // Tycoon group, or join the Mage Tycoon Discord. Be sure to bookmark this page and see when we add new codes to our list.
Why aren't my Mage Tycoon codes working?
Codes for Mage Tycoon are created and controlled by the developer. This is who determines what rewards they provide as well as their expiration date. If you attempt to use a code post its expiration, the code will no longer work. Other reasons a code does not work include the code not being active yet or misspellings, so verify the expiration date and correct spelling of a code before trying to redeem it. You can prevent this issue by bookmarking this page and checking back often to see if Mage Tycoon has added new codes or if some have already expired. If you notice that a code no longer works, let us know! We'll update the list accordingly once we verify.
How to get free cash in Mage Tycoon
There are multiple ways to get free cash in Mage Tycoon. You can simply get rewards by playing the game for a certain amount of time. You can also get 25 percent more cash by joining the Mage // Tycoon group. Finally, you can complete quests, like collecting crates in the starting area, to earn free cash in Mage Tycoon.
What is Mage Tycoon?
In Mage Tycoon, you start off with nothing to your name but a bare plot of land. Over time, you will earn cash and gems to start upgrading your base. This will allow you to unlock and equip new spells. Use these to defend your base and master your magical powers as a mage.
If you're looking for codes for other games, we have a ton of them in our Roblox Game Codes post! You can also get a bunch of free stuff via our Roblox Promo Codes page. And in the meantime, take a look at the latest news to stay up-to-date on all things entertainment.