Updated: September 22, 2023

We looked for new codes today!
Hordes of Titans are on the march to destroy the cities in Roblox Attack on Titan: Evolution. It's up to you to save the city and cut down as many Titans as you can. Upgrade your scout and climb the ranks to be a true resistance leader. The stronger you become, the more you can equip to your character so you can slice down your enemies with a single slash.
These codes will give you extra Spins. Spins will allow you to equip your scout with specific perks so you can have the abilities you want. These abilities differ from range to combat. These codes can also give you significant XP boosters, making it easier to level your character and unlock better perks.
Roblox has a ton of games that are inspired by the hit anime Attack on Titan. These games and their codes allow you to slay Titans easily, even at the start of the game. Roblox Attack on Titan: Life Codes, Titan Warfare Codes, Attack on Titan Vengeance codes, Untitled Attack on Titan Codes, and Roblox Titanage Codes.
All Roblox Attack on Titan Evolution Codes List
Active Roblox Attack on Titan Evolution Codes (Working)
Here are all the working codes. Note: You must be Level 5 or higher to redeem these codes!
BACKINBUSINESS—Redeem for a Gift (New)
LEGOPATCHES—Redeem for 25 Spins
BOSSxAOTE—Redeem for 1 hour 2x Luck
118kLikes!—Redeem for 35 Spins
ENDOFEASTER—Redeem for 25k Event Points
MERRYSPINMAS—Redeem for 50 Spins

HAPPYEASTER—Redeem for 50 Spins, 2X Luck, and 2x XP
20MILLIONVISITS—Redeem for 2x Luck Potions
PVPUPDATE—Redeem for 50 Spins
SorryForShutdown—Redeem for 50 Spins
MAINTENANCE—Redeem for 75 Spins
SOON—Redeem for 25 Spins
103KLIKES—Redeem for Gold and Spins
16MILLIONVISITS—Redeem for 4k Gold and 10 Spins
Progress—Redeem for 3k Gold and 25 Spins
Return—Redeem for 13k Gold and 15 Spins
Expired Roblox Attack on Titan Evolution Codes
90kLikes—Redeem for 40 Spins
BossStudiosBack—Redeem for 60 minutes 2x EXP

ShiftingComeback—Redeem for 20 Spins
DecemberSoSoon?—Redeem for 25 Spins
EReNYeAGeR—Redeem for 35 Spins
CaleBArlerT—Redeem for 2x EXP
PRAYFORPAN50—Redeem for 50 Spins
AbnormalVotes—Redeem for x2 Luck
SORRY—Redeem for two x2 Luck
80KLIKES—Redeem for 35 Spins
BossLuck—Redeem for One hour 2x Luck
ATTACKTITAN—Redeem for 50 Spins
TITANSHIFTINGSOON—Redem for 35 spins
MaidFitOUT—Redeem for 40 spins

BossStudio—Redeem for 1 hour x2 Luck
OnePieceCrates—Redeem for 40 spins
BASEBALLPITCH—Redeem for 1 hour of 2x XP
BOSSGIFT—Redeem for 1 hour of 2x Luck
SAVEHISTORIA—Redeem for 40 Spins
NEWSTUDIO—Redeem for 40 Spins
50KLIKES—Redeem for 12k Gold
5MVISITS—Redeem for 40 Spins
1MVISITS—Redeem for 125 Spins
75KFAVS—Redeem for 75 Spins
20KLIKES—Redeem for 75 Spins
AOTERELEASE—Redeem for 200 Spins and an XP Boost

25KLIKES—Redeem for 25 Spins and an XP Boost
2MVISITS+—Redeem for 25 spins
2MVISITS—Redeem for 25 spins
30KLIKES—Redeem for 25 spins
40KLIKES—Redeem for 12k Gold
35KLIKES—Redeem for 25 Spins
100KFAVS—Redeem for 25 Spins
25KLIKES—Redeem for 25 Spins and XP Boost
fixes—Redeem for 10k Cash
peak—Redeem for 175 Family Spins
stresstest—Redeem for 25 Family Spins
10klikes—Redeem for 50 Family Spins
How to Redeem Roblox Attack on Titan: Evolution Codes
It's easy to redeem codes for free rewards in Roblox Attack on Titan: Evolution. To do so, follow the instructions below.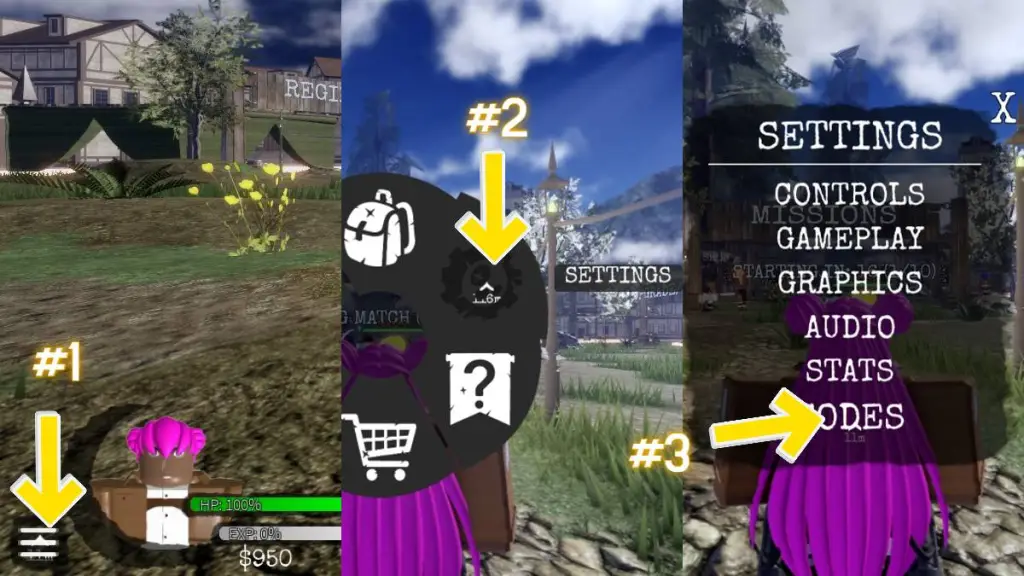 In the game, press the Menu button in the bottom-left corner of the screen.
In the radial that pops up, press the Settings (gear) icon. Note: This can be difficult. You have to press in the right spot, and this is very difficult to do. This is a glitch with the game.
In the settings menu, select Codes.
On the window, enter the code and click the submit button to claim your rewards!
How to get more Roblox Attack on Titan: Evolution Codes
To get the latest codes from Roblox Attack on Titan: Evolution Codes from the developer Attack on Titan Evolution, follow them on Twitter @AOT_Evolution or their Attack On Titan: Evolution Discord Server. You can always save and bookmark this page and visit us regularly because here at Pro Game Guides. We have all the code drops for you.
Why aren't my Roblox Attack on Titan: Evolution codes working?
There are a few reasons why your Roblox Attack on Titan: Evolution codes are currently not working. These codes could already be expired. Try to claim the codes as soon as they are released to avoid missing any rewards. The codes are most likely being misspelled in the text box. Make sure that your punctuation and spelling are correct before clicking the button to redeem the codes. Instead, copy and paste the codes from our list to avoid making any mistakes when trying to claim your codes.
What are the controls for Roblox Attack on Titan: Evolution?
To get better in Roblox Attack on Titan: Evolution, you will need a greater understanding of the controls. These are the controls, and the faster you learn them, the faster you will become better at the game.
"V" key—Equp/Unequip Weapon
"R" key—Reload Weapon
"Q" key—Left Hook
"E" key—Right Hook
"A" key—Swerve Left
"D" key—Swerve Right
"SPACEBAR" key—Boost while running or jumping
"S" key—Tap twice for a backflip
"Z" key—Tap twice for leftflip
"X" key—Tap twice for rightflip
"C" key—Tap twice for a frontflip
"F" key—Tap Twice for upflip

Left Mouse Click—Slash your Weapon
"W" key—Tap twice to Run
What is a Roblox Attack on Titan: Evolution game?
Roblox Attack on Titan: Evolution is an RPG game where you build your scout and travel the world destroying Titans. Equip weapons and shoot or slash your way through enemies. Train and become stronger to take on bigger enemies and bosses. The more you level up, the stronger you can become.
If you're looking for codes for other games, we have a ton of them in our Roblox Game Codes post! You can also get a bunch of free stuff via our Roblox Promo Codes page.