If you're a lover of that classic bacon hairstyle, you'll love Bacon Tower Tycoon! Build up your collection of bacons and fry their hair to make money! The more you fry, the more bacons you can add to your building, slowly creating a huge tower of bacons that reaches the skies! You can then merge your bacons to get yourself more valuable colored hair as you progress.
The Bacon Tower Tycoon codes you'll find below can be inputted to gain free in-game money. This money can be spent on better pickers, money multipliers, and of course, more exotic bacon. If you like this style of Roblox tycoon game, you should also check out Anime Plush Tycoon.
All Bacon Tower Tycoon Codes List
Bacon Tower Tycoon Codes (Working)
These are all the working Bacon Tower Tycoon codes.
TheCodeInTheSky—Redeem for 1,000 money (New)
wilco—Redeem for 500 money (New)
FreeMoney—Redeem for 250 money (New)
Bacon Tower Tycoon Codes (Expired)
These are expired codes for Bacon Tower Tycoon.
ApexSageIsKindaSexy—This code has expired.
Release—This code has expired.
ObeyIsHandsome—This code has expired.
ILikeMoney—This code has expired.
Related: iHeartland Music Tycoon
How to redeem codes in Bacon Tower Tycoon
Follow the instructions below to redeem codes in Bacon Tower Tycoon.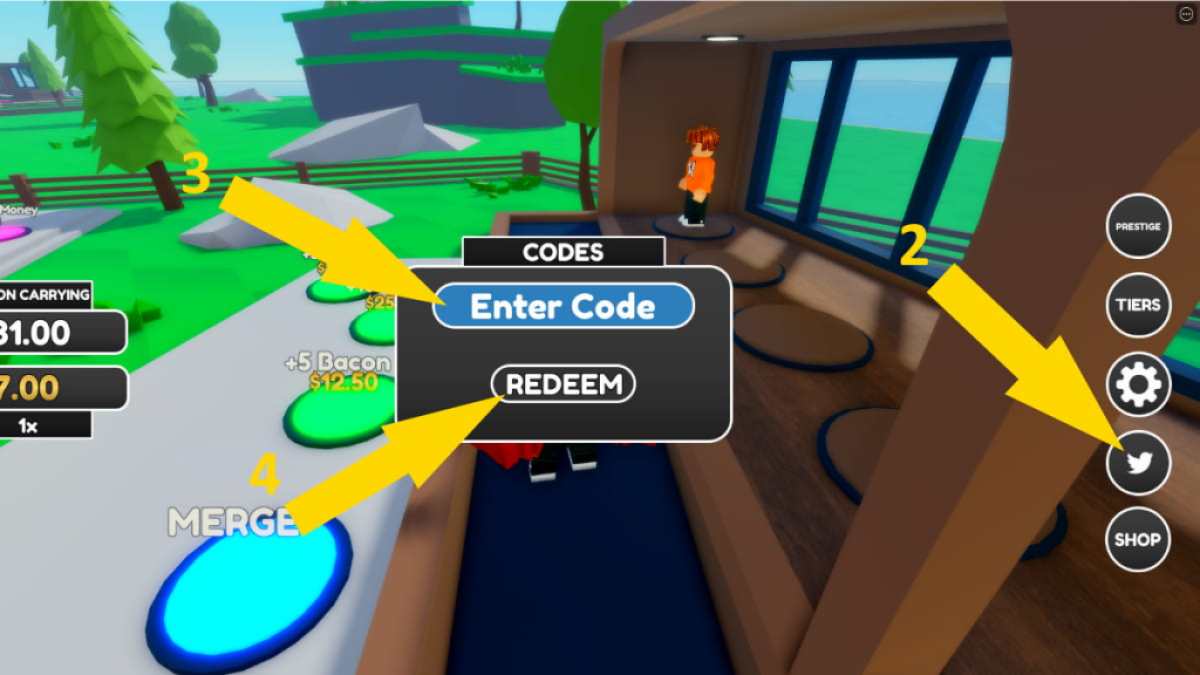 Launch Bacon Tower Tycoon on Roblox.
Press the Twitter bird button on the right of the screen.
In the CODES popup box, enter the code in the blue text box.
Press the black REDEEM button to claim your reward!
How can you get more Bacon Tower Tycoon codes?
We'll be climbing every tower looking for all the new Bacon Tower Tycoon codes. But if you want to go hunting yourself, start by joining the Wil Y AMIGOS 😀 Roblox Group. Unfortunately, that's about all you can do right now, as the group hasn't shared any social media contact info as yet. However, you can check out Wilco's YouTube Channel, which is in Spanish.
Why are my Bacon Tower Tycoon codes not working?
If a Bacon Tower Tycoon code you find here won't work, make sure to cut and paste it directly from Pro Game Guides. If you don't, a simple capitalization error or mistaking a number for a letter could invalidate the code. Sadly, if a code still won't work, it has probably expired. In this case, we can't help but be assured we'll update this page as soon as we find more working codes!
Other ways to get free rewards in Bacon Tower Tycoon
If you're looking for more free rewards in Bacon Tower Tycoon, you're in luck! All you have to do is like the game on its official Roblox page and join the WILY AMIGOS Roblox Group, both of which are linked above, to earn 10 percent more money as a bonus while you play. You can also run into the blue circle opposite your frying pan and complete the obby course you appear at for extra rewards!
What is Bacon Tower Tycoon?
Bacon Tower Tycoon is a basic tycoon-style Roblox game with a funny theme. You start with just one bacon character, which will slowly provide you with bacon hair in the picker to fry in your pan to earn money. You can spend the money on more bacons, eventually building a huge tower to collect and fry more bacon.
If you're looking for codes for other games, we have a ton of them in our Roblox Game Codes post! You can also get a bunch of free stuff via our Roblox Promo Codes page. And in the meantime, take a look at the latest news to stay up-to-date on all things entertainment.