Free Hatchers is a pet paradise! You'll earn coins simply by being in the game, which you can then spend on hatching hundreds of adorable pets from their eggs. Once equipped, your favorite pets will earn you bonus coins you can then spend on more exclusive pets, opening new areas, or rebirths for permanent bonuses! Can you collect the best pet collection that's the envy of your friends?
The Free Hatchers codes you will find below can net you unique, exclusive pets to help you earn coins more quickly, or you can trade them with your friends. But be quick, as these codes won't last forever! Other codes may give free cash, cash boosters, or unique cosmetic items. If you love pet collection Roblox experiences, you should also take a look at Pet Show.
All Free Hatchers Codes List
Free Hatchers Codes (Working)
These are all the working Free Hatchers codes.
100KLIKES—Redeem for a surprise Pet! (New)

MOONLIGHT—Redeem for a Moonlight Pet (New)
FREEPET???—Redeem for the Undying Flame Pet
FreeBoost—Redeem for 48 hours of 3x Boosts
300KHatchers—Redeem for a Free Pet
FirstCode—Redeem for a free Pet
Free Hatchers Codes (Expired)
These are expired codes for Free Hatchers.
There are no expired codes for Free Hatchers
Related: Adopt Pets Codes
How to redeem codes in Free Hatchers
Follow the instructions below to redeem codes in Free Hatchers. Note that you must follow @FreeHackers on Twitter to be able to use codes!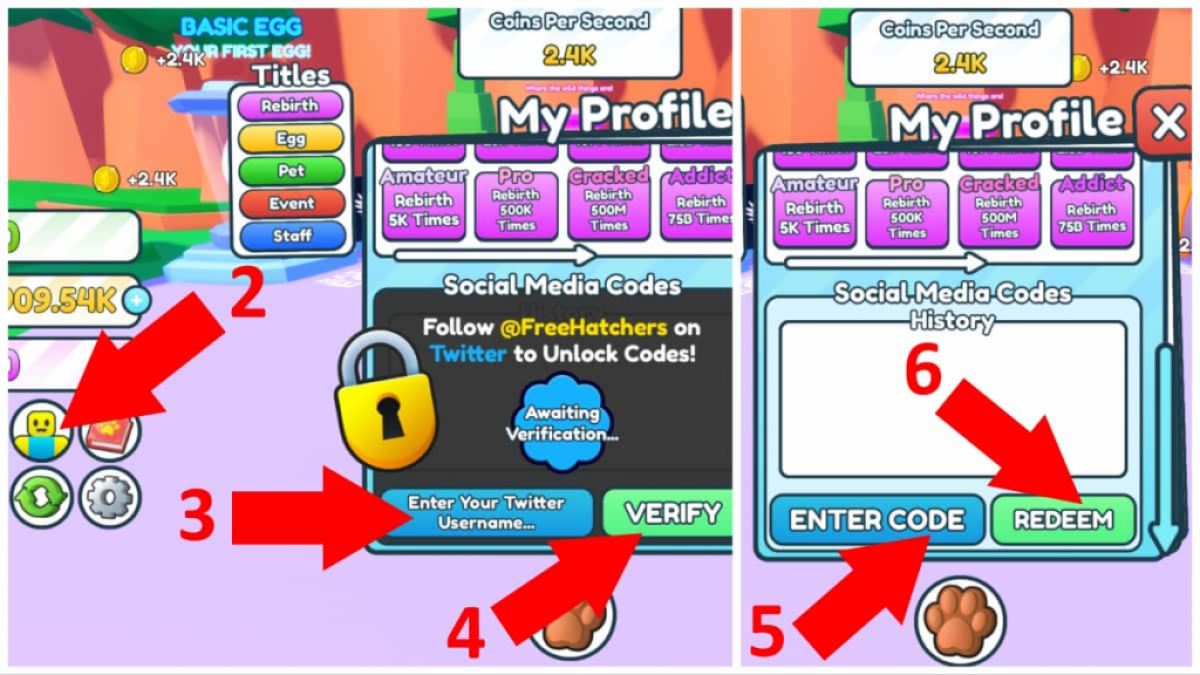 Launch Free Hackers on Roblox.
Press the My Profile button on the left of the screen.
Scroll to the bottom of the pop-up box and enter your Twitter username in the text box.
Click VERIFY and the game will check you are following @FreeHackers on Twitter and approve you. If you try this too quickly after following, it may take a few attempts to get verified.
Once verified, enter your code in the text box saying ENTER CODE exactly as it appears in the list above.
Press the green REDEEM button to claim your reward!
How can you get more Free Hatchers codes?
If you're looking for more Free Hatchers codes or other useful information on the game, try joining the official SHX Studios Roblox Group. You can also follow @Free Hatchers on Twitter for updated information and become part of the Free Hatchers by Tapdrop Discord Server, where you'll find channels for game announcements, sneak peeks, and more.
Why are my Free Hatchers codes not working?
Have you tried to use one of our Roblox Free Hatchers codes, and it hasn't worked? The first thing to try is to cut and paste it from here directly, as even the smallest typo can invalidate a code. If it still won't work, it has probably expired. Let us know in the comments below, and check back soon for new codes! When one expires, it often means a new code is around the corner.
Other ways to get free rewards in Free Hatchers
There are lots of other ways to get free rewards in Roblox Free Hatchers. First, look for the red sign that says Limited time free pet, right next to where you spawn. This will be updated as the game gets more likes, so if the sign says a new free pet is available, be sure to click the sign to claim it. Next, if you're a member of the SHX Roblox Group (linked above), you can get free rewards from the Red Group Chest just to the right of the sign. Finally, you can simply run around the lobby area collecting free coins from the ground.
What is Free Hatchers?
Free Hatchers is a pet collection Roblox experience where you'll constantly earn money to spend on new pet eggs. These eggs can be hatched, gacha-style, to increase your pet collection. Pets can be crafted, equipped, or sold to fund rebirths and exploration into new zones. Trading with other players is also an option to help complete the gaps in your pet collections.
If you're looking for codes for other games, we have a ton of them in our Roblox Game Codes post! You can also get a bunch of free stuff via our Roblox Promo Codes page. And in the meantime, take a look at the latest news to stay up-to-date on all things entertainment.