It's time to take to the sky in Roblox Glide Race! Collect lightning, equip your best pets and glider to increase your speed and distance, then take that leap off the cliff and into the race. The further you jump each time, the more coins you will receive for your efforts. And you can spend those coins on even better pets and accessories to help you climb up the leaderboards.
Currently, there are no codes available for Glide Race. However, as developer 24h Worker Studio has put codes into its other game, Human Cannon, they're likely to add codes soon. When they arrive, the codes will likely give you coins or boosts to your speed or the number of coins you receive while racing. Coins can be spent on hatching pets that permanently boost your race speed or gliders that give you a variety of effects.
All Roblox Glide Race Codes List
Roblox Glide Race Codes (Working)
These are all the working Roblox Glide Race codes.
There are no working codes for Roblox Glide Race
Roblox Glide Race Codes (Expired)
These are expired codes for Roblox Glide Race.
There are no expired codes for Roblox Glide Race
Related: Anime Fly Race Codes
How to redeem codes in Roblox Glide Race
Follow the instructions below to redeem codes in Roblox Glide Race.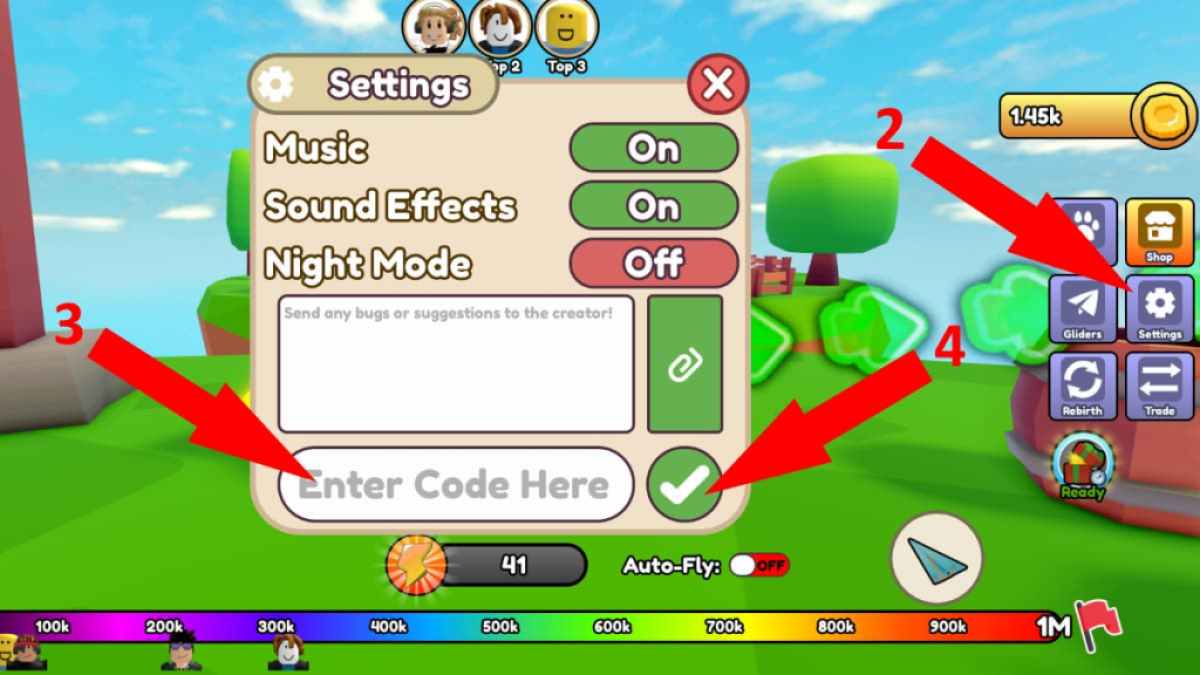 Launch Roblox Glide Race on Roblox.
Press the purple Settings cog on the right of the screen.
In the white text box at the bottom of the pop-up, enter the code as it appears here.
Press the green tick button to claim your reward!
How can you get more Roblox Glide Race codes?
To have the best chance to see the latest codes for Roblox Glide Race, you can join the 24h Worker Studio Roblox Group. You can also follow @PlayGlideRace on Twitter and become part of the Glide Race Discord Server.
Why are my Roblox Glide Race codes not working?
If a code doesn't work, first check for a typo. Even a small mistake like capitalization or mistaking a letter for a number can mean a Roblox code won't work. We suggest you cut and paste directly from here to make sure. While we regularly check all the Roblox Glide Race codes you see here, some do become invalid over time. So, if you've checked it and it still won't work, it may have expired. In that case, we can't help but check back soon for more codes!
Other ways to get free rewards in Roblox Glide Race
If you're looking for more free rewards for Roblox Glide Race, the easiest thing to do is like the game on the main Roblox page and join the 24 Hour Worker Studio Roblox Group linked above. Once you've done both, log back into the game and head over to the massive wooden box marked Daily Chest. As you approach a Daily Rewards popup will appear. Click the Claim button to gain your reward, which will get better each day if you keep logging in. You should also see a Ready button on the right of your screen. Click it to gain more free rewards whenever it is shaking! You can do this nine times per day, with potential rewards including spacecraft and epic pets.
What is Roblox Glide Race?
Roblox Glide Race is a standard Roblox non-clicker racer game, where you can permanently increase your speed by collecting pets, and temporarily increase it further by running around the lobby area collecting lightning bolts. The lobby also has several spots to claim free gifts, hatch new pets, and trade with your friends and other players for the pets you want.
If you're looking for codes for other games, we have a ton of them in our Roblox Game Codes post! You can also get a bunch of free stuff via our Roblox Promo Codes page. And in the meantime, take a look at the latest news to stay up-to-date on all things entertainment.