Start hatching all the eggs you can in Roblox Hatching Heroes. Run around different colorful worlds and find eggs to give you different pets. Pets will help you collect coins to start exploring other differently-designed worlds. These worlds offer different challenges, so start clicking away to unlock all your favorite pets!
These codes we have gathered will give you rewards in the game to make hatching your favorite Pets easier, especially at the start. Redeem these codes to get Coins, Pets, and Boosts. These codes are opening up new ways to play the game!
Pet games are some of the most popular games in Roblox. We have codes for your new Pet adventure and to help you get important resources to help you collect some of the stronger Pets to help you climb to the top of leaderboards. Try the codes for Roblox Adopt Pets Codes, Roblox Pet Legends Codes, Roblox Strong Pet Simulator Codes, Roblox Pet Fighting Simulator Codes, and Roblox Anime Pet Simulator Codes.
All Roblox Hatching Heroes Codes List
Updated July 25, 2022

Added a new info.
Roblox Hatching Heroes Codes (Working)
BugFix—Redeem for 10k Coins (New)
Update9—Redeem for 5k Coins
Easter—Redeem for 3k Coins
levisurely—Redeem for 1k Coins
Darryl—Redeem for a Darryl Pet
Eggs—Redeem for 1 hour of every boost
FreePetXPBoost—Redeem for 1 hour of 2x Pet XP
FreeLuckBoost—Redeem for 1 hour of 2x Luck
FreeCoinsBoost—Redeem for 1 hour of 2x Coins
blueio—Redeem for 1k Coins
freecoins—Redeem for 1k Coins
Roblox Hatching Heroes Codes (Expired)
freepet—Redeem for Angel Pet
update8—Redeem for Coins
update7—Redeem for Coins
update6—Redeem for 3k Coins
Release—Redeem for 500 Coins
update5—Redeem for 2.5k Coins
trading—Redeem for 3k Coins
gallows—Redeem for 1k Coins
xenially—Redeem for 1k Coins
Roblox Hatching Heroes Frequently asked questions
Here's everything you need to know regarding Roblox Hatching Heroes codes.
How to Redeem Roblox Hatching Heroes Codes
It's easy to redeem codes for free rewards in Roblox Hatching Heroes. To do so, follow the instructions below.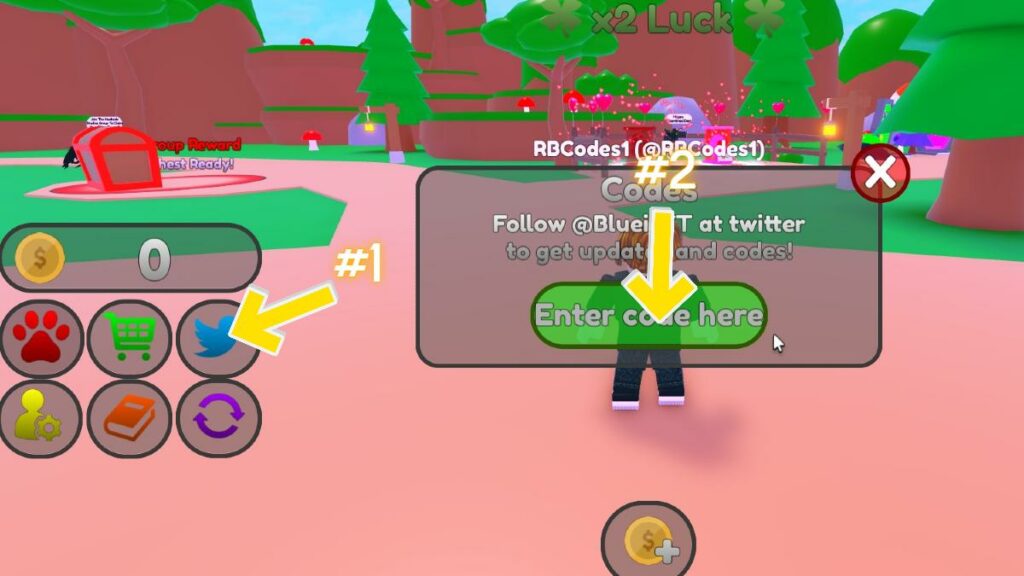 Launch the game.
In the game, press the Twitter Bird icon on the left side of the screen.
In the box that says 'Enter code here', enter the code exactly as it appears in the list above.
Press Enter to redeem free rewards.
How can you get more Roblox Hatching Heroes codes
Follow the developer Heatside Studios on Twitter @BlueioYT and their Heatside Studios Discord Server to get the latest codes for Roblox Hatching Heroes. We at Pro Game Guides have the codes for all your Pet needs, so save this page and return to claim all the latest rewards!
Why aren't my Roblox Hatching Heroes codes working?
There are several reasons why your codes are currently not working. You could be misspelling the code in the text box when you are trying to claim the code. Ensure all your spelling and punctuation are correct when typing the code. Alternatively, copy and paste the code from our list to avoid those mistakes. The code could have expired for the reward you are trying to redeem. Make sure you claim all the latest codes on our list before that reward expires, and let us know in the comments below if the code is no longer working.
What do Boosts do in Roblox Hatching Heroes?
Boosts in Roblox Hatching Heroes will boost specific stats that you will have in the game, such as Luck and Pet Experience Points and the in-game currency of Coins. Luck will give you a chance of finding more eggs to hatch Pets. Pet Experience Points will allow you to make your Pet stronger by leveling the Pet up as you get Experience Points. Coins will allow you to unlock new Pets and different levels in the game.
What is a Roblox Hatching Heroes game?
A Roblox Hatching Heroes game is a clicking game where you will click on eggs to open the eggs to find Pets inside. Equip as many Pets as you can to redeem coins and experience points to make your Pet stronger and purchase new levels with the Coins. Hatch as many as possible to start climbing the ranks on the leaderboards!
If you're looking for codes for other games, we have a ton of them in our Roblox Game Codes post! You can also get a bunch of free stuff via our Roblox Promo Codes page.