Our MM2 Codes post has the most updated list of codes that you can redeem for free knife skins. These codes don't do much for you in the game, but collecting different knife cosmetics is one of the fun aspects of playing this one!
Murder Mystery 2 Codes
Here you will find all currently working codes for Murder Mystery 2. We will also keep this list updated with all of the latest codes as they release. Make sure to redeem these codes as soon as possible as they will eventually expire.
If you find one that is expired, please let us know the exact code in the comments below so we can remove it!
Read Before redeeming codes!
Make sure to enter the code exactly as it is listed or it might not work correctly! If copy and pasting fails on the first few tries, try typing the code manually.
Update Feb. 10
Murder Mystery 2 Codes (Active)
Here's a list of all the codes that are working in the game right now.
There are currently no active codes. We aren't sure when the developer will add more, but we'll keep an eye out. Feel free to comment if you see any new codes for the game!
Murder Mystery 2 Codes (Expired)
Redeem for a free Combat II Knife: COMB4T2
Redeem for a free Prism Knife: PR1SM
Redeem for a Alex Knife: AL3X
Redeem for a Corl Knife: C0RL
Redeem for a Denis Knife: D3NIS
Redeem for a Sketchy Knife: SK3TCH
Redeem for a Sub Knife: SUB0
Redeem for a Infected Knife: INF3CT3D
Redeem for a Goo Knife: G003Y
Redeem for a Reptile Knife: R3PT1L3
Redeem for a Skool Knife: SK00L
Redeem for a Patrick Knife: PATR1CK
Redeem for a 2015 Knife: 2015
Redeem for a Gifted Knife: G1FT3D
Redeem for a TNL Knife: TH3N3XTL3V3L
Redeem for a Neon Knife: N30N
Redeem for a Pumpkin Pet: HW2017
As mentioned in the introduction, knives don't really do anything for you other than look cool. However, that's part of the fun in Murder Mystery 2 is collecting the cosmetics while you either run away from or hunt down your friends!
How to Redeem Codes in Murder Mystery 2
Redeeming codes in Murder Mystery 2 is pretty easy! On the side of your screen while you're in the lobby look for the inventory button. Click on that and you will get the following pop-up: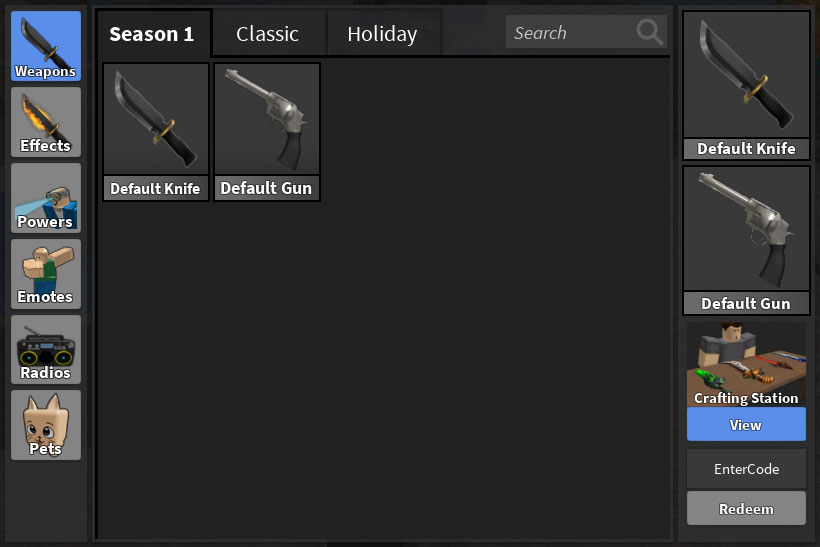 At the bottom right of this window, you will see the EnterCode area with the Redeem button under it. Click on the "EnterCode" and input one of the codes from below. Once you've got it entered in correctly, you'll just need to hit the Redeem button and you will be given the reward! If the code is valid the button will show as blue.
Related: See the full Roblox Promo Codes list.