Updated: September 24, 2023

We looked for more codes today!
These Murder Mystery 2 codes will give you various rewards. Keep an eye on them, as they have expiration dates, meaning you must use the codes before they expire. We have compiled a full list of all available MM2 Codes so that you can earn prizes like knives, gold, and more.
Be the hunter or the hunted in Murder Mystery 2. Either work with the other players to determine who among you is the murderer or throw them off your trail if you are the killer. Don't forget about the sheriff, though, as they will be looking for the murderer to put them down.
If you're looking for other Roblox content, check out Roblox Murder Mystery 3, Roblox Murder Mystery 2 Values List, and How to farm coins in Roblox Murder Mystery 2? on Pro Game Guides. You can find loads of other Roblox content on our site as well, so feel free to browse until you find exactly what you're looking for in your favorite Roblox experience. Also, bookmark this page to come back and check for new codes daily!
All Murder Mystery 2 Codes List
All Murder Mystery 2 Codes List (Working)
There are currently no active Murder Mystery 2 codes.
All Murder Mystery 2 Codes List (Expired)
COMB4T2—Combat II Knife
PR1SM—Prism Knife
AL3X—Alex Knife
C0RL—Corl Knife
D3NIS—Denis Knife
SK3TCH—Sketchy Knife

SUB0—Sub Knife
INF3CT3D—Infected Knife
G003Y—Goo Knife
R3PT1L3—Reptile Knife
SK00L—Skool Knife
PATR1CK—Patrick Knife
2015—2015 Knife
G1FT3D—Gifted Knife
TH3N3XTL3V3L—TNL Knife
N30N—Neon Knife
HW2017—Pumpkin Pet
NatureUpdate—500 Gold
How to Redeem Codes in Murder Mystery 2
You can use codes in Murder Mystery 2 to get various rewards. Using codes is a great way to expand your clothing collection and put you on the path to stardom. Redeeming codes in this Roblox title is super easy—here is how to use codes in Murder Mystery 2: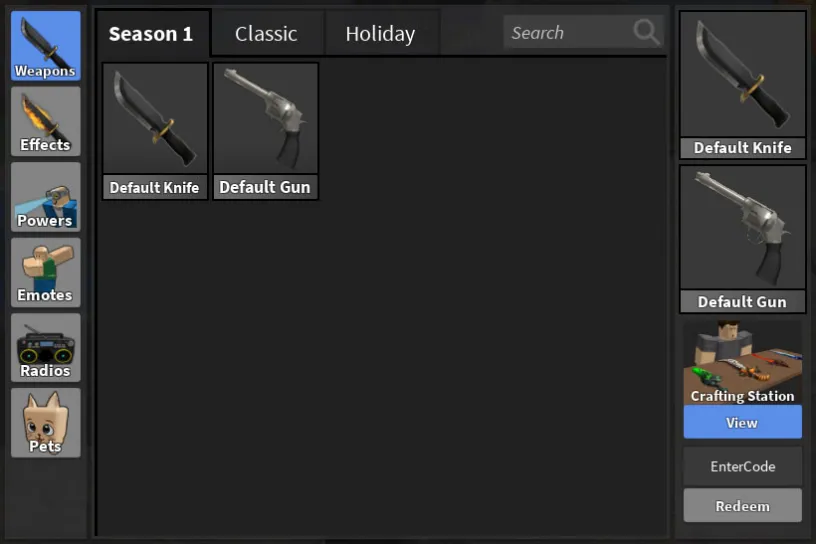 Launch Murder Mystery 2
Click on the Inventory button while in the lobby
Select the EnterCode box
Input the code and hit Redeem
How to get more Murder Mystery 2 Codes
You can join the Murder Mystery 2 on Twitter and Discord to follow the game and receive new codes. As new codes go live, we will update this page and add them to our list. Be sure to bookmark this page so you can stay up to date and see when we add new codes to get free stuff.
Why aren't my Murder Mystery 2 Codes working?
Murder Mystery 2's developer creates the codes and determines how long they are active. Some codes may expire quicker than others, and some may not work with others. If a code does not work for you, check to see if there's a spelling error, if the code isn't active yet, or if it has already expired. To help solve that issue, bookmark this page and check back often to see if Murder Mystery 2 has added new codes or if some are expired. If you notice that a code no longer works, let us know! We'll update the list accordingly once we verify.
What is Murder Mystery 2?
In Murder Mystery 2, you play an Innocent, Murderer, or Sheriff. The Innocents and Sheriff work together to identify the Murderer and take them down. At the same time, the Murderer wants to kill everyone while avoiding being put down by the Sheriff. Murder Mystery 2 is a game of survival, deception, and running for your life.
For more information on Roblox, check out How to get the Teddy Bear in Roblox Murder Mystery 2 and Roblox Murder Mystery 5 on Pro Game Guides.