Nascar-themed Roblox RoStock Racing will have you gripping the side of your chair as you fly around each corner at high speeds. Build your stock car up to become the pack's leader and lap your opponents. With the ability to upgrade the exterior and the engine, you can become the champion of the oval track!
Codes in Roblox RoStack Racing will give you the in-game currency of Cash. Cash will allow you to buy upgrades for your engine so you can start polling in the top positions. Claim these codes and gear up against your opponents!
Racing games in Roblox are the best way to spend your time if you are a speed freak. These titles and their codes will give you access to important rewards to help start building the car of your dreams. Roblox Midnight Racing Tokyo Codes, Roblox Hot Wheels Racing Codes, Roblox Drift Paradise Codes, Roblox Driving Simulator Codes, and Vehicle Legends Codes.
All Roblox RoStock Racing Codes List
Updated July 22, 2022

Added new info
Roblox RoStock Racing Codes (Working)
There are no active codes currently.
Roblox RoStock Racing Codes (Expired)
Website1132—Redeem for 250 Cash
200k—Redeem for 300 Cash
aguythatsreallybored—Redeem for 50 Cash
FunnelCreator—Redeem for 50 Cash
MrKylo20—Redeem for 50 Cash
ByteBlox_Yt—Redeem for 50 Cash
Alphabetical_User—Redeem for 50 Cash
Whatturn4—Redeem for 50 Cash
TylerPro31—Redeem for 50 Cash
SpeedySanikJr—Redeem for 50 Cash
1kgroupmembers—Redeem for 1000 Cash
Roblox RoStock Racing Frequently asked questions
Here's everything you need to know regarding Roblox RoStock Racing codes.
How to Redeem Roblox RoStock Racing Codes
It's easy to redeem codes for free rewards in Roblox RoStock Racing. To do so, follow the instructions below.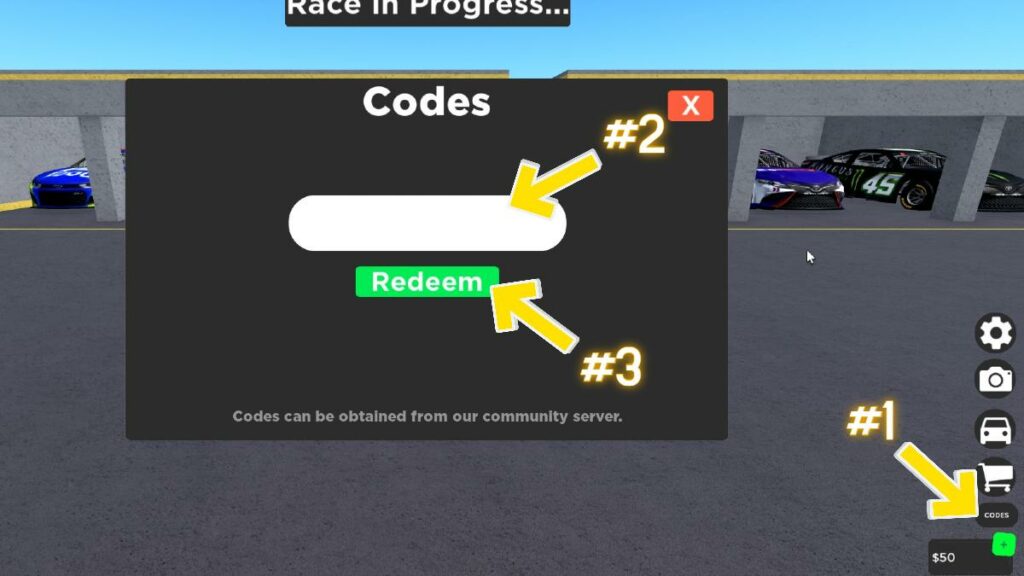 In the game, press the Codes button in the bottom right corner of the screen.
In the text box, enter the code exactly as it appears in the list above.
Press Redeem to claim your reward!
How can you get more Roblox RoStock Racing codes
To get the latest codes for Roblox RoStock Racing, follow the developer Excelavate Studios on their YouTube channel RoStock Racing and their RoStock Racing Discord Server. At Pro Game Guides, we have all the codes to build your favorite car, so save this page and visit us to see if there are any new codes to claim!
Why aren't my Roblox RoStock Racing codes working?
The reasons why your codes for Roblox RoStock Racing aren't working are the following. The code could be expired. Codes are live for a limited time before the developer takes them down, so make sure to claim the code as soon as possible. The code you are trying to claim could be misspelled, or a punctuation mark could be incorrect. Instead, copy and paste the codes from our list so that you avoid any mistakes while trying to redeem your rewards.
How to steer the car in Roblox RoStock Racing
To steer the car around the track is simple in Roblox RoStock Racing.
"W" Key—Forward/Accelorate
"S" Key—Backwards/Reverse
"A" Key—Steer Left
"D" Key—Steer Right
What is a Roblox RoStock Racing game?
A Roblox RoStock Racing game is a racing game where you will race to finish first. All the courses are oval in design. It would depend on how fast or well-tuned your car is compared to other players. The more you place first. The more Cash you will receive to start modifying your vehicle, the faster it rides.
If you're looking for codes for other games, we have a ton of them in our Roblox Game Codes post! You can also get a bunch of free stuff via our Roblox Promo Codes page.