Updated: October 2, 2023

Checked for new codes today!
On the PGG staff, we have a few team members who absolutely love swords, myself included. Swordplay always makes me feel like a legend in games, whether I'm slashing through tons of different enemies or I'm unleashing a specialized skill to take down my foes. So, what better way for me to get my sword fix than by using some Sword Lands Simulator codes on Roblox?
Our list of Sword Lands Simulator codes gave me plenty of Gems and Coins, the experience's in-game currencies. Gems and Coins are used to upgrade my swords and character's armor, so I'm ready to take on the next challenge in my epic quest to become an ultimate swordsman. The codes are great for a beginner that needs a boost at the start of their game.
Many Roblox experiences will have you slashing down enemies and epic bosses. We have the codes to make you wield the most dangerous sword! Claim these codes in Sword Simulator Codes, Sword Haven Codes, Roblox Sword Factory X Codes, Anime Sword Simulator Codes, and Roblox Anime Sword Legends Simulator Codes.
All Sword Lands Simulator Codes List
Sword Lands Simulator Codes (Working)
5ThousandLikies—Redeem for 230 Gems and 500 Coins (New)
500Likees—Redeem for 100 Gems and 350 Coins
3500SuperInsaneAwesomeLikes—Redeem for 200 Gems and 500 Coins
RIPoof—Redeem for 100 Gems and 500 Coins
2500SuperDopeLikes—Redeem for 200 Gems and 500 Coins
Sub2Dwax—Redeem for 200 Gems and 5k Coins
1000Liks—Redeem for 100 Gems and 400 Coins
250Likes—Redeem for 50 Gems and 250 Coins
Sword Lands Simulator Codes (Expired)
There are currently no expired Sword Lands Simulator codes.
Sword Lands Simulator Frequently asked questions
Here's everything you need to know regarding Sword Lands Simulator codes.
How to redeem codes in Sword Lands Simulator
To redeem codes in Sword Lands Simulator, follow our guide below.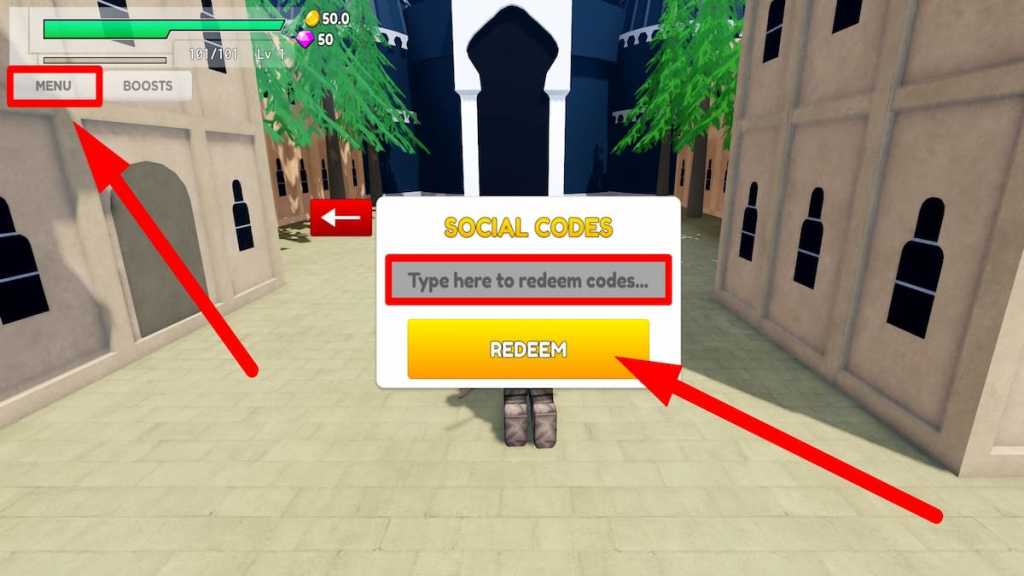 Launch Sword Lands Simulator on Roblox.
Click on the MENU button on the top left-hand side of the screen.
In the next menu window, click on the Twitter Bird Icon at the bottom of the menu.
Enter the codes into the Type here to redeem codes... text box.
Press REDEEM to claim your rewards.
How can you get more Sword Lands Simulator codes?
To claim the latest Sword Land Simulator codes from the developer Sword Lands Simulator, follow them on Twitter @LandsSword and join their Sword Lands Simulator Discord Server. Here at Pro Game Guides, we have all the latest code drops from the developer, bookmark this page and follow us often to redeem all of the freebies available!
Why aren't my Sword Lands Simulator codes working?
There may be several reasons why your Swords Lands Simulator codes are currently not working. These codes may be mistyped or missing punctuation while typing them out in the text box. Copy and paste the codes from our list to avoid making any mistakes before you click on the REDEEM button. The codes you are trying to claim could be expired. If any codes on our list may be expired, let us know in the comment section below so we can keep our list up-to-date.
What are the basic controls in Sword Lands Simulator?
To learn how to play Sword Land Simulator and complete quests faster, you will need a better understanding of the basic controls. Learn these basic controls to master the sword and defeat enemies faster.
Controls
"Tab" key—Open Inventory
"Ctrl" key—Toggle Run
"Click" key—Attack
"Q" key—Sheath Weapon
"Spacebar" key—Jump
What is Sword Lands Simulator?
A Sword Lands Simulator game is an action-adventure RPG where you will be sent on quests and take on fantastical enemies. Discover new lands and find new swords to wield. Level up your weapons, join your friends in parties and take on epic boss fights. Can you wield the most powerful sword to slash your way to the top of the leaderboards?
If you're looking for codes for other games, we have a ton of them in our Roblox Game Codes post! You can also get a bunch of free stuff via our Roblox Promo Codes page.