Have you got what it takes to stay alive in The Survival Game? This popular Roblox experience sees you starting out with nothing but a pointy stone as you attempt to stay in one piece in the wilderness, with everything from angry boars to other players out to get you! But soon, you'll be chopping down trees, making a shelter, and crafting more complex items.
The Survival Game codes give you cosmetic items that can help you look cool while you're doing it! While future codes could give anything from unique items to health or damage boosts. If you're looking for more help with the game, check out our Roblox The Survival Game Beginner's Guide – The Survival Game Tips and Tricks.
All The Survival Game Codes List
The Survival Game Codes (Working)
These are all the working The Survival Game codes.
antlersofdoom—Redeem for Black Antlers (New)
iwillsurvive—Redeem for Grey Wolf Pelt
The Survival Game Codes (Expired)
These are expired codes for The Survival Game.
There are no expired codes for The Survival Game
How to redeem codes in The Survival Game
Follow the instructions below to redeem codes in The Survival Game.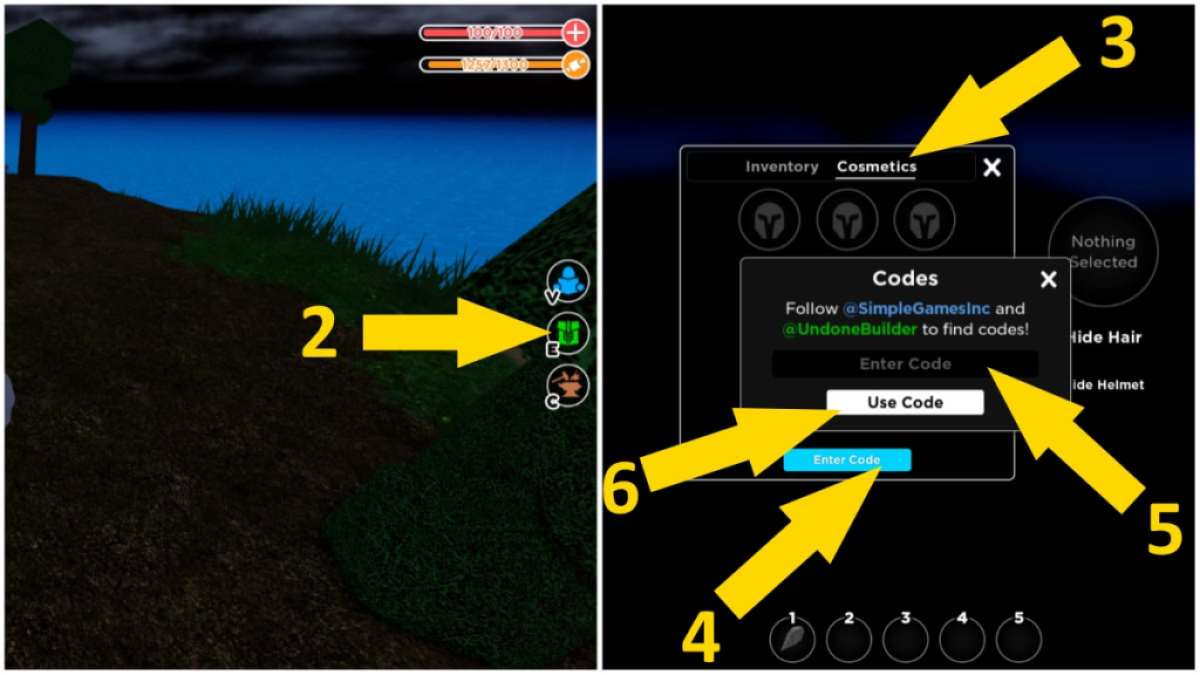 Launch The Survival Game on Roblox.
Press the green Inventory button on the right of the screen.
Click Cosmetics at the top of the pop-up window.
Click the blue Enter Code button.
In the text box that says Enter Code, do so exactly as it appears in the list above.
Press the white Use Code button to claim your reward!
How can you get more The Survival Game codes?
If you're looking for more codes and information about The Survival Game, why not join the developer's Simple Games Incorporated Roblox Group? You might also want to follow @SimpleGamesInc on Twitter, subscribe to the Simple Games YouTube channel, and become part of the Simple Games Discord Server.
Why are my The Survival Game codes not working?
Codes for The Survival Game are like any other Roblox codes in that you have to get them exactly right when you type them in. This is why we suggest cutting and pasting the codes from here if possible, as a simple spelling or capitalization error can invalidate a code. If you're sure you're putting a code in correctly and it still won't work, it likely has expired. Unfortunately, this happens to most Roblox codes in the end, and once they're gone, they're gone. But on the bright side, you know we'll be on the case looking for new codes to replace it, so check back with us soon.
How to get started in The Survival Game
The best way to get started in The Survival Game on Roblox is to create a Private Server. In the early game, your biggest obstacle to progress is other players. As this is about survival, there is no penalty for other players to attack you, and you'll find it happens often. But luckily, you can create a Private Server for free. Go to The Survival Game Roblox homepage (linked above), scroll down below the Social Links to where it says Private Servers, and click Create Private Server. Give it a name, then go back to the top of the main game page. Click Servers (just beneath the green play button) and join your own server. Here you can play knowing other players won't be around to attack you unless you invite your friends to your server!
What is The Survival Game?
The Survival Game is a well-polished Roblox survival experience. Characters have health and food bars they need to keep above zero to stay alive while learning to craft more impressive items to help make better tools and weapons. Once well equipped, they can build structures to live in and defend and join groups to work together to stay alive.
If you're looking for codes for other games, we have a ton of them in our Roblox Game Codes post! You can also get a bunch of free stuff via our Roblox Promo Codes page. And in the meantime, take a look at the latest news to stay up-to-date on all things entertainment.