Experience the story of Undertale from a new perspective and interpretation in Unwavering Soul, a Roblox game where you must build your character's stats by eliminating enemies any way you can. As you battle enemies in the game, you'll see that you accumulate cash and levels, two essentials resources to progress.
You can boost yourself through the game and skip much of the tedious grinding by using our codes list below. When redeemed in the game, most of our codes will provide you with cash and experience to rank up your character. But, you can also use them for other helpful resources like Kromer and TP!
If you find our Unwavering Soul codes helpful, don't forget to use our comprehensive list of Roblox codes for hundreds of other Roblox games! We have the latest codes for other similar games, including several based on Undertale. Check out our lists for Undertale Last Reset, Undertale Crazy Multiverse Timeline, and Undertale Ultimate Timeline.
All Roblox Unwavering Soul Codes List
Updated May 22, 2023

Added a new code recently.
Unwavering Soul Codes (Working)
Here's a look at all the working Unwavering Soul codes. Note: Before you can use the codes below, you must join the YN-Studio Group! If you are not a part of the group, these codes will not work.
20M100K80K—Redeem for 200 Levels, 200 TP, and 200 Kromer (New)
ALOTXP—Redeem for free XP
hotstuff1000—Redeem for 800 Levels and 200 TP
MEGAAAAA!!!—Redeem for 400 Kromer
POWEROFNEO—Redeem for Kromer
wownewupdate?—Redeem for 275k Gold

newsanswinterepic—Redeem for Epic Set
y3t—Redeem to for instant XP
h1ll0w33n2022—Redeem for 100 Levels, 1 million Gold, and 50 TP
AWESOMEUPDATELOL—Redeem for 999 Levels and 10 million Gold
10M—Redeem for 200+ Levels and 5 million Gold
crazystuff—Redeem for 300 Levels and 100 TP
NEWGROUP!—Redeem for 2k Kromer
30k—Redeem for 30 Levels and 300 Kromer
Unwavering Soul Codes (Expired)
These Unwavering Soul codes no longer work.
hmmyes—Redeem for Gold and a Level Up
ITS2023EPIC!!!—Redeem for XP, 1 million Gold, and 50 TP
Roblox Unwavering Soul Frequently Asked Questions
How to Redeem Unwavering Soul Codes
Redeeming codes for free rewards in Unwavering Soul is easy.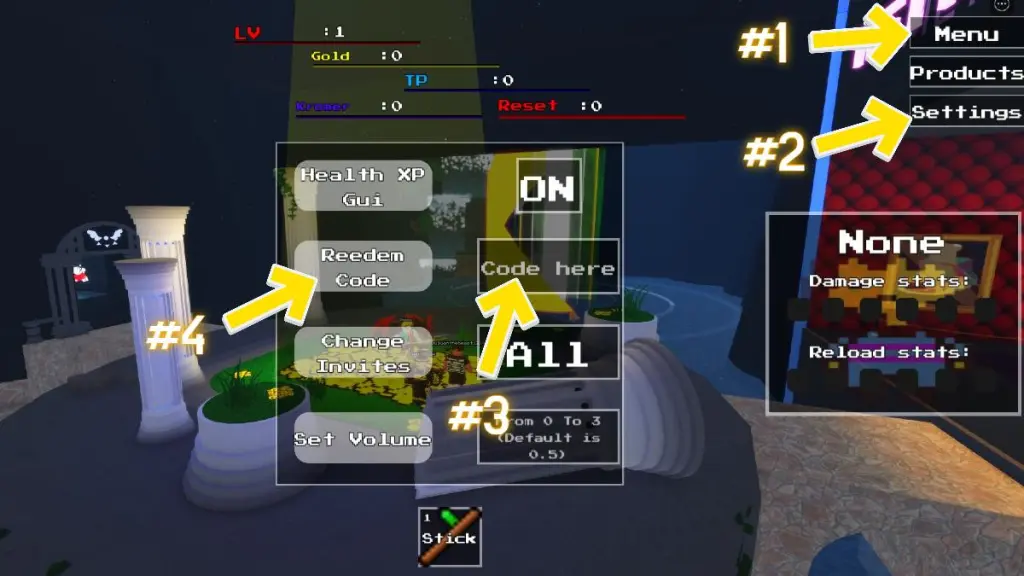 In the game, press the Menu button on the right side of the screen.
Press the Settings button in the menu that opens.
In the text box that says 'Code here', enter the code exactly as it appears in the list above.
Press the Redeem Code button to claim your reward!
How can I get more Unwavering Soul codes?
Unwavering Soul YN-Studio is fairly active in their community, and usually updates their players when there is major update to the game. Many of these updates contain additional codes that you can redeem. The best way to keep track of codes is to bookmark this page and check back if you notice there was an update on the game's Roblox page. However, you can also join the game's official Discord server to interact with the community and check for new codes.
Why aren't my Unwavering Soul codes working?
The most likely cause of the codes not working is that you didn't join the YN-Studio group. The game is linked with this group, so you must join for the codes to work. When you join the group, restart the game to make sure it registered, then try the code again!
Another cause might be that you entered the code incorrectly. To avoid typos, copy and paste the code directly from our page into the game. If you are sure you entered it correctly, then the code might have expired. When this happens, leave us a comment so we can investigate the issue and update the page!
What is Unwavering Soul?
Unwavering Soul is a remake of the previous version of this game titled Roblox Undertale AU RPG. It is based on the wildly popular game Undertale, where you must make difficult choices on how you'd like to defeat your enemies. Unwavering Soul has a more straightforward battle system: get the best gear and upgrade your character to take down the most difficult bosses! You can also roleplay as a character in the world of Undertale, as this game has a large and supportive community!
If you're looking for codes for other games, we have a ton of them in our Roblox Game Codes post! You can also get a bunch of free stuff via our Roblox Promo Codes page.