Updated: October 19, 2023

We looked for new codes!
There are many gear items and weapons to choose from in Venture Tales! I was able to choose exactly how I would like to build my character. From magic to warrior weapons, this game had me crawling through dungeons for hours to collect that one item to complete my armor and weapon set. No time to waste—an adventure lies ahead!
These codes will help you get the in-game currency of Ayagems and other items like the Scroll of Sage. Ayagems can be used in the Daily Store and the Store, where weapons and cosmetics can be bought to make your character more powerful and have angel wings while taking on a dungeon.
Playing RPGs and dungeon-crawling games are some of the best hours you can spend on Roblox. Some might be tough at first, so claim these codes to help you on your next epic quest: Roblox World // Zero Codes, Roblox Rumble Quest Codes, Roblox Treasure Quest Codes, Roblox Heroes Online Codes, and Roblox Era of Althea Codes.
All Venture Tale Codes Codes List
Venture Tale Codes (Active)
hydrasaredangerous—Redeem for 100 Ayagems and 10 Eterna Chunks
miningcatgirl—Redeem for 10 Eterna Chunks, 150 Ayagems, and 5 Scroll of the Scholar
10mvisits—Redeem for 100 Ayagems and Scrolls
20fivethousand—Redeem for 100 Ayagems and Scrolls
9kamazing—Redeem for 100 Ayagems
Venture Tale Codes (Expired)
mrsclawshasagiftforyou—Redeem for 100 Ayagems, 10 Eterna Fragments, and 5 Scroll of the Student
vibin2022—Redeem for free rewards
railgunner—Redeem for Eterna Shards, EXP Scrolls, and Ayagems
feastonpumpkins—Redeem for Eterna Shards, EXP Scrolls, and Ayagems
guildgirlbestgirl—Redeem for 3 Eterna Chunks and 100 Ayagems
katanarelease—Redeem for 10 Eterna Chunks and 15 Scrolls of the Scholar

savethegoblings—Redeem for 3 Eterna Chunks and 100 Ayagems
enchanted—Redeem for 100 Ayagems
released—Redeem for 3 Scroll of Sage
gobbylord—Redeem for 100 Ayagems
sixthousandlikes—Redeem for 100 Ayagems
4klikes—Redeem for 300 Ayagems
spidermommy—Redeem for 100 Ayagems
Roblox Venture Tale Frequently Asked Questions
Here's everything you need to know regarding Roblox Venture Tale codes.
How to Redeem Venture Tale codes
It's easy to redeem codes for free rewards in Venture Tale, just follow the instructions below: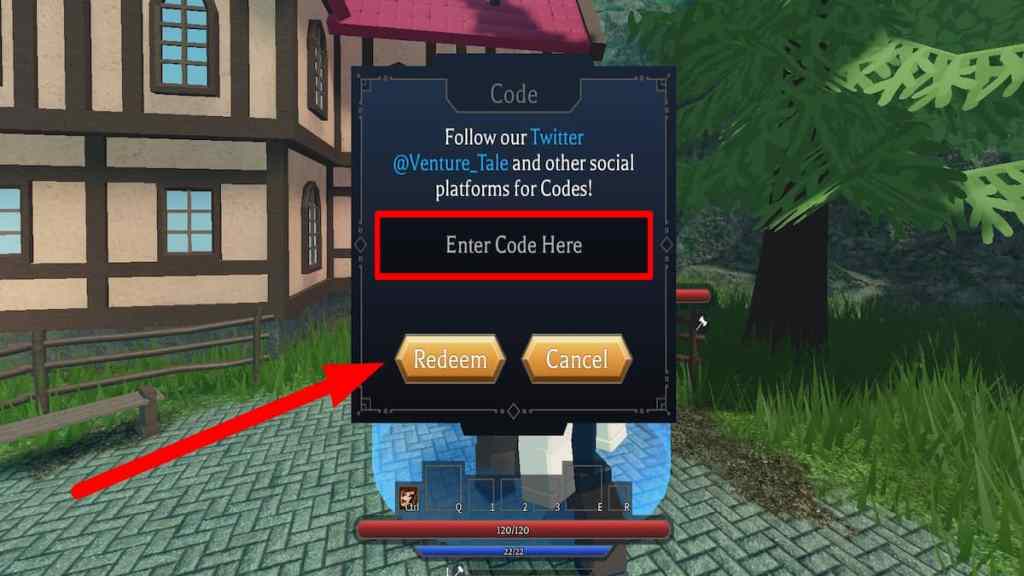 Launch the game and complete the Tutorial.
Travel through the Town and find the blue Codes and Rewards circle. It is between the Starter Shop Circle and the Play Circle.
Stand in the circle and talk to the Rewards Attendant.
Click on the first option on the right-hand side of the screen that says Redeem Code.
Enter code into the Text Box.
Click on the Redeem Button to claim the reward.
How can you get more Venture Tale codes?
To get the latest codes from the developer, Venture Tale Team, follow them on Twitter @Venture_Tale and join their Venture Tale Discord Server. We at Pro Game Guides have the latest code drops for you, so make sure you save this page and return to claim all the free rewards as they are released.
Why aren't my Venture Tale Codes working?
There may be several reasons why your codes are currently not working for Venture Tale. These codes may have been spelled or misspelled into the text box, so copy and paste the codes from our list to avoid making any spelling or punctuation mistakes. These codes may also be expired already. Codes have an expiration date that the developer usually determines. Make sure you claim the codes as soon as possible to avoid the disappointment of missing free rewards. If you notice a code on our Working list is expired, let us know in the comments. We'll verify and update this page accordingly.
How to claim rewards from the Beta of Venture Tale?
To receive your rewards and carry them over from the Beta testing, the only way you can do that in Venture Tale is to have the Beta Badge you got when playing the Beta. You could not claim rewards if you did not receive one badge from the Beta. To claim all your rewards for playing the Beta, go to the Codes and Rewards circle and click on Claim Beta Rewards. This option will give you all the rewards and weapons you gained from progressing in the Beta.
What is a Venture Tale game?
A Venture Tale game is an RPG game where you will start by creating your character and choosing what kind of warrior you want to be. There are several mechanics to choose from, including using magic to ranged weapons. You can become a master at any. Finish many dungeons as you level up and get better loot to become a better Venturer. Level up to beat boss missions and arm yourself to become the world's mightiest.
If you're looking for codes for other games, we have a ton of them in our Roblox Game Codes post! You can also get a bunch of free stuff via our Roblox Promo Codes page.