As stated by Sanrio's founder, president, and CEO Shintaro Tsuji, Hello Kitty, and Sanrio in general, aims to "make things which will help foster communication, add entertainment and fullness to everyday life, and help friendships flourish." In spirit of these desires, My Hello Kitty Cafe is celebrating July's International Friendship Day with a special in-game, limited-time-only event. To learn more about International Friendship Day, and how My Hello Kitty Cafe is celebrating, continue reading below.
What is International Friendship Day?
International Friendship Day takes place on July 30 every year and celebrates the idea that "friendship between peoples, countries, cultures, and individuals can inspire peace efforts and build bridges between communities," as stated on the United Nations website. Each year, governments and organizations across the globe are encouraged to host events, activities, and initiatives that "contribute to the efforts of the international community towards promoting a dialogue among civilizations, solidarity, mutual understanding and reconciliation."
How is My Hello Kitty Cafe celebrating International Friendship Day?
My Hello Kitty Cafe is celebrating International Friendship Day with a themed, limited-edition event that allows players to earn currency, participate in a parade, and unlock tons of event-exclusive items for their cafe. To join in on these festivities, head to the city and look for the decorated parade float pictured below. Keep in mind that this event is only in-game from July 29, 2022, to Aug. 4, 2022.
This float travels around the city every 30 minutes, and the characters on board throw out presents to those watching from the street. Inside of these presents are Gems, Coins, and a limited-time currency, Rainbows.
These Rainbows can then be taken to the city's Event Center booth and traded for Coins, Gems, and some adorable International Friendship Day-themed items.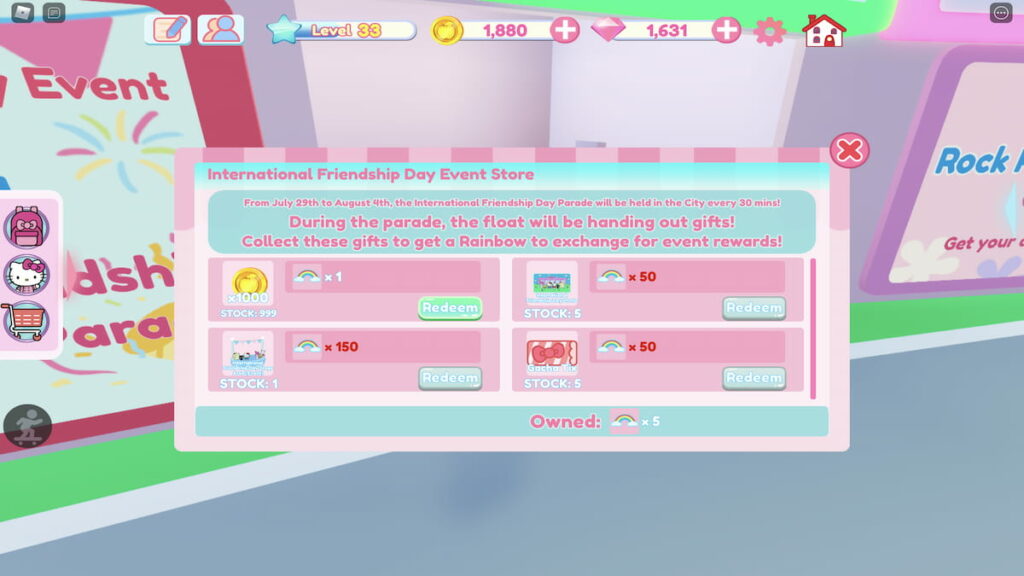 Are there any free avatar items in this event?
Unfortunately, this event brings no free avatar items along with it. There have been a handful of free, Sanrio-themed avatar items added to the My Hello Kitty Cafe experience, including the Cinnamoroll Backpack, Gudetama Backpack, and Hello Kitty® Backpack. However, none of them are specific to the International Friendship Day Event.
Looking for more Roblox content, including free items? Check out our recent guides on How to get all free items in Roblox Tommy Play or How to get all free items in Roblox Sunsilk City here on Pro Game Guides!