There are many challenges to overcome in Rogue Legacy 2. This includes not only traps, puzzles, and enemies, but also bosses. The first area, Citadel Agartha, is controlled by Estuary Lamech. We have compiled a guide to defeating Estuary Lamech, which you can find below.
How to defeat Estuary Lamech in Rogue Legacy 2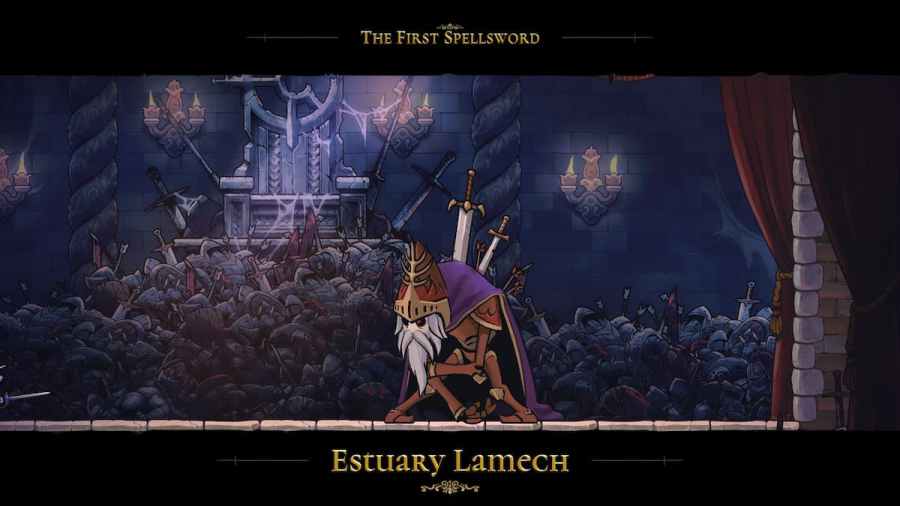 Estuary Lamech is the first boss in Rogue Legacy 2, but he is no pushover. He has numerous attacks with a wide range and can be tricky to avoid. When you reduce his health to half, he will enter an enraged form and power up his attacks. Here are all of Estuary Lamech's attacks in Rogue Legacy 2.
All Estuary Lamech Moves
Spinning Fireballs: Estuary Lamech raises his staff and fires a spiraling arc of fireballs.

You can easily avoid these by dodging.

Dash: Estuary Lamech dashes quickly forward with his spear.

Jump over Estuary Lamech and dash if needed.

Sword Slashes: Estuary Lamech will slash his sword forward, shooting fire tornadoes ahead of the second swing.

Jump over and dash away, as Estuary Lamech can turn for the second slash.

Knives: Estuary Lamech will launch several homing knives at you.
Leap Attack: Estuary Lamech jumps into the air and performs a spin attack. When he lands, he launches several magma balls in the air.

Dash underneath him and dodge the magma balls.

Laser Beam: Estuary Lamech fires a massive beam of energy.

Jump over and dash. If you cannot get behind him, you can avoid the beam by jumping at max and height and stalling with a dash.
At half health, Estuary Lamech enters his enraged state. This will power up his attacks, so be prepared. Many will have additional projectiles or increased speed. Fortunately, he does not use any new attacks in this state.
Tips and Tricks for Estuary Lamech
Estuary Lamech isn't that difficult to beat once you learn his attacks. You will want to make sure you have discovered the Hidden Secrets, Hidden Chambers Insight, to deal an additional 15 percent damage to Estuary Lamech.
Once you have this, you need to use patience and punish Estuary Lamech at the right times. Wait for an attack to whiff, namely the Laser Beam, Knives, and Dash attacks. This fight is also a lot easier if you have a ranged weapon or powerful spell. Then, you can simply dodge Estuary Lamech and keep your distance.
For more information on Rogue Legacy 2, check out Rogue Legacy 2: How to get all Heirlooms and How to get Aether Wings in Rogue Legacy 2 on Pro Game Guides.