Rogue Legacy 2 is a roguelike Metroidvania that keeps its action in the family. Each death sees you playing as your previous character's heir as they complete quests. One such quest is the Hidden Secrets, Hidden Chambers quest. This may leave you wondering how to complete the Hidden Secrets, Hidden Chambers in Rogue Legacy 2.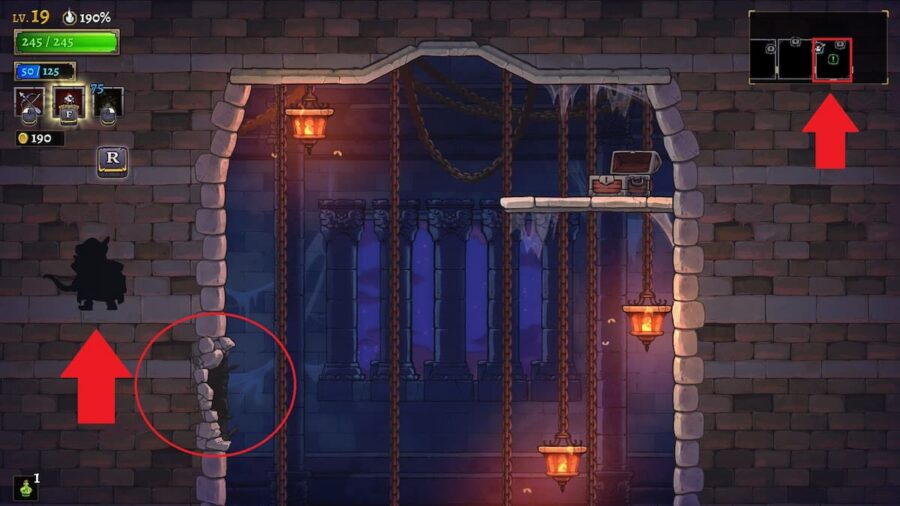 To complete this quest, you must first find it in the first area, Citadel Agartha. This quest will task you with locating Lamech's Hidden Sanctum, which is near the Tower of Lights. As Rogue Legacy 2 uses procedural dungeons, this location won't be the same every time, but the room itself will be the same, so you just need to find the room.
You will know you have found the room when a green exclamation mark is present on the map for that room. There will also be a chest in the top-right corner and several red lanterns hanging from the ceiling. You will need to climb these until you see a cracked and damaged wall portion, typically the fifth lantern. Be careful not to break any of the lanterns.
You will need to use either a spell or class ability to destroy the damaged wall. Jump through the hole and then jump again, pressing the Interact input. This will teleport you to the Tower of Lights. Simply climb to the top of the tower using spin kicks and platforming. Speak with the memory at the top to complete the Hidden Secrets, Hidden Chambers Insight.
For more information on Rogue Legacy 2, check out How to get Aether Wings in Rogue Legacy 2 and How to rename your heirs in Rogue Legacy 2 on Pro Game Guides.