Salt and Sacrifice is a 2D platformer with souls-like combat and influences. It can be a grueling challenge running through the game by yourself. Fortunately, there is a co-op. This may leave you wondering how to play co-op in Salt and Sacrifice.
Salt and Sacrifice co-op explained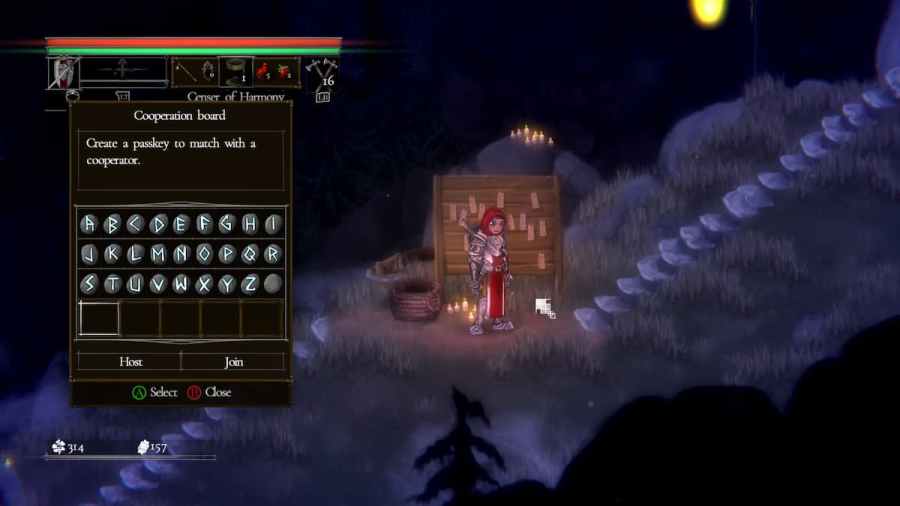 To play co-op, you must first go to Runereader Diedela, who can be found at the bottom of the camp by the Mirrorgate. Go past her and interact with the Cooperation Board. Here you can create a Rune password. This can then be sent to friends to have them join your game. You do not need to use every slot for your runes, but you must begin hosting before a friend attempts to join you.
If you are hosting the game, you will need to use a Guiltless Shard to become Guiltless. If you are not Guiltless, you will not be able to host the game. You can, however, join a game if you are not Guiltless. But a Pale Candle is needed instead.
You can play through the entirety of the game, besides the tutorial in co-op. This means that the game will be easier, and you can bring a friend along for the whole journey.
For more information on gaming, check out Best Arcane Builds in Elden Ring and All Hero's Grave locations in Tunic on Pro Game Guides.