This casual clicker experience requires you to use your mouse to click on this Roblox logo as fast as possible to ramp up your Robux and purchase fun upgrades and accessories that allow you to collect all types of achievements. These upgrades help you increase click power and earn more Robux per second.
You can earn some clicks, power, and boosts instantly using in-game codes. Developers give out codes for players to earn free items that can give them a headstart in their experience. You can claim more rewards for games like this, such as Anime Clicker Fight Codes or Super Hero Clicker Race Codes.
All Roblox Clicker on Scratch Codes List
Roblox Clicker on Scratch Codes (Working)
Here is a look at all the working Roblox Clicker on Scratch codes.
GameXLegend123—Redeem for a free 1,000 clicks, 10 Robux per second, and a 100-click power reward!
10k—Redeem for a free 10,000 clicks, 10,000 Robux per second, and a 10,000-click power reward!
Roblox Clicker on Scratch Codes (Expired)
These Roblox on Clicker on Scratch codes are no longer working.
There are currently no expired Roblox Clicker on Scratch codes.
Related: Clicker Simulator Codes
How to redeem codes in Roblox Clicker on Scratch
Redeeming codes in Roblox Clicker on Scratch is a quick and easy process.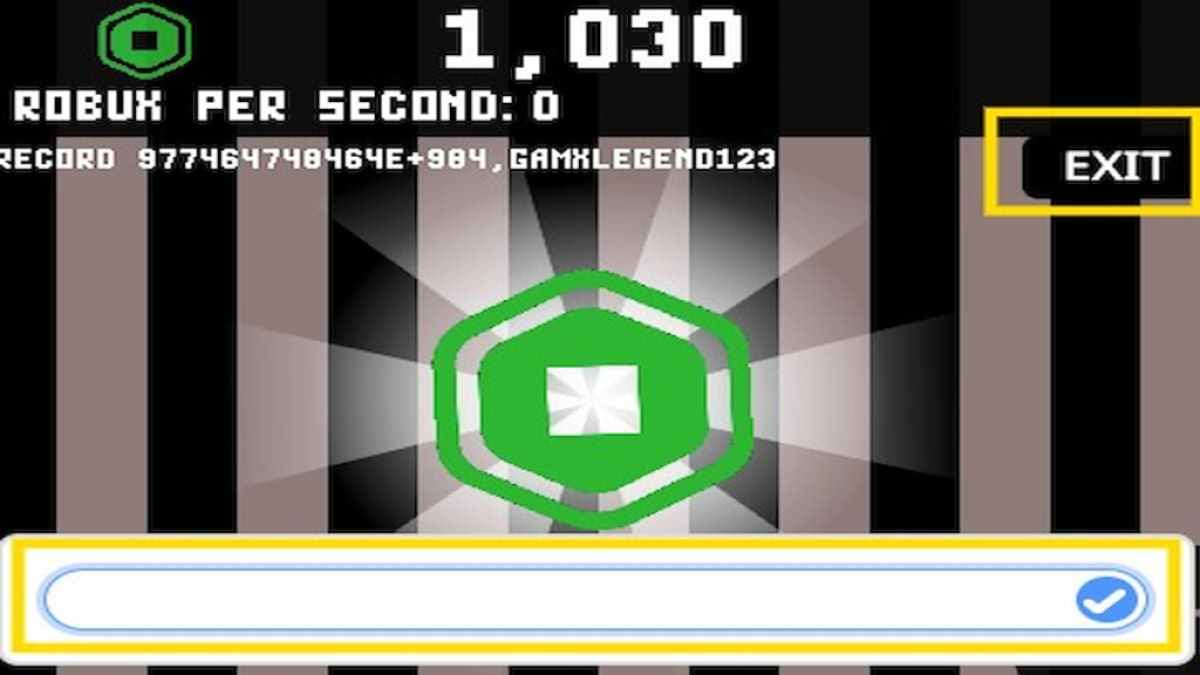 In the game browser, open up the Codes menu in the top left corner of the screen.
Type your codes into the text box exactly as shown in the list above.
Press Enter on your keyboard to enjoy your rewards!
How can you get more Roblox Clicker on Scratch codes?
Developers usually give out codes during an update, event, or as a goal is met, such as a specific number of likes reached. Some developers will place the codes directly in the game's description or image to notify players when they are available. However, others might require you to follow them on their social media accounts, such as Twitter or Discord. You can follow this experience on their Scratch profile, @Hey_sisters_10182012. For your convenience, you can also bookmark this page and check back whenever to see when new codes are added.
Why aren't my Roblox Clicker on Scratch codes working?
There are various reasons why your codes may not be working correctly. The main reason is that the codes may have already expired. Since codes are regularly cycled in and out of the game, they can expire with little to no notice. We try to keep our lists updated, but if you notice a change before us, feel free to leave a comment below, and we will try to fix it as soon as possible.
It is also important to double-check your spelling when entering codes. They are almost always case-sensitive, meaning the slightest typo could make them appear invalid. Ensure you are entering them exactly as shown on the list above, or if the game allows, copy and paste to avoid any issues.
Other ways to earn free rewards in Roblox Clicker on Scratch
You can earn some extra Robux and clicks by watching carefully as you click on the middle icon. Occasionally you will see some floating gold and light green icons that you can quickly click on to claim some free extra Robux. Gold ones will significantly increase your Robux bank, while some others won't give as much. Be quick to catch these before they float through and out of reach.
What is Roblox Clicker on Scratch?
Roblox Clicker on Scratch is a simple and casual clicker experience created on the program Scratch. Chill to some fun EDM as you ramp up your Robux bank by clicking as fast as possible with your mouse. As you earn Robux, you can purchase fun upgrades like more click power, automatic Robux accumulation per second, and fun cursor customizations. The more upgrades you purchase, the more Robux you will earn. Try to beat the record by ascending your Robux collection as fast as possible.
You can find more great games to claim codes for on Pro Game Guides' General Game Codes page. Stay up-to-date with all kinds of game releases and features on our Game News page.